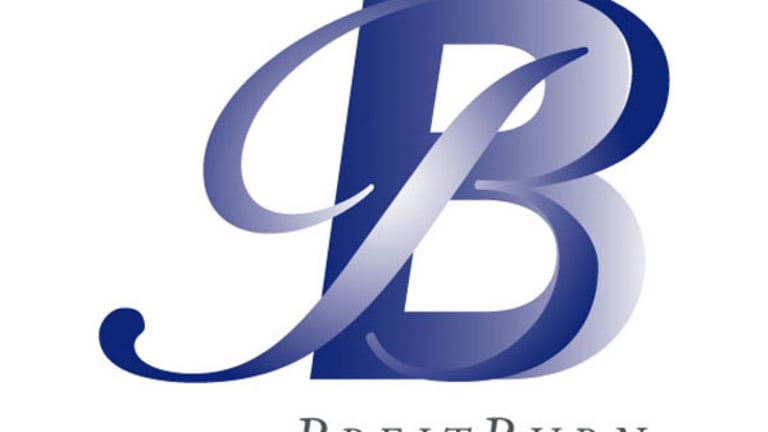 Publish date:
BreitBurn Energy's Growth Strategy Bodes Well for Shares
BreitBurn Energy Partners is increasing oil production and ensuring strong organic growth through increased investment activity.
BreitBurn Energy Partners is increasing oil production and ensuring strong organic growth through increased investment activity.
NEW YORK (TheStreet) -- BreitBurn Energy Partners (BBEP) is very effective at making acquisitions. That and its strong focus on oil production should prove to be solid catalysts for its shares.
In 2013, the company completed $1.2 billion in acquisitions, resulting in significant organic growth with increased liquid production.
This year the company plans to spend at least $600 million in new acquisitions. The total estimated proven reserves as of December were 214.3 million barrels of oil equivalent (mmboe) with around 53% oil, 40% natural gas, and 7% natural gas liquids with long-term production life of more than 15 years.
BreitBurn has a major presence in most of the U.S. oil-producing shales including Texas, Wyoming, California and Oklahoma, and the acreages held by the company in these fields are matured. Thus, BreitBurn will generate long-term production stability from these fields, which in turn will help it to offer a sustainable cash flow distribution.
In December it completed an acquisition agreement with CrownRock LP to acquire some of its additional oil and gas acreage in the Permian. Through this acquisition, the company successfully added 16.6 mmboe as estimated total reserve with a 15-year reserve life.
Last year, the company estimated that the 60% of the total production from this field would be oil. During its fourth quarter, it produced 1.7 million barrels of oil, an increase from 1.6 million barrels in its third quarter. BreitBurn will increase oil production going forward with the acquisition of matured oil fields and will sustain its long-term performance to meet guidance of total production of 7.9 million to 8.4 million barrels of oil this year.
More Opportunity in California
BreitBurn's California asset is largely concentrated in the Los Angeles and San Joaquin basin, with total net acreage of 3,128. To focus on increasing oil production, this asset could be beneficial in the longer term. The total acreage hold a huge estimated reserve base of oil (97%) and a small amount of gas (3%), and 11% of the company's total reserve is located here. It has 424 gross producing wells that produce medium-gravity crude. These wells are matured and require less maintenance, which helped the company to reduce its total operating cost.

In 2013, the company spent $81.1 million as a capital expenditure on this asset and completed 34 new producing wells. Along with the new producing wells, it also re-completed six existing wells and 12 workovers in California last year, which will ensure long-term production stability. Workover wells are those where maintenance or remedial activity has been performed for improved production.
This year, to continue increasing its oil production the company plans to spend 92% of the total projected capital of $325 million to $345 million on oil projects, including California. About 85% of this planned expenditure will be diverted to drilling and rate-generating projects, which add reserve and increase production. While spending this capital, the company will drill 156 wells in Texas and California. So with 97% of estimated oil resources, the projected drilling of new wells should add a substantial amount in total production in the next few quarters.
Moreover, the oil produced in this region is priced on the basis of Brent, which is historically traded at a premium to Western Texas Intermediate (WTI). The Brent price is on the upper side and traded at around $109 per barrel as of February, whereas WTI traded at around$103 per barrel. It is expected that this year the Brent price will be around $105 per barrel on an average, and the WTI price will average $93 per barrel.
Thus, increased production in this asset could strengthen the company's top line, which in turn will help it to increased distributions to unit holders. With the pricing advantage and high oil reserve, the company should capitalize on its significant growth.
Impacts of Hedging
During the fourth quarter, BreitBurn reported total losses of approximately $17.2 million from a commodity derivatives instrument due to the low realization prices for oil, gas, and NGL. The realized price of oil in the fourth quarter excluding the effect of the derivatives instrument was $88.77 per barrel, lower than $100.94 per barrel of the previous quarter.
As in the current scenario, the oil price shows volatility in pricing and fluctuates frequently. However, to ensure its long-term sustainability and continue distributions to unit holders, BreitBurn hedged its projected total oil production at a weighted average rate of $93.70 for this year as shown above.
This will help the company to mitigate the volatility. The company has projected that approximately 24% of this year's total oil production will be sold based on Brent pricing and 76% will be sold based on WTI pricing. With this the company will reduce the effect of a lower realization price of oil and strengthen its top line.
Conclusion
A strong focus on increasing oil production and an effective approach toward acquisition helped the company sustain its financial performance. Although the company witnessed weak distribution in the fourth quarter of $0.46 per common unit, its focus on increased oil production could lead this company upwards.
At the time of publication, the author held no positions in any of the stocks mentioned.
This article represents the opinion of a contributor and not necessarily that of TheStreet or its editorial staff.