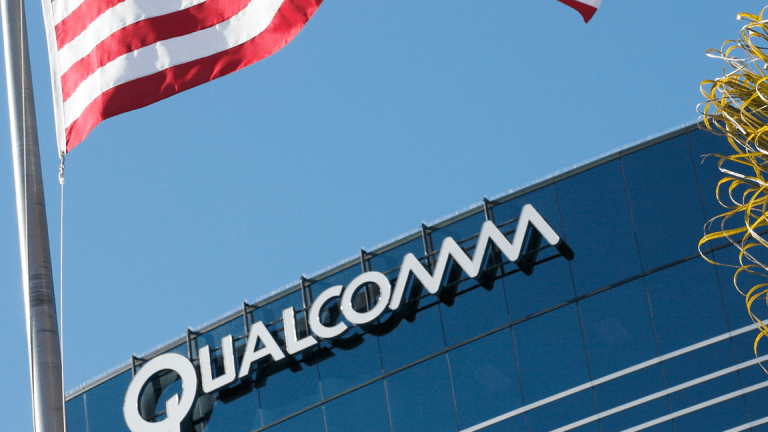 Breaking Down the Qualcomm-Apple Suit; Hudson's Bay Settles With Litt -- ICYMI
Here's what you need to know now for Friday, Dec. 1.
Well, that was a wild ride. After ABC News reported that Michael Flynn, the former national security adviser to Donald Trump, will testify about the president and Russia's alleged meddling in the 2016 election, the Dow declined more than 350 points but then rebounded as hopes of tax reform coming to fruition started percolating.
Elsewhere in the markets, talk of Apple Inc.'s (AAPL) - Get Apple Inc. (AAPL) Report  beef with Qualcomm Inc. (QCOM) - Get QUALCOMM Incorporated Report  was bubbling, as well.
Sure, going into November, it already looked as if Apple and Qualcomm's bitter dispute over iPhone and iPad royalties was unlikely to be settled quickly, given how much the companies were at odds over what Apple owed and the battle's implications for Qualcomm's broader patent-licensing business. Exiting November, the odds of a settlement happening in the near-term seem lower still.
Complicating things further is the fact that Broadcom Inc. (AVGO) - Get Broadcom Inc. Report  , which has a good relationship with Apple, has launched a bid to acquire Qualcomm. From the looks of things, Broadcom's management signed off on this ambitious gambit partly out of a belief that it's uniquely positioned to quickly put Qualcomm's licensing disputes to rest while still making the acquisition pay off over the long run with the help of cost and product synergies.
Lots of conflict today, but at least one conflict seems to have come to a resolution. Activist investor Jonathan Litt and his target Saks Fifth Avenue department store owner Hudson's Bay Co. on Friday reached an agreement to cease hostilities with each other for roughly seven months, at least until the company's next annual meeting likely to take place in June.
The settlement puts at least a temporary break on Litt's previous plan to call a special shareholder meeting of HBC shareholders and have a vote on removing incumbent directors or on a proposal to have it spin off its Saks Fifth Avenue. The department store chain owner recently received a $500 million equity investment from buyout shop Rhône Capital, which converts into an initial 21.8% voting and equity interest.
The temporary truce likely gives HBC time to consider the sale of its German department store, Galeria Kaufhof, which could be enough to appease Litt and his activist fund, Land & Buildings Investment Management, since it would provide a huge injection of capital into HBC. Profits from the sale of the Galeria would be compounded with whatever money the Lord & Taylor parent garnered from the sale of its New York City flagship location to WeWork for $850 million.
Perhaps the company could use all that extra cash on hand to help engineer some sort of take-private deal. After all, is there a place for a department on the public markets in 2017? Is there space for any retail besides Amazon.com Inc. (AMZN) - Get Amazon.com, Inc. Report  ? Not sure, but you can start by asking the drug companies their thoughts.
This is an excerpt from "In Case You Missed It," a daily newsletter brought to you by TheStreet. Sign up here.

Photo of the day: "Titanic" redux
As 21st Century Inc. (FOXA) - Get Fox Corporation Class A Report continues to be the subject of acquisition rumors from the likes of Walt Disney & Co. (DIS) - Get Walt Disney Company Report and Comcast Corp. (CMCSA) - Get Comcast Corporation Class A Report the company also celebrates one of its biggest theatrical successes in its 82-year history. The studio is rereleasing James Cameron's "Titanic" in 87 theaters around the country. "Titanic" mania can't be understated and the movie, produced and distributed by Fox and Paramount pictures, has piqued the interest of viewers far and wide. The film grossed about $650 million in domestic sales in 1997 and about $2.1 billion worldwide, according to Box Office Mojo making it the second highest grossing film of all time. Above, a woman in Tabriz, Iran wearing a black chador sits next to paintings depicting Leonardo DiCaprio and Kate Winslet from the movie "Titanic."
Read more from "In Case You Missed It." Sign up here.
More of What's Trending on TheStreet: