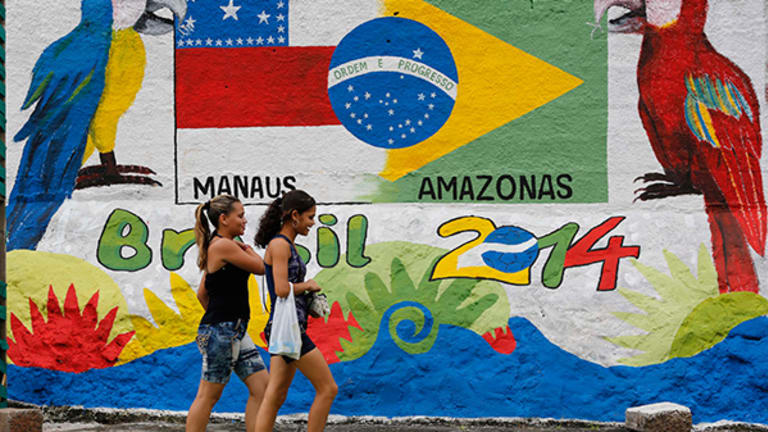 Publish date:
Brazil's Expanding Credibility Concerns Make Investing a Risky Proposition
Accusations by Brazil's black-market central banker Alberto Youssef could hit Toshiba and the New York Stock Exchange.
Accusations by Brazil's black-market central banker Alberto Youssef could hit Toshiba and the New York Stock Exchange.
NEW YORK (TheStreet) -- Investors interested in taking a flier on Brazil equities that look cheap should take a closer look before investing. 
Last year, allegations surfaced that executives of Petrobras (PBR) - Get Report, the state-owned oil company, had bribed politicians involving more than $23 billion in government contracts. The allegations have engulfed Brazil's business leaders and senior politicians, including President Dilma Rousseff who served on the board of Petrobras. There is currently no evidence that Rousseff knew of the alleged kickbacks and bribery, but concern about the growing scandal has caused investors to decrease their holdings in the Brazilian companies involved in the morass. Earlier this year, Soros Fund Management reduced its holdings in Petrobras as its share price tumbled. Other financial firms, including Blackrock (BLK) - Get Report and Fidelity Investments, also cut their investments as the investigation has dragged on.
Rarely is something like this a neat little one and done, rather there tend to be ripples that touch other companies. In the case of Petrobras, companies in the U.S. and other countries around the glove have been pulled in. In April, Huxley Capital Corporation filed a lawsuit in federal court against OAS SA, a Brazilian construction conglomerate that filed for bankruptcy after its executives were arrested as part of the Petrobras scandal. Meanwhile Petrobras' own investors are suing PricewaterhouseCoopers LLP claiming the auditor "ignored obvious red flags."
Investors are left wondering who else could get caught up in the ongoing probe by authorities. Alberto Youssef, known to authorities as Brazil's black-market central banker and money launderer at the center of the massive corruption scandal may have answers. Since his arrest in February, Youssef has been singing like a canary to prosecutors, accusing a host of government officials of accepting bribes. In addition to claims that President Rousseff and former President Lula Da Silva knew about the scheme, Youssef has alleged that Japan's Toshiba paid bribes to win contracts. Youssef has also accused credit-risk management services company GRV Solutions, a subsidiary of Cetip, Latin America's largest central depository for OTC and private securities and derivatives, of bribing the progressive party with as much as $10 million to secure a monopolistic contract with Brazil's National Traffic Department. Cetip's largest shareholder is Intercontinental Exchange, the owner of the New York Stock Exchange, Euronext and ICE Futures.
Only time will tell whether the allegations of corruption against these companies will prove to be as damaging as those against Petrobras and whether investors will cut their losses as prosecutors circle an increasing number of targets. Taking a lesson from Petrobras shares, which have fallen from a high of $20.65 last September to about $8, investors should consider management as well as political credibility before investing in something looks cheap. As time has shown us, when it comes to stocks, they tend to be cheap for a reason.
As investors continue to question the amount of upside left in the domestic stock market, a viable alternative is to invest in exchange traded funds (ETFs) that focus on foreign markets, such as iShares MSCI Italy Index (EWI) - Get Report or iShares MSCI Spain Capped ETF (EWP) - Get Report, or to invest in individual foreign stocks. There are many reasons to consider geographic centric ETFs over individual foreign stocks, including diversification and more cost-effective trading. Despite efforts to promote international trade and investment investing in foreign companies can still be filled with tripwires and pitfalls. As any good real estate agent would remind you, it's all about location, location, location.
While the economies of Spain, Italy and the Netherlands are humming, according to the latest data from Markit Economics, even an up and coming investor realizes there are other factors to be mindful of when considering an investment. With thousands of investments to choose from, investors need to cut down on potential candidates by looking for reasons to say "no." Among them is management credibility and when contemplating foreign securities or country specific ETFs one has to consider country specific risks. Some countries, like Venezuela, are an economic basket case as socialist strongmen almost purposefully push every policy available to drive out foreign goods and services.
Other countries, like Brazil, seek foreign investment but corruption often makes investment a risky, and potentially costly, decision with even some of the most respected names in the investment world caught in the quagmire. 
This article is commentary by an independent contributor. At the time of publication, the author held no positions in the stocks mentioned. Versace manages a portfolio that owns shares in EWI.
Follow Chris Versace on Twitter and Facebook.