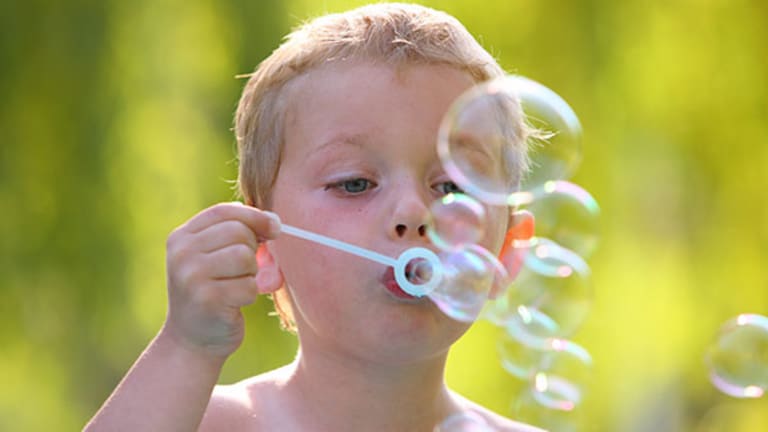 Bracing for Bubbles as Credit Risk Surges to Zero
If there is a credit bubble on the horizon, it is just beginning to inflate.
NEW YORK (TheStreet) -- Peter Tchir is excited about a possible return of synthetic collateralized debt obligations (CDOs) five years after the financial crisis. He also believes credit spreads are headed to zero, whether it is the riskiness of large banks relative to non-financial corporations or peripheral European nations to the EU core.
Tchir recommends clients of his research firm TF Market Advisors sell default protection on the mezzanine tranches of credit default swap indices to willing buyers. "Sell it, and let a year of carry and the curve work its magic. I admit, it sounds stupid to be so cavalier and casual about this idea," he said in a Monday note.
If a prospective thaw in synthetic CDOs and trades targeting a convergence in the price of default protection between safe and risky assets sounds like a repeat of the credit bubble, that is because it would be a repeat of bubble-like behavior.
Tchir, who headed a major bank's credit index trading desk during the last throes of the 2007 credit bubble and was on Wall Street to see its aftermath, appears increasingly interested in defining what is a buying opportunity and what is a bubble in current credit markets.
He sees opportunity.
Readers of TheStreet aren't likely to do much with Tchir's trade recommendations -- such as selling protection on mezzanine tranches of credit default swap indices -- however, building a framework to understand how a bubble could emerge seems like an important exercise.
My overall takeaway in reading Tchir's analysis is that we aren't in a type of credit bubble that should yet worry the ordinary investor, even if troubling risk-taking may be emerging in markets.
Now would be the time to start paying attention.
Tchir believes credit markets are in a state of post-crisis "glasnost." By that, he means credit markets have become calm enough that traders may begin to forget the fire and brimstone conditions that persisted from late 2007 through 2009. He uses the CDX North American Investment Grade Index as a gauge of the glasnost onset.
Currently, spreads on the index -- the cost traders accept to insure against defaults against components of the index -- are at around 70 basis points, indicating a lack of fear that has only manifested sporadically since the crisis. CDX NA IG spreads, however, fell as low as 30 basis points at the apex of the credit boom in 2007 before they surged upwards of 250 basis points during the worst of the ensuing crunch.
Memories of the crisis may have dissipated, but the over-exuberance of the boom isn't yet apparent in the CDX index, according to Tchir's analysis.
One major factor is a lack of structured financial products engineered to give investors ever greater exposure to falling credit spreads.
During the boom, the creation of much-maligned constant proportion debt obligations (CPDOs) and the emergence of leveraged super senior synthetic CDOs helped to bring spreads in the CDX NA IG from over 50 basis points to below 30 basis points, in some instances.
Tchir believes new synthetic CDOs could hit the market during the second half of 2014, helping to push spreads narrower, as they did leading up to the crisis.
"We have been doing a lot of work on the synthetic CDO side for our institutional clients and whether you hate the idea or not, they are coming back and are potentially a major factor in the markets going forward. Some have argued it is a sign of another bubble -- which may be true, but it is very early on and any resurgence in synthetic CDO's can take us a lot tighter in credit before that bubble pops," Tchir said.
New issuance of synthetic CDOs should concern ordinary investors. Are investors -- oftentimes banks that are major purveyors of credit -- taking on risks that could undermine their financial health in the future?

JPMorgan's (JPM) - Get JPMorgan Chase & Co. Report so-called London Whale trading loss, after all, was mostly attributable to the bank's holding of structured credit products. Still, it doesn't seem like the return of the synthetic CDO would necessarily be predictive of an ensuing  crunch, especially one for systemically important banks.
CDPO's and super senior synthetic CDOs emerged in the mid 2000s as banks tried to unload an inordinate amount of loan risk they held after leveraging their balance sheets to fund record-sized private equity buyouts and real estate deals. Buyouts are on the rise, as is the real estate market, however, banks generally are underwriting corporate bonds and not holding large inventories of direct loans.
If anything, banks are seeing risk fall off their books.
TheStreetreported that in the first half of 2013, some of the largest banks such as Wells Fargo (WFC) - Get Wells Fargo & Company Report and JPMorgan saw a thawing in hard-to-value assets, including  collateralized loan obligations, that allowed for the reclassification of $38 billion in risky assets on their balance sheets.
Legacy loans -- including those within Citigroup's (C) - Get Citigroup Inc. Report CitiHoldings unit or assets Wells Fargo (WFC) - Get Wells Fargo & Company Report acquired when it purchased Wachovia -- are beginning to mature or get called in by investors.
What would be worrying is a scenario where banks begin a new round of risk taking as crisis-era products hit the Street.
If there is a bubble on the horizon, this is the point of a credit cycle where systemically important banks and financial intermediaries could start building up untenable exposures. Buying risk as the price of risk falls only works for so long.
--Written by Antoine Gara in New York