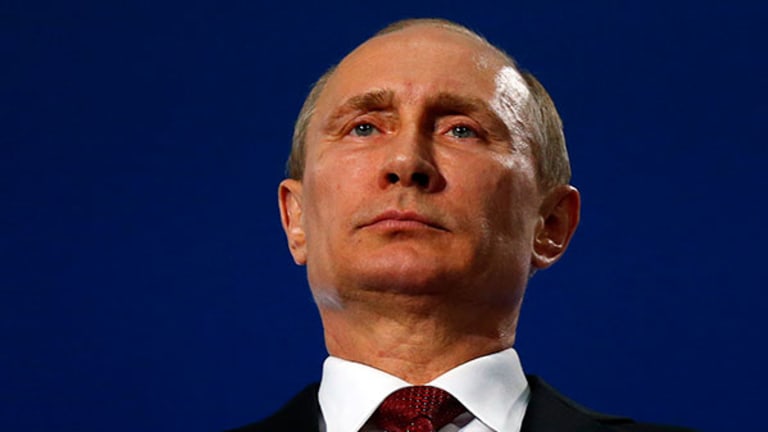 BP's Situation in Russia Grows Dire if Sanctions Remain Long Term
Shares of BP took a nose dive, as sanctions in Russia could have an adverse effect on its future growth. Is this fall justified?
NEW YORK (TheStreet) -- BP plc (BP) - Get BP Plc Report was down 10 cents Wednesday morning, after plummeting by 3.3% to $48.98 Tuesday. This fall came after the company voiced its concern over its stake in the Russian oil and gas producer Rosneft. The escalation of violence between Russia and Ukraine has led the European ministers to impose sanctions on Russia. President Vladimir V. Putin appears to be shrugging off the sanctions.
How important is Russia's Rosneft to BP? And is this recent market reaction justified?
BP's recent earnings report showed a 46% jump in its operating cash flow, year over year. Part of this gain came from Rosneft's staggering rise in its earnings in the second quarter. Specifically, $1 billion of BP's $3.6 billion underlying replacement cost profit came from Rosneft. Most of this gain in Rosneft's profit came from favorable exchange rates and higher realized energy prices. Moreover, by the end of July, BP recovered a $690 million divided payment from its 20% stake in Rosneft.
Based on the numbers above, if these sanctions were to jeopardize BP's relations with Rosneft, this could have a significant impact on BP's bottom line. But investors should also consider that Rosneft's earnings vary over time and do not reach these high profits regularly. It reported $300 million in first-quarter 2014 and $200 million in second-quarter 2013.
In any case, the recent market reaction may have been a bit too harsh. Even after the European Union starts to impose sanctions on Russia, it is not clear how long these restrictions will last. It's also unclear how these sanctions may impact Rosneft's relations with BP, or how will they affect Rosneft's earnings.
Keep in mind that a big part of Rosneft's growth in recent quarters came from its natural gas operations. Since the EU isn't likely to place sanctions of Russia's natural gas production, at least one of Rosneft's business segments won't be affected by these new restrictions. Moreover, most of Rosneft's growth in sales came from favorable shifts in the exchange rate; i.e., the devaluation of the Russian Ruble against leading currencies. If anything, the turmoil in this region could further devalue the Russian Ruble, which will increase this company's earnings.
Finally, BP's current valuation is low; its enterprise value to EBITDA ratio is only 5.75. In comparison, Exxon (XOM) - Get Exxon Mobil Corporation Report has an EV to EBITDA ratio of 7.59. Chevron (CVX) - Get Chevron Corporation Report has a ratio of 6.53.
Exxon started off the day with light gains of 5 cents, to $103.60 per share, but is now down about 60 cents to $102.9528. Shares of Chevron also rallied by 66 cents to $133.12 at the open, but gave back 54 cents, to $131.88, at the time of publication.
BP's stock also offers a high dividend yield of 4.6%. This is a much higher yield than what its peers offer. Chevron and Exxon pay a dividend yield of 3.2% and 2.6%, respectively.
Those are just the numbers. As for the outlook, BP has some risk related to its Rosneft stake, but this could be an opportunity for investors, who are sitting at the sidelines. The length of the sanctions will determine the long-term direction for the stocks.
At the time of publication, the author held no positions in any of the stocks mentioned, although positions may change at any time.
This article is commentary by an independent contributor, separate from TheStreet's regular news coverage.