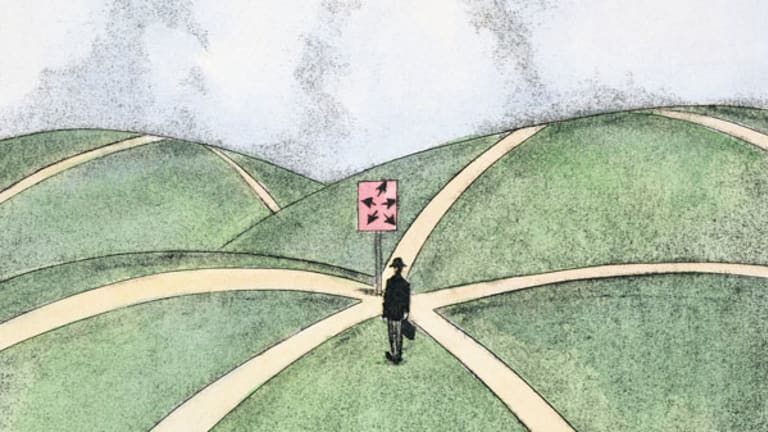 Publish date:
BP vs. Hurricane Season: Place Your Bets
As Tropical Storm Alex threatens to become Hurricane Alex, BP finds its shares under a new form of pressure: the low-pressure weather system.
As Tropical Storm Alex threatens to become Hurricane Alex, BP finds its shares under a new form of pressure: the low-pressure weather system.
(BP, Hurricane Alex story updated for halt to BP oil spill cleanup effort; also, correct poll added to story)
NEW YORK (
) -- On Tuesday,
BP
(BP) - Get Report
and the U.S. Coast Guard said Hurricane Alex had forced a temporarily suspension of oil spill cleanup efforts.
It wasn't the worst-case scenario for BP in the ongoing environmental disaster. The National Hurricane Center first warned last Friday that the low pressure system in the Caribbean, which has become Hurricane Alex, was headed for the Gulf of Mexico, and BP shares tanked on fears that Hurricane Alex would pass directly by the oil spill location.
BP and the Coast Guard sent oil skimming vessels in the Gulf of Mexico back to shore Tuesday as winds caused by Hurricane Alex reached the height of 12 feet.The U.S. Coast Guard announced a halt to all efforts off the Louisiana, Florida, Alabama and Mississippi coasts. With 25 mile per hour gusts of wind driving water toward the Gulf coast, shoreline already fighting against the encroaching oil were left more vulnerable. Tar balls were spotted washing up on shores in Alabama.
There have been more than 5,000 vessels involved in the BP oil spill cleanup effort and 27 million gallons of oil collected.
What's now clear is that hurricane season in the Gulf of Mexico is one of the toughest matchups yet for
BP
(BP) - Get Report
in its oil-spill response, and it has changed from being a low pressure point on BP shares to a pressure cooker.
Tropical storm Alex is expected to make landfall by Wednesday and become Hurricane Alex near the U.S.-Mexico border.
Shell and BP both evacuated workers from offshore rigs over the weekend, though not in the vicinity of the oil spill.
If the first major Gulf hurricane of the season bypasses the BP oil spill, as expected, it may only be a momentary meteorological measure of relief for
BP
, with tropical storm season kicking off in the Gulf of Mexico.
TAKE OUR BP VS. HURRICANES POLL
Click here to take our poll on BP stock
BP has had many losses -- or, in the best outcome, stand-offs -- through the nine weeks of the Gulf of Mexico oil spill crisis. First there was the failed BP dome vs. the oil spill, then the failed BP top kill, followed by the current BP LMRP containment rope-a-dope strategy against the gushing oil -- and, through it all, BP vs. the federal government.
Now it's time for BP vs. the Gulf hurricane season.
Back when BP hit the $29 mark it was not unjustified to make the case that buying shares was a risky, albeit, worthwhile trade to consider. BP may have lost more than $100 billion in its market value since the oil spill crisis began, but it's still a company generating cash flow from operations of close to $30 billion annually. Some of the estimates for BP's liability have risen as high as $60 billion, but there's a good reason to take with a grain of salt estimates from Wall Street analysts for environmental and legal liabilities resulting from an oil spill. Environmental and legal analysis is not exactly Wall Street's modeling sweet spot.
It would be misleading to think it's only hurricane season that is again hurting BP shares. There seemed to be renewed fears that BP's efforts to shore up its balance sheet to deal with the oil spill liabilities were not proceeding as smoothly as the company had hoped, since it first announced major financial concessions after a White House meeting on June 16.
BP has plans to sell off as much as $10 billion in non-core assets, could raise as much as $10 billion in new bond issuance, and extend credit lines with banks. Yet BP hasn't spoken publicly about those plans since June 16.
On Tuesday, June 29, A JPMorgan Chase investment banking affiliate based in London put out out a report speculating that one of the major oil companies, most likely Exxon Mobil, could be getting ready to acquire BP.
There were some notable upgrades after BP conceded to government demands to create a $20 billion escrow account and suspend its 2010 dividend program. BP received upgrades from Collins Stewart, Societe Generale, and U.K.-based broker Oriel Securities. A general view in the upgrades was that the financial concessions exacted by the White House provided a level of assurance about BP's viability that made the upside potential merit a buy. Now it seems that the buy calls came to soon.
Some equity analysts took a negative view of the financial concessions that BP made. Bank of America Merrill Lynch downgraded by from a buy to hold, citing the financial concessions as an indication that BP would no longer outperform peers in the energy stock sector.
Various anonymous reports have filtered through the press that the bond deal has run into hiccups, with the oil spill making such an offering more expensive to BP than is palatable. A report in the
Wall Street Journal
on Friday citing anonymous sources stated that BP extended a bank credit line by $2 billion and borrowed $3 billion in cash against its holdings in a Russian joint venture.
TAKE OUR BP VS. HURRICANES POLL
Click here to take our poll on BP stock
The lack of details from BP and whispers of the oil company scurrying around to increase its oil spill reserve balance haven't helped to stave off the fears of impending doom for BP.
BP costs in managing the oil spill reached over $2.6 billion on Monday, and a daily price tag of $100 million.
Satellite imagery of the weather systems headed in the general direction of the Gulf of Mexico have become the latest video image to accompany the BP oil spill, replacing in the past few days the ubiquitous image of the BP oil spill cam showing the gushing crude from 5,000 feet below the ocean's surface.
The government estimates that BP will need five days to shut down containment and relief well drilling operations ahead of a tropical storm, and the BP containment effort could be shut down for as long as two weeks if a hurricane hits the Gulf in the vicinity of the oil spill.
U.S. Coast Guard Rear Admiral Mary Landry had referred to hurricane season in the Gulf of Mexico as a potential "game-changer" in the BP oil spill response two weeks ago. In fact, the Coast Guard official said hurricanes could be the most significant event in the BP oil spill since the Transocean rig first exploded and sank on April 20.
With BP finally taking limited control of the oil-spill crisis through its cap containment system, the oil company has been in a race against the Gulf of Mexico hurricane season on two fronts.
Firstly, BP is working on a more flexible cap system so that when a storm hits, it can move quickly to abandon the treacherous Gulf waters. However, that means the cap will no longer be containing any of the gushing oil.
Additionally, the government has started talking about a pipeline system that could be constructed and put in use during storms if the cap can't be used, but that remains in the theoretical planning stage.
TAKE OUR BP VS. HURRICANES POLL
Click here to take our poll on BP stock
The relief wells being drilled by BP are still at least a month away from being finished -- BP said Friday that the relief wells remain on target for completion in early- to mid-August -- which will hopefully put an end to the oil leak for good. Yet relief well drilling could be suspended by a hurricane also.
There are hurricane-related general oil spill contingencies also. Storms tend to spread oil further and wider, yet the direction depends on whether the hurricane winds hit the oil from the east or west, with winds from the west having the potential to send the oil closer to shore into more sensitive areas. The National Oceanic and Atmospheric Administration reports that Hurricanes Katrina and Rita caused oil spills during which the oil was dispersed very widely. On the other hand, NOAA says that hurricanes can also speed up the biodegrading of oil as winds mix it with sea water.
Is BP versus the hurricane a race that investors should be betting on? Hurricane season is just getting started, and the tropical storms looked to have a head start.
Indeed, the latest fear that BP is not just facing pressure on its balance sheet, but the natural wrath of hurricanes that could force it to abandon its cap effort, presents investors with an interesting dilemma. Weatherman might be wrong more often than Street analysts. So can one make a bet on the direction of BP stock based on the weather report?
Take our poll below to see what
TheStreet
thinks -- and don't forget to leave a comment to make your case to the world.
-- Reported by Eric Rosenbaum in New York.
RELATED STORIES:
>>BP Stock Tanks as Storm Fears Rise
>>Oil Rises on Fear of Gulf Hurricanes
>>Top 10 BP Logo Rebranding Ideas
>>BP's Global Assets: To Sell or not to Sell?
Follow TheStreet.com on
and become a fan on
Copyright 2009 TheStreet.com Inc. All rights reserved. This material may not be published, broadcast, rewritten, or redistributed.