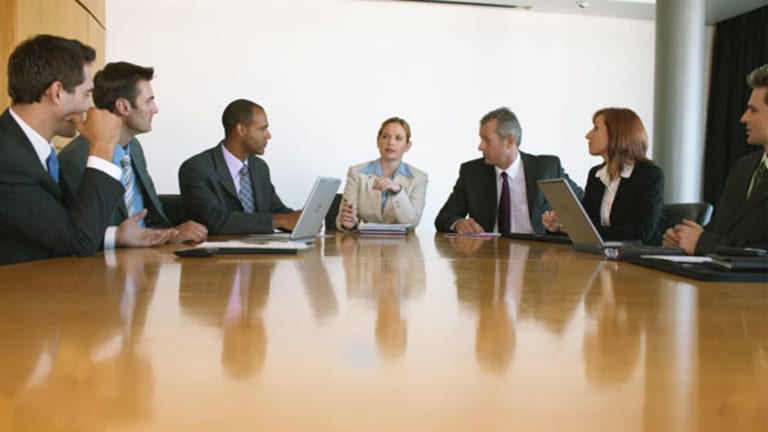 Publish date:
BP Snubs Innovators: Today's Outrage
BP, despite its own failed solutions, declines to embrace oil-spill cleanup ideas from scientists.
BP, despite its own failed solutions, declines to embrace oil-spill cleanup ideas from scientists.
BOSTON (TheStreet) --Since the onset of the oil spill in the Gulf of Mexico, some of the smartest scientists and engineers have donated their clean-up ideas to BP (BP) - Get Report, and the oil company has snubbed them, even though most of BP's own attempts have failed miserably.
Case in point is
Innocentive
, a firm employed to help define problems for large companies and post the problems as challenges for entrepreneurs to solve. Usually, the problem solvers receive cash awards, with corporate clients footing the bill. But on May 4, the firm issued its first pro-bono challenge, asking for solutions to the oil spill, with plans to send the best ideas to BP (
such as "Hypalon containment" from Canadian scientist Ed Melarek
.)
Innocentive's executives assumed BP would be psyched to receive free, professionally vetted ideas from top entrepreneurial scientists and engineers. Innocentive's paying-customer base includes heavy hitters such as
Procter & Gamble
(PG) - Get Report
,
Kraft
(KFT)
,
Eli Lilly
(LLY) - Get Report
,
Dow AgroSciences
(DOW) - Get Report
and NASA. Problem was,
BP kept ignoring the firm's offer to help
.
"When we first launched the challenge, our belief was that anyone in a crisis would accept help from the outside," says Dwayne Spradlin, Innocentive's chief executive. "After several weeks of not getting any response, we began to go from naivete to concern to substantial concern for the health of the Gulf."
Finally, on June 5 -- after Spradlin had made his case to the
(and to Al Roker), a BP executive responded to Innocentive.
With regard to ideas to stop the flow, the response was frustrating. BP said it had its hands full with the lower marine riser package (LMRP) cap, in addition to other solutions at the ready in its internal idea pipeline, Spradlin says. "Basically they said there's no point in looking at other solutions because they couldn't fit them in anyway," he says.
But with regard to cleaning the spill, the response seemed more heartening: Spradlin received a letter from BP, explaining that the company
did
need ideas for two specific problems -- one, a method of sensing the oil slick remotely, in order to be able to track it better; and two, a way of skimming the oil off the surface after it develops a mousse-like consistency.
Innocentive execs met by phone with BP engineers on June 6, with plans to post the specific challenges on the BP site after receiving the go-ahead from BP. And then they waited. And on June 19, Spradlin says, Innocentive received a letter saying BP would not be accepting the firm's free services after all. According to Spradlin, who declined to name the author of the letter, BP stated that "the agreements BP would have to enter into with Innocentive are too complex and burdensome to add to already overstretched workdays."
"Your head's ready to explode at this point," says Spradlin, adding that the agreement that Innocentive drew up was simple. Yes, the agreement allowed Innocentive to use BP's name without taking on liability. But BP already publicly accepted liability for the oil spill. And, again, the inventors in the Innocentive network were offering their ideas for free.
According to Spradlin, the White House Office of Science and Technology Policy was instrumental in connecting Innocentive to BP. Still, the White house could do more, he says. "If you're going to take charge, take charge."
In the meantime, Innocentive is planning to bring its ideas to local and state officials on the Gulf coast, with hopes of aiding grassroots cleanup efforts. The problem is that, unlike BP, the locals may not have the financial resources to implement the ideas. Innocentive also is setting up an emergency response program for crises in the future.
And in the business world, individual entrepreneurs are nimbler and quicker than companies. That's why giant corporations are often slower to bring new products to market. Still, they have the resources to take other people's innovations and run with them.
Cisco
(CSCO) - Get Report
, for example, isn't known for speed and innovation; it's known for scooping up innovators.
"This is not supposed to be David vs. Goliath," Spradlin says. "This is supposed to be David and Goliath vs. the Gulf."
-- Reported by Carmen Nobel in Boston.
>>BP Stock Sinks Back Near Oil Spill Lows
>>BP Dividend: Drilling Down on Alternatives