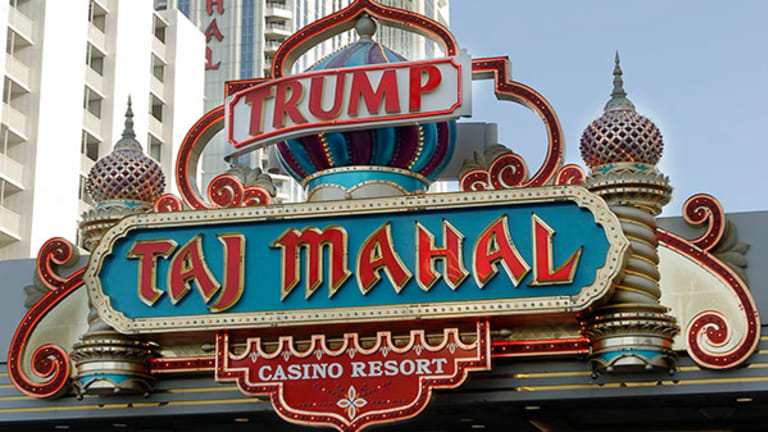 Publish date:
Boyd Investors Bet on New Jersey Online Gambling Success
But before you ante up too much for the shares of the stock, consider the other operations and holdings of this purveyor of casinos.
But before you ante up too much for the shares of the stock, consider the other operations and holdings of this purveyor of casinos.
NEW YORK (TheStreet) -- Boyd Gaming (BYD) - Get Report rallied sharply, a 4.08% one-day spike, on Tuesday, the same day that online gaming became legal in New Jersey.
Boyd shares are still down over 27% from the Oct. 18 high of $14.35, so my enthusiasm for BYD is muted at best. The company announced earlier Tuesday its Borgata Hotel Casino and Spa has been authorized by the New Jersey Division of Gaming Enforcement to offer real-money online gaming to the general public in the state.
Boyd Gaming also announced that following an initial trial period, two Borgata-branded gaming sites were approved by the Division of Gaming Enforcement to accept wagers from the general public in the state of New Jersey. The Garden State joins Nevada and Delaware in allowing online casino games. Mississippi is reportedly examining the same kind of tolerance for online gaming in its jurisdiction.
If you have the taste for this kind of activity you might want to check out an example of what a Borgata gaming site, one dedicated especially for online poker, looks like. It appears the same site also has other games and gambling activities using this Web address.
"The launch of our first real-money online gaming product is an exciting milestone for our company," Keith Smith, president and CEO of Boyd Gaming, said in a statement. "Boyd Gaming views online gaming as a compelling opportunity to further grow and diversify our operations, and the launch of our New Jersey online product is the most significant step yet in that effort."
Will BYD profit from this new online opportunity? Investors are already betting that it will. But before you ante up too much for the shares of the stock, consider the other operations and holdings of this purveyor of casinos.
Headquartered in Las Vegas, Boyd Gaming has a market cap of $1.1 billion and claims that it "...is a leading diversified owner and operator of 22 gaming entertainment properties located in Nevada, Illinois, Indiana, Iowa, Kansas, Louisiana, Mississippi and New Jersey."
Before I comment on one person's experience at a BYD's property in Las Vegas, let me remind you that there's already an outcry of opposition against online gambling. Former U.S. senator from Arkansas Blanche Lincoln spoke out on CNBC against online gambling on the same day it became legal in New Jersey.

She stated, "I think it's going to be very difficult to work something out. You know, I know that states are interested in the revenue that it could bring in there. But is it really worth...the kind of damages that it could cause?" Lincoln was speaking out as a part of the Coalition to Stop Internet Gambling. You can hear Lincoln's comments by clicking here.
From the perspective of the coalition, allowing Internet gambling in New Jersey was done "in the dark of night. It was done without public input. It was done without congressional input," she said. "I think it's important to put a time-out on this and to stop and think about what it's going to mean to us as a nation in our economy, to our children and to our society."
After all, who needs online gambling when a gambler could have a decent chance of making some money on the stock market and still limit downside risk using trailing stops?
On the other hand, when a person gambles, they can't lose more than they bet, right? Yet, from my training in clinical psychology I can't help but remember the compulsive-addictive qualities of every kind of gambling. To be able to do it privately, in your pajamas, online while sucking on a Tootsie Roll pop and sitting in your living room could be an introverted gambling addict's dream. Can you picture that?
A colleague of mine recently went to a Boyd property in Vegas called the Orleans Hotel. He had stayed there before, and when I asked him what he noticed this time his first words were, "They were busy, much more than in 2009 and 2010. Not far from 2005-06 levels from doing floor counts on machines and tables."
He said the poker room was busy on all days relative to the day of the week and the parking lot was relatively full on each day of the week. Sounds good so far for BYD investors. But he brought up some other points that could make a poker player pucker, such as that the "room rate is still very depressed."
The Orleans isn't Boyd's only casino hotel but from what I could ascertain it targets the lower to mid-level economic demographics. In other words they don't attract a lot of "high rollers" and VIPs who are big spenders. My colleague said that when he was there "the VIP lobby/lounge was dead. No lines for any restaurants at any time including the buffet during dinner hours." That could be a red flag unless you're an ardent speculator/trader.

Shares of BYD are trading at close to a forward (one-year) PE ratio of nearly 50. In the quarter ending Sept. 30, the company's trailing 12-month (TTM) revenue increased about 21% to $2.84 billion, yet its TTM diluted earnings-per-share (EPS) equated to a loss of $10.16 per share. It's a wonder the stock trades as high as it did Tuesday at $10.46.
It doesn't pay a dividend either (imagine that, "The House" not paying out), but it reported in the last quarter that it had levered free cash flow (TTM) of over $550 million. CEO Smith is betting his own money on Boyd's future fortunes. As of Nov. 7 he owned 632,473 shares of BYD worth over $6,615,667. That should muster a little extra confidence for other shareholders.
The analysts who follow BYD aren't too ebullient about the current quarter's numbers either. Although their consensus estimate for revenue is that it will be up almost 12%, they anticipate the company will have another losing quarter when it comes to EPS. It'll take a whole cruise-liner filled with online gaming revenue to surprise to the upside in a meaningful way, if you catch my drift.
My conclusion is that, at best, Boyd Gaming is a "wait-and-see" investment, if you don't mind the way the company makes its money.
If you're tempted to do some online gaming in the states where it's legal, you might prefer to take that money and bet it on shares of publicly traded companies that appear to be far behind the eight ball such as  Intel (INTC) - Get Report and Nuance Communications (NUAN) - Get Report, which plunged over 18% Tuesday to a new 52-week low. NUAN is one of Carl Icahn's investments, and if you want to learn why it crashed read this article. You might find the company a better gamble than BYD.
At the time of publication the author had no position in any of the stocks mentioned.
This article was written by an independent contributor, separate from TheStreet's regular news coverage.
Marc Courtenay is the founder and owner of Advanced Investor Technologies, LLC, as well as the publisher and editor of www.ChecktheMarkets.com.
Courtenay holds a Master's of Science degree in Psychology from California Polytechnic State University, and is a former senior vice-president of Investments for two major brokerage firms. He's been a fiercely independent investment "investigator" and a consulting contributor to the investment publishing world for over 30 years. In addition to his role as an investment publisher and analyst, he serves as a marketing consultant to the investment media industries.
In his role as a financial editor, he specializes in unique investment strategies, overlooked stock investments, energy and resource companies, precious metals, emerging growth companies, the prudent use of option strategies,real estate related opportunities,wealth preservation, money-saving offers, risk management, tax issues, as well as "the psychology of investing". Because of his training and background in Clinical Counseling and Psychology, he enjoys writing about investor behavior, the ¿herd mentality, how to turn investment mistakes into investment breakthroughs and the stock market's behavioral trends and patterns.