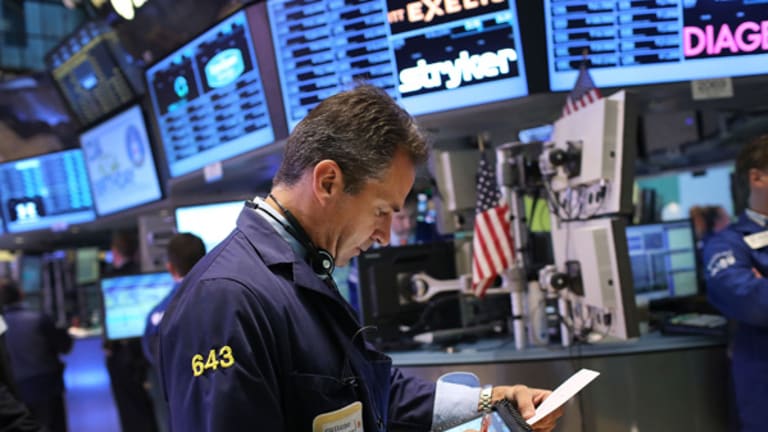 Bottom Feeding for Deep Value Success Is Rare but Possible
Net/nets are exceedingly rare lately, but they won't be once the markets pull back.
NEW YORK (TheStreet) -- My favorite deep value investment technique, one that many would equate to "dumpster diving" or "bottom fishing", continues to deliver compelling results. That's the good news. The bad news is that finding candidates that meet the rather stringent criteria is about as rare as a blue moon these days.
The search for companies trading below net current asset value (NCAV), or "net/nets" was first developed by Ben Graham, the father of value investing. In simplest terms, net/nets are companies whose market capitalizations are below the book value of their net current assets.
Or, to be formulaic about it, net current assets equals current assets minus total liabilities. (When applicable, I also subtract minority interests and preferred stock as well.) Ben Graham's terms, however, were a little more stringent: he looked for companies trading at less than two-thirds of their net current asset value, virtually non-existent these days.
Heading into 2013, there were just
As Year Ends, Net/Net Stock Plays Are Scarce
trading below NCAV with market caps greater than $100 million. Year to date, these companies are up an average of 31.5%, versus 22.6% for the Russell Microcap Value Index, which in my view is the most appropriate benchmark since most net/nets tend to be very small.
Six of the seven names are in positive return territory year to date, and the worst performer,
Imation
(IMN)
is down about 3%. The best performer is telecommunications products name
Westell Technologies
(WSTL) - Get Westell Technologies Inc. Report
, which is up 64% year to date. Semiconductor products name
FormFactor
(FORM) - Get FormFactor Inc. Report
is up 38% year to date.
data by
Perhaps the most recognizable name in the group was
RadioShack
(RSH)
(+38%). The jury is still out on this one, for sure. Many believe that the company's best days are long behind it, and that it will not survive. The minority opinion, including my own, is that while a turnaround will be difficult, the company has more time to execute than the market believes.
The remaining names,
Trans World Entertainment
(TWMC) - Get Trans World Entertainment Corporation Report
(38.5%) and
Richardson Electronics
(RELL) - Get Richardson Electronics Ltd. Report
(+1%) represent the only names of the original seven that still trade below NCAV, as well as the only current net/nets with market caps greater than $100 million.
Richardson, which has done little in terms of stock performance for the year, currently trades for 0.97 times NCAV looks interesting due to the strength of its balance sheet. While just marginally profitable at this point, the company ended its latest quarter with $141 million, or $9.65 per share in cash and short term investments. There's an additional $5.5 million, or 37 cents per share in long term investments. In total, each share of Richardson, currently trading at $11.30, represents $10.02 in cash and investments. Richardson also pays a 6 cents quarterly dividend, which equates to a 2.1% yield.
data by
Net/nets are exceedingly rare these days. But they won't be once we see the markets pull back.
This article is commentary by an independent contributor, separate from TheStreet's regular news coverage.
At the time of publication, Heller was long RSH.
Jonathan Heller, CFA, is president of KEJ Financial Advisors, his fee-only financial planning company. Jon spent 17 years at Bloomberg Financial Markets in various roles, from 1989 until 2005. He ran Bloomberg's Equity Fundamental Research Department from 1994 until 1998, when he assumed responsibility for Bloomberg's Equity Data Research Department. In 2001, he joined Bloomberg's Publishing group as senior markets editor and writer for Bloomberg Personal Finance Magazine, and an associate editor and contributor for Bloomberg Markets Magazine. In 2005, he joined SEI Investments as director of investment communications within SEI's Investment Management Unit.
Jon is also the founder of the
, a site dedicated to deep-value investing. He has an undergraduate degree from Grove City College and an MBA from Rider University, where he has also served on the adjunct faculty; he is also a CFA charter holder.