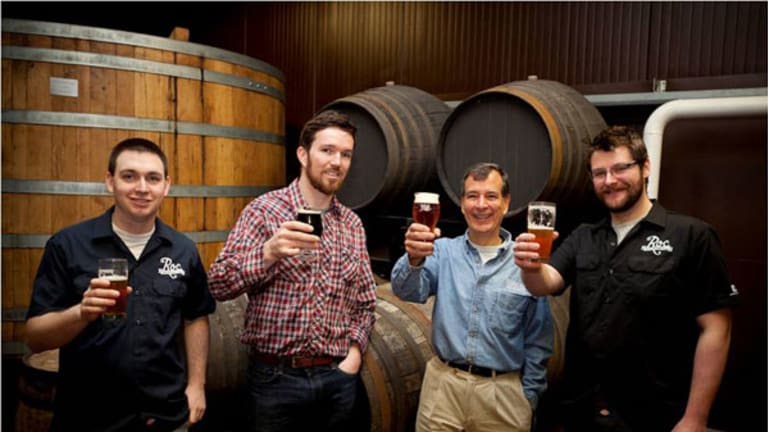 Boston Beer: Great Beer, Flat Valuation
Boston Beer's business has been booming over the past 15 years. That doesn't necessarily mean you should invest in it.
NEW YORK (F.A.S.T. Graphs) -- Boston Beer (SAM) - Get Boston Beer Company Inc. (The) Report is probably best known for its flagship brand, Sam Adams. After that, the company is likely recognized by its enthusiastic founder, Jim Koch. Born into a five-generation family of brewers, Jim carried on the tradition in 1984 by brewing his great-great-grandfather's recipe for Boston Lager.
Today, the company has 30 distinctive award winning styles of beer, with more than 70 total offerings. You've likely heard of some of the seasonal choices including Oktoberfest, Summer Ale, Winter Lager and Pumpkin Ale. Boston Beer claims that it has won more awards in international beer-tasting competitions during the last five years than any other brewery in the world.
Read: Apple's 'iPad Christmas' Promises Share Upside
Yet, despite its accolades, Boston Beer
controls only about 1.3%
of the U.S. beer market share. Granted this is impressive for a craft brewer, but it pales in comparison to the giants
Anheuser-Busch Inbev
(BUD) - Get Anheuser-Busch Inbev SA Sponsored ADR (Belgium) Report
and
Molson Coors
(TAP) - Get Molson Coors Beverage Company Class B Report
, perhaps indicating an opportunity for future growth.
At the forefront of this endeavor is the explosion of the craft brewing market. For instance, this market grew
over the last two years, compared with just 1% growth for the overall U.S. beer market. In 1980 there were just 89 breweries in contrast to the more than 2,500 today.
Or an astute investor might even pick up on the fact that craft brews now represent about 30% of
Costco's
(COST) - Get Costco Wholesale Corporation Report
beer sales. In other words, craft brews have been exceedingly popular of late, yet they still have the propensity to grab future market share.
All this seems like good news for Boston Beer and its fellow craft breweries. Indeed, Boston Beer's business has been booming over the past 15 years. I have provided an earnings graph as demonstrated through the powerful lens of
fundamentals analyzer software tool.
One can see that earnings (orange line) grew at a robust 19% a year for the last decade and a half. Aside from some hiccups after the last two recessions, there has been a clear trend toward increased profitability.
In tandem, one might expect that the stock price followed a similar strategy. After all, in the long term where earnings go price (black line) will almost certainly follow. Viewing the price graph demonstrates this precise concept -- the stock has had a terrific run-up especially in the last few years.
Given the company's strong operating history coupled with even stronger price returns, one can logically expect that an investor's performance results were substantial. And this is precisely what we see: a hypothetical $10,000 investment on Dec. 31, 1998, would have turned into $287,646.91 today. Said differently, a Boston Beer shareholder would have seen compound returns over 25% annually for a total value that would have been about 17 times greater than the same returns provided by the
S&P 500
index.
For the long-term shareholder, all appears well: the business has been solid and performance results have been more than stellar. Yet, looking forward -- for instance, if one were considering an investment today -- I believe things are quite different. To be perfectly clear, Boston Beer still seems to be a strong company that appears well poised to take advantage of upcoming growth opportunities. However, the current valuation likely hinders an investor's opportunity to ride along with Boston Beer's business results.
Read: Halloween Costumes for the Financially Minded
Allow me to elaborate by reviewing the two key numbers I have discussed: earnings growth and price appreciation. At first glance, the 19% yearly earnings growth rate and the 25% annual price appreciation seem relatively in line. However, what might not be readily apparent is the idea that this gap -- taken over 15 years -- is actually quite substantial. In the very long term it should be expected that price results roughly track business results.
Given that Boston Beer was trading in a reasonable range a decade and a half ago, it follows that the 6% yearly price out-performance must lead to a higher valuation multiple. This is precisely what we see.
In the graph below I have included the earnings and price correlated F.A.S.T. Graph to demonstrate this point. Here we see that price tracked earnings reasonably well from 1999 until the most recent recession. During the past few years price appreciation has drifted away from earnings growth considerably -- leading to today's price-to-earnings ratio of 47.
Granted, some of this extended price might be justified -- the craft beer market is doing quite well and Boston Beer is positioned to take its fair share of the market. However, it's important to differentiate between sensible expectations and outright stock price euphoria.
For instance, six analysts reporting to Standard & Poor's Capital IQ come to a long-term growth rate of 15%. By itself, this is a strong rate of growth and demonstrates that analysts believe the company will continue to do well. Yet, if we examine the Estimated Earnings and Return Calculator below, the current valuation is seen in proper perspective.
Now, it's important to realize that this is just a calculator such that it defaults to analysts' consensus estimate and a P/E ratio that is commensurate with the company's expected growth rate. However, in viewing the
company's Web site
one would find very similar results. If the company is able to grow by 15% a year for the next five years, this would indicate an earnings-per-share number of $10.63. Given the previously cited P/E of 15, this would indicate a nearly 8% annual loss in value.
Yet, that's not necessarily the takeaway. Even if Boston Beer reaches $10 in EPS and is trading at 25 times earnings, an investor would barely break even with today's pricing.
In order to achieve anywhere near business results, one would need the P/E in the intermediate term to stay in the $40s; whether or not that can happen is up for you to decide. With this in mind, a particular Warren Buffett quote comes to mind: "I don't look to jump over seven-foot bars: I look around for one-foot bars that I can step over." At today's valuation, Boston Beer appears to be much closer to a seven-foot bar than a one-foot bar.
But despite the seemingly overextended valuation, I believe
Jim Koch
still provides a solid takeaway regardless of whether or not you invest in his company:
"Having watched my stock price go up and down and up, it seems almost whimsical. ... I remind people getting rich is life's great booby prize. Any normal person would much rather be happy than rich."
Today, in my opinion, an investment in Boston Beer doesn't appear to be valued in such a manner as to offer exceptional return results over the intermediate term. However, as always, I would encourage the reader to conduct their own thorough due diligence.
At the time of publication, Carnevale had no positions in the stocks mentioned.
This article was written by an independent contributor, separate from TheStreet's regular news coverage.
Charles (Chuck) C. Carnevale is the creator of
.
Chuck has over 43 years of financial experience and is the co-founder of the earnings and price correlated, powerful fundamentals analyzer software tool - FAST Graphs. Chuck holds a Bachelor of Science in Economics and Finance from the University of Tampa. Chuck's work stressing sound valuation has been widely published on numerous financial sites and blogs. Chuck is passionate about spreading the critical message of valuation and prudence in fundamental investing. So much so that regular readers have dubbed him "Mr. Valuation". Chuck is a Veteran of the Vietnam War and was awarded both the Bronze Star and the Vietnam Honor Medal.
Chuck believes that correctly assessing fair value is one of the primary keys of successful stock investing, and he has dedicated his more than 40 years of experience in finance to its pursuit. Chuck agrees with legendary investors such as Warren Buffett, who recognize how important it is for investors in common stocks to possess an intelligent framework for making sound decisions that can keep emotions out of the equation. With making smart stock selections, there is no room for fear and greed.
Chuck was fortunate to learn at an early age that earnings drive long-term stock prices, and that dividends, if any, will be paid out of a company's earnings. This led him to develop FAST Graphs, the fundamentals analyzer software tool that reveals the long-term relationship between a company's earnings and its stock price and dividends over time. Chuck is most interested in the business behind the stock.