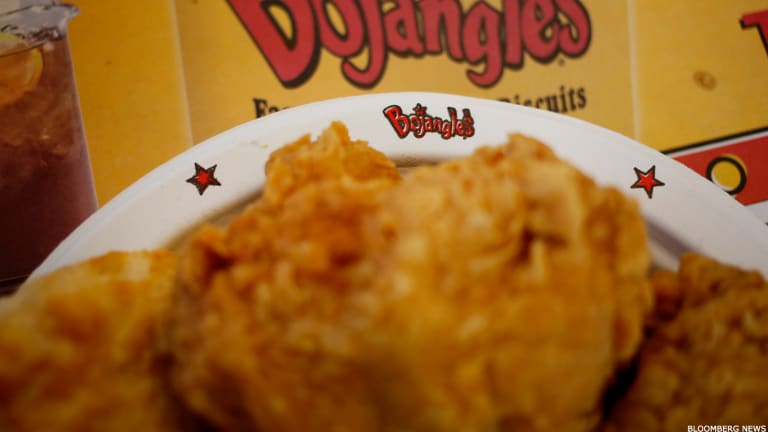 Bojangle's CEO Tries to Recapture Sizzle of Company's IPO
The popular chicken-and-biscuit chain's stock has plunged 43% since going public as it faces competition from McDonald's and other fast food heavyweights.
Clifton Rutledge has one of his toughest jobs yet in the restaurant business ahead of him -- reinvigorating the stock price of a chain in the ultra-competitive fast food business.
Rutledge, CEO of chicken-and-biscuit chain Bojangle's (BOJA) - Get Report , which began trading as a public company last May, began his career as a bus boy and has worked every position in a restaurant. Some 37 years later, he sits atop a restaurant chain with 657 locations mostly in the Southeast and ambitions to be much bigger, but also now having to deal with the demands of impatient investors.
Since Bojangle's shares rose a sizzling 25% on its first day as a public company on May 8, the stock has plunged about 43%, part of a broader sell-off in the once richly valued crop of new restaurant IPOs from 2015.
Wingstop (WING) - Get Report , a chicken wing hotspot that saw its stock skyrocket 61% on its June 12 trading debut, has shed roughly 16%. Better burger juggernautShake Shack (SHAK) - Get Report has lost about 26% since nearly doubling on its Jan. 30 IPO day. Fogo de Chao, a Brazilian style steakhouse that jumped 29% on its June 19 IPO, is lower by 40% since.
"I am frustrated with the share price -- we have to do something," says Rutledge.
Third quarter system-wide same-store sales rose a solid 4.1% and the company has notched an impressive 22 straight quarters of same-store sales gains. Revenue for the third quarter rose 12.7% to $124.3 million, with adjusted earnings before interest, taxes, and deprecation (EBITDA) gaining 20% to $20.5 million.
Execs continue to see the potential for 1,400 Bojangle's restaurants in existing markets such as Florida, North Carolina and South Carolina. Over time, the company believes it could be a 3,500 store restaurant chain dishing out biscuits in new markets like California and Texas.


Bojangle's is still cooking up hearty sales.
Rutledge continues to move patiently in trying to attain those heady restaurant growth targets, recently opening its first spot in Kentucky. In 2015, the company opened about 35 new restaurants.
"I have learned more about what not to do in the past 37 years than what to do," says Rutledge, who believes the company's biggest opportunity is in Texas. 
"We have every confidence that the company's culture of operational excellence positions it favorably to realize its substantial unit growth goals," pointed out Piper Jaffray analyst Nicole Regan in a Nov. 5 note. Regan rates Bojangle's shares at a neutral.
Despite the momentum in Bojangle's business last year, the company now finds itself in a battle with fast food heavyweight McDonald's (MCD) - Get Report , which launched its all-day breakfast platform in the fall to good responses from consumers.
Bojangle's has traditionally served its menu of indulgent breakfast biscuits all day. Breakfast items, or those items sold before 11am, represent about 38% of Bojangle's overall business, while lunch accounts for roughly 28% of Bojangle's business. 
More recently, McDonald's debuted its "McPick 2 value" menu this month, setting off a chain of similar discount program announcements from Restaurant Brands International's (QSR) - Get Report  Burger King, Domino's Pizza (DPZ) - Get Report and Yum! Brands (YUM) - Get Report Pizza Hut.
"McDonald's has taken some share," conceded Rutledge, adding, "there has been a good bit of discounting from McDonald's, Wendy's and Burger King and we have been forced to respond."
The chain recently ran a $0.99 steak biscuit promotion, a sharp discount from the normal price of $1.89.

Bojangle's CEO continues to focus on employee culture.
Rutledge said Bojangle's is doubling down on menu innovation over the next two years to attract customers in a more competitive environment. "My favorite item is our dirty rice bowls, and I think you could have a whole platform on rice bowls, such as breakfast bowls," said Rutledge.
While Bojangle's seeks to add more sizzle to its menu, it's also keen on preserving the attention-to-detail oriented culture that has been instrumental in its success. For instance, Bojangle's still makes its trademark biscuits by hand, and is fresh off holding its 19th annual "Master Biscuit Maker Challenge." The two latest winners took home $2,500 in cash.