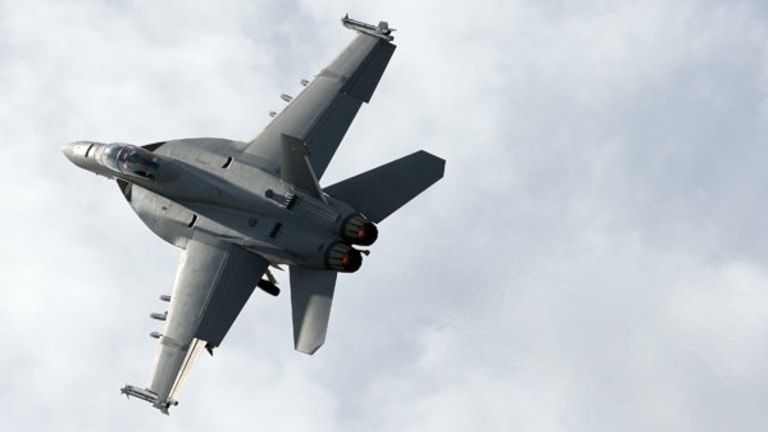 Publish date:
Boeing's Steadiest Offense Is Defense
Sports remind us that defense wins championships. It works in the stock market, too.
Sports remind us that defense wins championships. It works in the stock market, too.
Editor's note: Our Pre-Memorial Day special examines military-related stocks and how to buy, sell or trade them. This feature includes a video by Gregg Greenberg, Defense-Stock Domination; and articles by Marc Courtenay One Priced to Buy; Robert Weinstein Bigger Guns, Bigger Profits; Richard Saintvilus Boeing's Offense Is Defense; Richard Suttmeier Sequester Survivors; and Richard Cox Bullish Earnings Support Defense.
NEW YORK (
) -- I've had a fear of flying for some time. Not many people know this. And following the market as closely as I do, I even developed an anxiety attack on January 16 upon learning of
Boeing's
(BA) - Get Report
announcement that the Federal Aviation Administration was grounding its new 787 Dreamliners because of the danger of fire in the planes' lithium-ion batteries.
This news didn't make me feel any better. In fact, my learning that planes actually run on batteries only heightened my fear. Remarkably, though, while the planes were grounded, Boeing's stock took off.
Not only is the stock up 33% year-to-date, but since March's beginning of the sequester spending cuts, Boeing shares have soared 28% from $76.88 to near $100. Investors wonder how high Boeing can fly.
Also see: Stock Tip Truth-O-Meter >>
Why does the stock continues to climb? Well, Boeing is a fundamentally sound company with an excellent management team. And one of the company's biggest strengths on offense is its defense. Many investors still do not realize that it's one of strongest defense companies in the world.
In fact, as Boeing's defense business has taken off over the past several quarters, so have its margins. What's more, its Defense, Space & Security (BDS) segment has built a backlog of close to $70 billion, 42% of which represents orders from international clients. So, the justification for the higher stock price is there.
The question, though, is how long can investors play a high-altitude game of chicken to see who's going to flinch first -- the stock price or the defense budget. Any sign of turbulence for Boeing can easily take the stock off its autopilot rate of climb.
It's the second-largest defense contractor, after
Lockheed Martin
(LMT) - Get Report
, which means that right now its best offense is its defense business. It also means that if the economy isn't growing briskly enough for Washington, any sudden decline in economic data will spur more pleas for defense cuts.
At Boeing's annual investor conference Wednesday, management outlined many strategies to keep Boeing flying for many years to come. Some of these include establishing a portfolio of affordable, proven products and services immune to budgetary headwinds.
This is important, especially as the company strives to sustain long-term defense demand. Management also spoke about growing its bottom line both domestically and globally while being careful not to price itself out of the defense business. This is where management has to balance profit margins while presenting Boeing's value-proposition to its customers.
To that end, for this fiscal year, the company expects defense revenue to be between $30.5 billion and $31.5 billion, roughly 40% of the company's $85 billion in projected revenue, as well as close to double-digits in operating margin. If that isn't an incredible sign of confidence, I don't know what is. Companies don't often go out of their way to put unnecessary pressure on themselves without knowing that they can meet their own expectations.
What's more, Boeing has outlined strategies to reduce risk in its development efforts by leveraging past investments, including ways to increase shareholder value by utilizing derivative airplanes, such as the Navy's new P-8A Poseidon patrol plane, based on the 737.
It's an excellent strategy, especially since management plans to engage customers to identify the technology they value and try to incorporate it into Boeing's long-term plans.
Bottom Line
To the extent that this level of fiscal awareness can help propel Boeing's profitability, investors can expect this stock to fly first class for the next decade. This is precisely one of the reasons that the stock is up close to $100 following Wednesday's investor's conference. More importantly, though, management has been executing in a manner that suggests that the company is adequately preparing itself for any near-term threat.
Also see: Electric Cars: The Right and Wrong Reasons for Buying >>
That said, there should be no panic regarding the stock price; 52-week high or not. Besides, on the basis of Boeing's PEG ratio (price-to-earnings ratio divided by the growth rate), it shouldn't be discounted that Boeing's PEG ratio is 50 basis points lower than Lockheed Martin and more than 70 basis points lower than
General Dynamic
(GD) - Get Report
.
Sports often remind us that "defense wins championships." In the stock market it's also profitable.
At the time of publication, the author held no position in any of the stocks mentioned
.
Follow @saintssense
Richard Saintvilus is a private investor with an information technology and engineering background and the founder and producer of the investor Web site
. He has been investing and trading for over 15 years. He employs conservative strategies in assessing equities and appraising value while minimizing downside risk. His decisions are based in part on management, growth prospects, return on equity and price-to-earnings as well as macroeconomic factors. He is an investor who seeks opportunities whether on the long or short side and believes in changing positions as information changes.