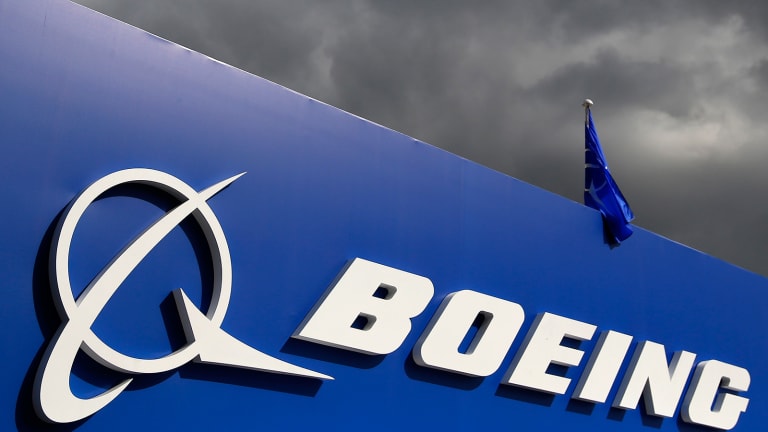 Boeing, Mostly Booked Until 2020, Comes Up Empty at Dubai Air Show
Boeing and Airbus came up with just one new order between them at the Dubai Air Show, partially because they are booked solid for the next five years.
The 2013 Dubai Air Show was a spectacular event at which Boeing (BA) - Get Report announced orders of $100 billion order for 259 of the yet-to-be-built 777X, the largest commercial aircraft launch in history; Airbus won 160 orders, mainly for A380s and A350s, worth $44 billion. At the time, Boeing shares reached $142, then an all-time high.
The 2015 Dubai Air Show, which ends Wednesday, did not compare. This time, the big-spending Gulf carriers -- Emirates, Etihad and Qatar -- didn't have their checkbooks out. The first significant commercial order was not announced until Tuesday, the third day of the show.
"In 2013 you had the launch of the 777X," said aerospace consultant Scott Hamilton. "But we are on the downside of the bell curve for orders right now.
"There's really not a lot of reason, or opportunity, to order airplanes right now," Hamilton said. "Fuel costs are low, so there's no incentive there. Boeing has been warning it will struggle to reach a 1:1 book to bill," which measures the ratio of orders received to units shipped.
Boeing shares reached an all-time high of $158.83 in February. In mid-morning trading Tuesday, shares were down $1.39 to $144.59. Year to date, Boeing shares have risen about 11%.
In a note issued Tuesday, RBC Capital Markets analyst Rob Stallard wrote, "The Dubai Airshow has one day to go, and it took till Day 3 to produce a real commercial aircraft order."
The order was from the Vietnamese carrier Vietjet, which announced a deal for 30 Airbus A321s with a list price of more than $3 billion.
"Vietjet saves the day," Stallard wrote. "It's not from the Middle East, but at least it's an order."
While commercial orders have been lacking in Dubai, the defense sector has been active. The UAE announced a $1.27 billion contract for an upgraded Saab radar surveillance system, while Lockheed Martin won a $263 million contract from the U.S. Air Force to service Saudi Arabia fighter jets.
This article is commentary by an independent contributor. At the time of publication, the author held no positions in the stocks mentioned.