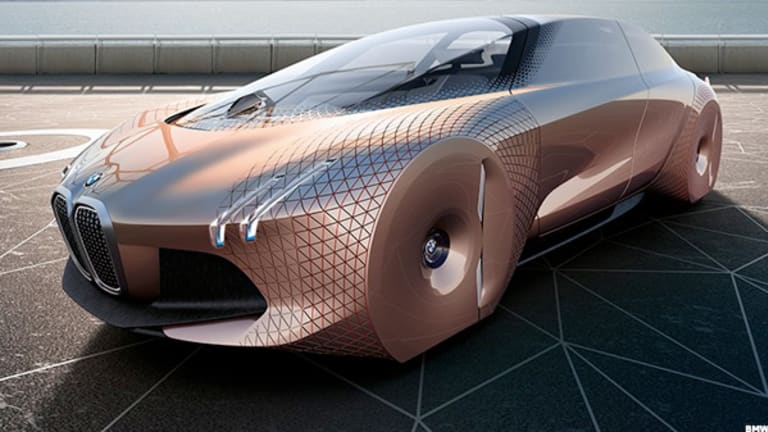 Publish date:
BMW Drops High-Level Caution and Signals Advocacy of Driverless Technology
BMW is assigning high priority to driverless technology for future models.
BMW is assigning high priority to driverless technology for future models.
BMW (BYMOF) exhibited a prototype driverless car to demonstrate what one may look like and to signal that the Munich-based automaker is assigning high priority to such technology for future models. 
The maker of premium sporty cars -- one of the most profitable in the global industry -- had been cautious under its previous CEO, Norbert Reithofer, about the role of driverless technology and artificial intelligence in personal transportation. 
BMW models often are used by other manufacturers as benchmarks because of the brand's popularity among well-to-do buyers. Because BMW's highly successful marketing campaigns are oriented toward persuading customers of the brand's superior driving characteristics, the company likely now must undergo a broad rethinking of how it sells, to whom and with what message. 
German rival Volkswagen (VLKAY) , Toyota (TM) - Get Report , as well as U.S. giants Ford (F) - Get Report and General Motors (GM) - Get Report , have stepped up research and development in pursuit of driverless technology, which is expected to start appearing over the next few years. 
In January, GM announced that it was delaying for several months its "super cruise" technology for the new Cadillac CT6 sedan until 2017, which will allow drivers hands-off highway driving under certain conditions. GM gave no reason for the delay. VW's Audi and Daimler's Mercedes-Benz brand already are offering a similar feature. Ford reportedly was pursuing a driverless technology alliance with Alphabet (GOOG) - Get Report . 
Nissan's CEO (NSANY)  Carlos Ghosn has forecast 2020 as a year when his company will offer a vehicle that can drive itself, under certain conditions. 
BMW's Reithofer retired last year, replaced by Harald Krueger, who said he is an advocate for zero-emission electrification of vehicles, as well as driverless technology, as soon as possible. BMW's concept, called Vision 100, was unveiled Monday in Munich. 
"We are moving from the Ultimate Driving Machine to the Ultimate Driver, where technology is making any driver a better driver," Adrian van Hooydonk, BMW's chief designer, said at the event. 
Shortly after a New York Times story in October 2010 first publicized the existence of the Google self-driving car project, BMW's Reithofer was asked at a press conference about the technology. "Why would people want to have one of our cars driven for them instead of enjoying the experience?" he scoffed. 
Immediately following the news that Google intended to create a driverless car, most automakers accelerated their research in the field. 
Since then, the auto industry has embraced the reality that systems combing software, sensing equipment and artificial intelligence can drive cars safely in most conditions. The technology is likely to be commercialized more quickly than once thought, auto executives say. The advent of vehicle sharing and ride-sharing ventures, as well as the growth of Uber and Lyft, offer a glimpse of how smartphones could change the way vehicles are used and owned.
Doron Levin is the host of "In the Driver Seat," broadcast on SiriusXM Insight 121, Saturday at noon, encore Sunday at 9 a.m.
This article is commentary by an independent contributor. At the time of publication, the author held no positions in the stocks mentioned.