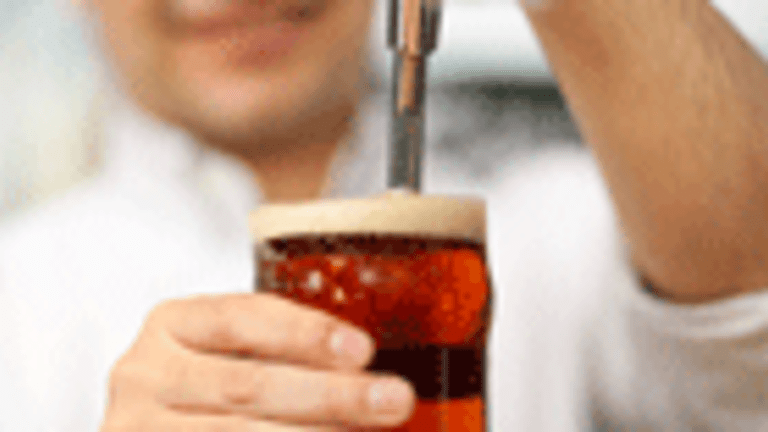 Publish date:
Blue Point Sale to Bud a Blueprint for Forgotten Craft Beer
By accepting Anheuser-Busch InBev's buyout offer, the Long Island-based craft brewery showed why big brewers still love beers that more discriminating drinkers have outgrown.
By accepting Anheuser-Busch InBev's buyout offer, the Long Island-based craft brewery showed why big brewers still love beers that more discriminating drinkers have outgrown.
PORTLAND, Ore. (TheStreet) -- Blue Point Brewing Company isn't the first craft brewer to sell itself to Anheuser-Busch InBev (BUD) - Get Anheuser-Busch InBev SA/NV Sponsored ADR Report and it certainly won't be the last.
On Wednesday, Blue Point co-founders Mark Burford and Peter Cotter announced that A-B's buyout of the Patchogue, N.Y., brewery would close by the end of the second quarter of this year. They told Newsday there would will be no immediate changes to the brewery's operations, and all 25 employees are expected to stay on board.
Blue Point was founded in 1998 and, along with Brooklyn Brewery, it was one of the few New York-area craft brewers to make its presence felt in the New York metro area during the early 2000s. Blue Point signage and tap handles found their way into bars, bodegas and liquor stores around New York City, Long Island and New Jersey. Its Toasted Lager and Hoptical Illusion became fixtures in bars where craft beer previously hadn't ventured.
But what happened to Blue Point along the way is becoming a familiar tale in a growing craft beer market that has little respect for all but the oldest of its elders. As Brooklyn Brewery brewmaster Garrett Oliver gained notoriety for experimenting with styles and keeping the lineup fresh and new breweries including Sixpoint, Captain Lawrence and Barrier pushed boundaries, adopted cans and raised their profile, Blue Point drifted to the middle of the road. Nothing had changed at the brewery: Blue Point was still using premium ingredients and taking home hardware like the 2006 World Beer Cup medal for Toasted Lager and production had grown to 60,000 barrels. Tastes had changed around it, however -- as evidenced by Brooklyn roughly tripling Blue Point's sales and output -- and there was no succession plan to motivate the brewery to change with the times.
Chicago's Goose Island found itself in a similar position in 2011. The then-23-year-old brewery still had great relevance in the Chicagoland area, but held beer geeks' attention with variations on its robust Bourbon County Stout limited-release imperial stout series. However, varieties including its 312 Urban Wheat and Honkers Ale had become tame by craft standards. Goose Island had partnered with the Craft Brew Alliance for production and distribution, and was brewing some of its Honkers Ale at CBA's Redhook brewery in Portland, N.H. Its distribution was handled by Anheuser-Busch under an ownership deal that gave it a 32.2% stake in CBA's business.
Nearly two decades into its lifespan, Goose Island was neither as bland as the big brewers' light lagers nor as exciting as the imperial IPA being produced by craft beer's smaller upstarts. In March 2011, founder John Hall and his family sold to A-B InBev for $38.8 million. Now some of Goose Island's beers are brewed at an A-B facility in Baldwinsville, N.Y., while its Chicago-produced Bourbon County Stout is rumored to become a year-round offering.

This happens. With the number of craft breweries in the U.S. rising to more than 2,500 and craft beer sales still growing 15% by volume in 2012 compared to 1% for the entire beer industry, craft brewers are starting to sound like Morgan Freeman's Red from The Shawshank Redemption: You either get busy living or get busy dying.
Chico, Calif.-based Sierra Nevada was founded by Ken Grossman in the late 1970s. In recent years, Grossman has begun tweaking his lineup to include more seasonal offerings and limited-edition beers, shifted his Torpedo IPA toward the flagship position once occupied by his Pale Ale, expanded to a second brewery near Asheville, N.C., and began grooming his son and daughter to take over the business. Kim Jordan founded New Belgium brewing company in Fort Collins, Colo., with her ex-husband in 1991, but recently began updating the company's labels, canning some of its beers, increasing its one-off batches, selling shares to New Belgium employees, expanding New Belgium's distribution radius to more states and, yes, building a new facility near Asheville, N.C.
We could go on like this all day. Jim Koch brewed his first batch of Samuel Adams 30 years ago, but has recently turned Boston Brewing Company into a nearly 3 million-barrel operation that also cranks out cider, releases malt beverages, develops shandies and buys up breweries including Los Angeles-based Angel City and New York's Coney Island Craft Lagers.Tony McGee started Petaluma, Calif.-based Lagunitas Brewing Company in 1993 and nearly quintupled its output since 2009 while expanding to a facility in Chicago.
That's what it takes to preserve a brewery. There are some folks, however, who understandably don't want to go that route. We wrote about Kansas City, Mo.-based Boulevard BrewingCompany in October, when it was purchased by Belgian brewer Duvel Moortgat for between $100 million and $120 million. John McDonald, who founded Boulevard in 1989, explained the sale in an open letter that should have resonated with every craft brewer in their second or third decade of running a business:
I'm not getting any younger, and the long-term future of the brewery has weighed on my mind for the past several years. After long discussions with my family, we determined that we wanted to find a way to take Boulevard to the next level while retaining its essence, its people, its personality -- all the characteristics that make our beer and our brewery so important to Kansas City and the Midwest.
And those are the words of a man whose brewery output has grown by nearly 40,000 barrels since 2009 and whose brand just became the first craft beer to serve as a Major League Baseball team's official beer sponsor thanks to the Kansas City Royals. Imagine if his brewery was spinning its wheels and creating beers that fell somewhat behind the curve.

In a fickle craft beer market, there's a problem with being the brewery nobody talks about anymore. Older craft beer fans can remember the gateway beers that made them love craft beer 15 to 25 years ago, but they don't often mention the last time they had one -- or the last time they were excited to see it on tap or in a beer cooler. Maybe they kept brewing malty beers in a hoppy world, maybe they were just surrounded by flashier new breweries -- maybe they just didn't think they'd be at it this long.
All are possibilities, but they're all warning signs as well. Take a look at the brewers in your surrounding area. Count how many are 15 years old or older. Check out what their sales numbers have been like in recent years and if, maybe, they've leveled out or dropped while brewers around them flourished. Now read up and see if the owners have mentioned passing the brewery on to family or employees.
If the answer to that last one is no and sales aren't doing great, you just found a buyout target. This is great news for Anheuser-Busch InBev, as there are examples of these kind of craft breweries in just about every craft-loving state in the union. The craft beer community may have outgrown these mild gateway beers a long time ago, but they're a valuable commodity to a big brewer. A-B has seen sales of Budweiser, Bud Light, Busch and Busch Light brands either fall consistently or flatten since the recession. It knows tastes are drifting away from its standard, premium light lagers and that craft styles are part of the problem. By buying up Goose Island and Blue Point, A-B has not only given itself a craft presence in the Chicagoland and New York metro areas, but has eliminated a craft gateway in each place.
If tastes drift away from A-B's lagers, the giant brewer can just shift customers to a Goose Island, Blue Point, Shock Top or one of the other "craft" brands it buys up. It may not keep drinkers from craft beer entirely, but it buys A-B some time and keeps money from those on-the-fence drinkers in house.
There's a whole lot of craft beer territory to cover, however, and A-B isn't shy about spending to improve market share. Buying up craft breweries would just be an extension of Brazilian/Belgian A-B InBev's global strategy that included the purchase of South Korean brewer Oriental last month and its much-contested buyout of Mexican brewer Modelo last year.
A-B believes that the best way to fight craft beer is with a product that, at least at one time, discriminating drinkers viewed as craft. As Blue Point made clear, all it takes is a tired, fading brewer to make such a sale possible.
-- Written by Jason Notte in Portland, Ore.
>To contact the writer of this article, click here: Jason Notte.
>To follow the writer on Twitter, go to http://twitter.com/notteham.
>To submit a news tip, send an email to: tips@thestreet.com.
RELATED STORIES:
>>5 Craft Brewers Who Need A Super Bowl Ad
>>Wait, We Weren't Finished With Dark Holiday Beers Yet!
>>Some Craft Beer Resolutions for 2014
Jason Notte is a reporter for TheStreet. His writing has appeared in The New York Times, The Huffington Post, Esquire.com, Time Out New York, the Boston Herald, the Boston Phoenix, the Metro newspaper and the Colorado Springs Independent. He previously served as the political and global affairs editor for Metro U.S., layout editor for Boston Now, assistant news editor for the Herald News of West Paterson, N.J., editor of Go Out! Magazine in Hoboken, N.J., and copy editor and lifestyle editor at the Jersey Journal in Jersey City, N.J.