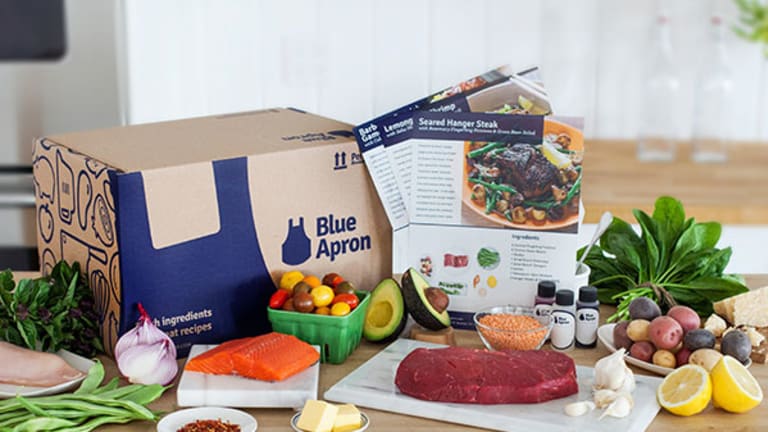 Blue Apron Takes On Amazon and Walmart With Unique Recipe
The biggest untapped opportunity online is fresh food same-day delivery. Brian Sozzi interviews the CEO of Blue Apron, a rising player in the growing market for fresh food delivery.
NEW YORK (TheStreet) -- Blue Apron founder and CEO Matt Salzberg has discovered a niche in the business of fresh food same-day delivery. It's not easy going up against Amazon (AMZN) - Get Amazon.com, Inc. Report and its Amazon Fresh service, it's tough competing with Walmart (WMT) - Get Walmart Inc. Report and Target (TGT) - Get Target Corporation Report, which are increasingly getting into the same-day delivery mix. And then there's fellow upstart Instacart, which uses personal shoppers to pick groceries from Whole Foods (WFM) and others.
Blue Apron, which reportedly is valued at $500 million following a financing raise, utilizes a different approach to the same-day delivery of fresh food relative to its competitors. For $9.99 per person, per meal, a subscriber receives a box all of the ingredients and several recipes required to make a unique meal at home.
Ways General Mills, Clorox, Kellogg's Are Saving Big Money on Favorite Brands 
Chobani Prepares a Major Supermarket Invasion 
Clorox's Glad Grabs Market Share With Premium Trash Bag Gains
In an interview, Salzberg described Blue Apron's business model.
Brian Sozzi: Blue Apron is literally at the epicenter of all sorts of food movements. What are a couple of the themes you are finding when studying data on the items getting packed into those neat-looking boxes?
Salzberg: We're most focused on providing the freshest, seasonal ingredients to our customers. Our sourcing experts have built strong relationships with farms and suppliers so we can send hard-to-find ingredients directly to our customers, without having the food sit on a supermarket shelf or in a distribution center for days.
Our culinary team works hand in hand with our sourcing experts so we can build menus around what's freshest in the markets. For us, there isn't just one ingredient that is about to burst onto the scene, it's about seasonality. Our customers get excited about cooking with unique and interesting seasonal ingredients -- in recent weeks we've sent garlic scapes, ramps, pea shoots, fiddlehead ferns, and squash blossoms, to name a few.
Sozzi: I suspect there is a huge opportunity to fill food desserts, or places where people lack access to fresh food, across the country. To gain scale in these zones, and to ultimately get a Walmart mom pulling in a $25,000 annual salary pretax to subscribe to a Blue Apron, will the company have to partner with a Walmart or Target to create the affordable, unbeatable subscription? It would seem that a Walmart should want to partner with you in a big way.
Salzberg: We have a huge opportunity to give our customers access to ingredients that are fresher and cheaper than what they find at their local supermarkets. Typical grocery stores, such as Target and Walmart, need to stock all food for all occasions, which creates a lot of additional waste. By working directly with suppliers, cooking food that is in season, and pre-portioning ingredients so you're getting exactly what you need, we're eliminating a lot of waste in the grocery supply chain. We've been able to pass that savings to our customers, so if you were to try to recreate a Blue Apron recipe buying from local grocery stores, it would be far more expensive.
Sozzi: What are the infrastructure limitations, or operating roadblocks, you and the team are finding in the journey to expand Blue Apron into new markets? Is it access to fresh ingredients? Is it delivery issues in both rural and urban areas?
Salzberg: With our current footprint, we are able to deliver to 85% of the country and are working to serve the rest in the coming months. As we grow, we are building the farm and supplier relationships all over the country so we can continue to deliver fresh, seasonal ingredients to our customers.
Sozzi: First international market that could be a possibility for Blue Apron in five years?
Salzberg: At this point, we don't have plans to expand internationally. We are focusing on introducing more and more customers to Blue Apron in the U.S.
Sozzi: Blue Apron's name and logo, where did they each come from?
Salzberg: Blue Aprons are traditionally worn by chefs in training around the world, and are a symbol of lifelong learning in cooking. We called the company Blue Apron because we believe you're never done learning in the kitchen.
Sozzi: Are kids and workout-enthusiast-oriented Blue Apron boxes in the near future? 
Salzberg: Many of our customers currently cook with their kids, and have found Blue Apron to be a fun way to teach their kids about cooking and food. We hear from customers every day how Blue Apron has helped them bond with their kids and spend more time as a family. We also hear from customers that they appreciate that Blue Apron helps them control portions, since all of our meals are between 500-700 calories.
Sozzi: So your Blue Apron box is sitting on the kitchen counter, you think?
Salzberg: What do I get to cook for dinner tonight??
Sozzi: Most critical executive position you are looking to add right now and why?
Salzberg: We're looking to hire people across all teams, and all levels. Some of our most critical hiring needs are staffing our expanded fulfillment centers.
Sozzi: If money was not an option, what would be on your list of wants for Blue Apron's operations? Is it a tech lab to test same-day delivery drones? Ten distribution centers?
Salzberg: We're investing in operations across the board -- expanding distribution centers, testing, improving efficiency. But we do fantasize about getting robots to pack our boxes and drones to deliver them.
-- By Brian Sozzi CEO of Belus Capital Advisors, analyst to TheStreet. This article represents the opinion of a contributor and not necessarily that of TheStreet or its editorial staff. At the time of this publication, Belus Capital Advisors rated Walmart and Target shares at sell. Brian Sozzi is the CEO and Chief Equities Strategist of
. He is responsible for developing and managing an equities portfolio of mid- and large-cap positions, in addition to leading the firm's digital content initiatives. He is also a personal finance columnist for
Men's Health
magazine.