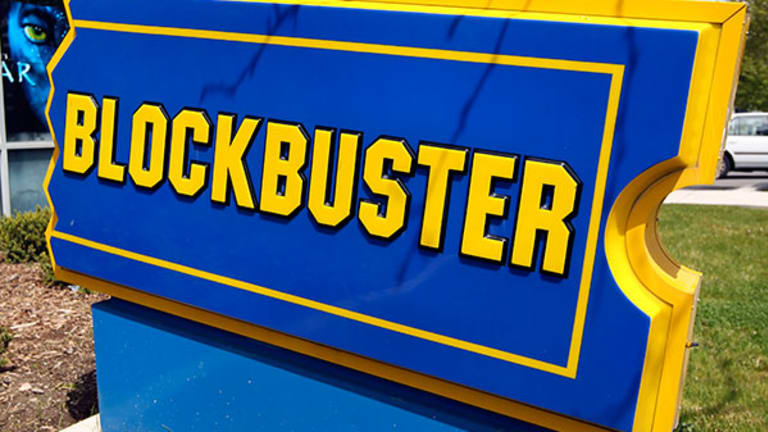 Blockbuster's Self-Inflicted Tragedy Is Our Loss
The video rental chain's demise was predictable, but the shared experience it created has no replacement.
PORTLAND, Ore. (TheStreet) -- Blockbuster Video is dead and few will outright mourn its passing. It crushed independent competitors, smothered its customer base in late fees and choked out variety for the sake of lining its walls with as many questionable new releases as possible.
It won't be missed by many, but the experience around it will.
There was a time long before the company's 2010 bankruptcy and its 2011 buyout by
DISH Network
(DISH) - Get DISH Network Corporation Class A Report
when going to Blockbuster wasn't an exercise in misery and anachronism. I got my Blockbuster card the same year I got my driver's license -- roughly the same year Blockbuster was purchased by
Viacom
(VIA.B)
, for what it's worth -- and immediately used the latter to make the most of the former at the nearest Blockbuster in Nutley, N.J. That Blockbuster opened in the former location of a men's clothing store along the main drag on Franklin Avenue and had a remarkable, unorthodox layout featuring new releases, video games, food, magazines, posters and used and new videos for sale on the top floor. A curved staircase near the store's front entrance swept down into a dungeon of older films organized by genre, with a hole in the center looking up into the store above.
Amid the 2-for-1 rentals and myriad boxes of Mike and Ikes were customers from the far reaches of a one-town radius, including my old teachers, friends from grammar school and kids I worked with at the nearby Shop-Rite. It wasn't exactly country-store friendly, but it was one of the few ways you got to see everyone outside of school or work and get a glimpse into their lives. You could judge their Steven Segal movies and romantic comedies, but they judged
Police Academy
and
Dick Tracy
rentals just as harshly. Occasionally, there was even common ground or a solid recommendation -- I wouldn't have seen early Hong Kong action movies if a friend hadn't put
A Better Tomorrow
and
City On Fire
in my hands during a trip there in the early '90s.
When I moved to Weehawken, N.J., after college, my nearest Blockbuster was a location in the center of Hoboken on its main thoroughfare of Washington Street -- just a few blocks down from the legendary and recently defunct rock club Maxwell's. At that time, Blockbuster created more parking trouble along Washington than Maxwell's ever did with its shows and the display of double and triple parking that occurred on the curb just outside its doors became a magnet for gripes, fights and increased parking ticket quotas in the years that followed.
Even in a town teeming with bars on every other block and restaurants from one end of Washington Street to the other, Blockbuster was a grand common area. You, your neighbors and friends may have been united only in your hatred of the store's long checkout lines and the blissful ignorance of its staff -- who seemed to lack even basic knowledge of the films they were renting -- but it was something you experienced together. You pulled cheap, if scratchy, selections from the used DVD bin each Christmas and bumped into each other after store hours trying to sneak overdue rentals into the Quik Drop. It wasn't a great experience, but it was a collective one.
It's also what's most frustrating about watching Blockbuster go. In the years just before the arrival of
Netflix
(NFLX) - Get Netflix, Inc. Report
, Blockbuster made those experiences so absolutely miserable that that it made people retreat from its stores and ones like it altogether. It reduced the video store's interpersonal experience to such a low denominator that companies including Netflix and
Amazon
(AMZN) - Get Amazon.com, Inc. Report
not only felt the need to develop algorithms that could recommend movies, television shows and other forms of visual entertainment based on a user's preferences and viewing patterns, but found great success doing so.
The common narrative is that Netflix and video-on-demand killed Blockbuster and led us directly to the streaming present. That's not even close. Much as movies didn't just flicker off of theater screens once television entered the picture; it took more than just some convenient, in-home competition to kill off the large-scale video store. Late fees certainly played a role, but Blockbuster's continued, growing reliance on new releases put the squeeze on other offerings for the sake of pushing higher-margin rentals. As
Coinstar's
(CSTR) - Get CapStar Financial Holdings, Inc. Report
RedBox, Netflix and others are making clear through their content deals with
Time Warner
(TWX)
,
Sony
and others, big-budget new releases are a small, flexible part of a much larger business.
As
FEARnet
critic Scott Weinberg summed up so eloquently on Twitter:
He's not wrong. Even as the total box-office gross and average ticket price for theatrical releases grew from $9.155 billion and $6.03 in 2002 to $10.8 billion and nearly $8 last year, the number of tickets sold dropped from 1.576 billion to 1.34 billion. There are more movies being released than ever before, but fewer people are leaving their homes to see them. The movie industry blames increasing home options, but it's Blockbusters' actions that made those increasing individual experiences not only possible, but preferable.
Blockbuster's new-release fixation and ambivalence toward the movies it was renting and selling made it little more than a used video store in its waning days. One of the last times I set foot in a Blockbuster was during the company's initial round of post-buyout store closings in 2011, and only to raid the used DVD and Blu-ray bins at a closing location in Brookline, Mass. That's going to be a lot of U.S. consumers' last experience with the chain: Going to Blockbuster's funeral and picking the few remaining treasures out of its blue-and-yellow casket.
There will be some nostalgia, sure, but there will also be a lot of reminders of everything Blockbuster did wrong and all it took away. Before my Blockbuster card and drivers' license, I rented movies and video games at S&S Video in my hometown of Belleville, N.J. The selection was small and the prices were somewhat higher than Blockbuster's, but the red-haired guy behind the counter always knew when the good games were coming in and what movies I should avoid spending my $5 on. About a year after the Blockbuster in Nutley opened up a town over, S&S was gone, replaced by a nail salon that sits there to this day.
That scene repeated throughout the country during the 1990s and didn't wane when Blockbuster started focusing on strip-mall locations and big-tent offerings and pricing. Some of the great, small video stores remain -- Boston's Video Underground; Seattle's Scarecrow; New York's Allan's Alley Video; Portland, Ore.'s Movie Madness and Austin's Vulcan Video come to mind -- but their environment and interpersonal experience has become a niche offering rather than the rule.
The death of Blockbuster isn't the death of a video store chain: It's the death of a tangible, societal experience. It's the death of shared commodity that should be mourned, not the mortal, self-inflicted wounds of the franchise that killed it.
-- Written by Jason Notte in Portland, Ore.
>To contact the writer of this article, click here:
Jason Notte
.
>To submit a news tip, send an email to:
.
RELATED STORIES:
>>10 Best 40-MPG-Or-Better Cars of 2013
>>5 Vehicles You Want To Drive In A Rainstorm
>>Top 10 Cities For Car Sharing
Jason Notte is a reporter for TheStreet. His writing has appeared in The New York Times, The Huffington Post, Esquire.com, Time Out New York, the Boston Herald, the Boston Phoenix, the Metro newspaper and the Colorado Springs Independent. He previously served as the political and global affairs editor for Metro U.S., layout editor for Boston Now, assistant news editor for the Herald News of West Paterson, N.J., editor of Go Out! Magazine in Hoboken, N.J., and copy editor and lifestyle editor at the Jersey Journal in Jersey City, N.J.