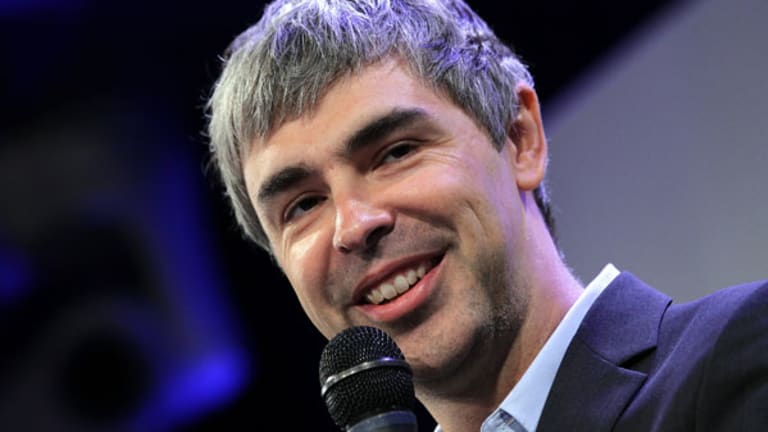 Blankenhorn: Has Google's Larry Page Lost the Plot?
By surrounding himself with yes-men and killing off anything that doesn't make money, the CEO could be setting himself up for a fall.
NEW YORK (TheStreet) -- Every great company is a dictatorship. But no dictator can run a great company alone.
While most press comment on
Google
(GOOG) - Get Alphabet Inc. Class C Report
Thursday centered on its closure of Google Reader, as with my friend
, the bigger news is the replacement of Android chief Andy Rubin with ChromeOS head Sundar Pichai,
Pichai is said to be "closer" to CEO Larry Page than Rubin was, and it's no longer questioned that Marissa Mayer, now CEO of rival
Yahoo!
(YHOO)
, didn't jump from the Googleplex but was pushed out by Page.
So the question becomes, is "focus" just another term for all power flowing through the CEO's hands? Is that CEO head now to be surrounded only by yes-men?
Also see: Tax Tips
Pride goes before a fall, and Page has a lot to be proud about. He co-founded Google alongside fellow Stanford grad student Sergey Brin, and in 15 years has built a company that is now bigger, in market cap, than either
Microsoft
(MSFT) - Get Microsoft Corporation (MSFT) Report
or
IBM
(IBM) - Get International Business Machines (IBM) Report
.
He did it with a relentless focus on one metric -- the cost of managing and moving huge mountains of data. Over the last decade Google pioneered the use of commodity PCs over high-end servers, bought dark fiber at the bottom of the dot-com recession, built a network of data centers to bring content closer to users, and pioneered in renewable energy to lower costs still further.
All this gave Google an incentive to do anything that would increase Web use, because it paid less to serve that use than rivals and so could crush them with its lower costs. Monetization could wait.
It's now clear that it can't wait any longer, and investors have cheered the new, more ruthless Google. If you bought Google at the bottom of the 2008 crash, at less than $263/share, you have recorded a gain of about 215%, with the price now topping $825.
Also see: Saving for Retirement
But along the way Google has lost something. It has lost the belief on the part of users that it's different, that it cares more about people than, say, IBM or Microsoft does. It has become an empire, Larry Page is its emperor, and anyone who might question Page's decisions now knows that the price of speaking up is banishment.
The best tech companies think different. That's not just an
Apple
(AAPL) - Get Apple Inc. (AAPL) Report
slogan. It's an industry imperative.
Doing what everyone else is doing is a recipe for disaster. Google became Google by thinking differently. Now it seems to be thinking like every other company -- about its corporate imperatives, its own success, rather than the growth of its people or its customers.
There's no longer anything in any of its products that rivals can't replicate. An Android phone is a "me-too" iPhone. A Chromebook is a slimmed-down PC. Some of its services, like Google Finance, now look second-rate next to Yahoo!. Google Plus is not
Facebook
(FB) - Get Facebook, Inc. Class A Report
. Google seems to be slowly losing its imagination, its
joie de vivre
, becoming just another company.
>>>> Also see: Retirees: Consider Downsizing to a Rental
You can call that "grown up" if you want. I call it stale. And what's the big deal about being "grown up" anyway? It just means you're getting old.
It's possible I'm just being cranky here. I am one of those reporters who depended upon Google Reader for a quick daily look at sources I trust, and help in identifying new ones. Every blogger I know, who's now making a living from their writing, started with an RSS feed -- an XML file that could be collected, and delivered by a product like Google Reader.
Once there were dozens of such readers. But Google's was better, and it was free. The competition was killed. By killing Google Reader, Google is trying to kill RSS, and the route young writers would take to get the attention they need to become great writers.
Pulling up the ladder after you've climbed into bed, turning a collection of strong entrepreneurs into a crew of yes men, and becoming a big swinging dictator may make you feel better, but it makes you vulnerable to the first kid who comes along with a clue, the first one to come along who thinks different.
He's out there. Maybe she's out there. They're going to kick Larry Page's butt. Just you watch.
At the time of publication, the author was long GOOG, YHOO and IBM.
This article is commentary by an independent contributor, separate from TheStreet's regular news coverage.