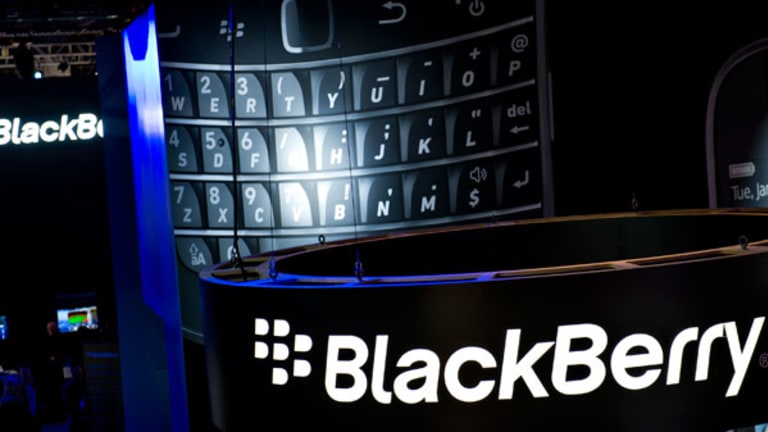 BlackBerry's Sending Mixed Signals
Is the company going to focus on hardware or service? Right now it's falling short on both.
NEW YORK (TheStreet) -- The surest way to anger investors is to say something remotely bearish about their stock. It matters very little if you're right or presented ample facts.
My inbox was filled with hate mail recently following
on
BlackBerry
undefined
ahead of the company's fiscal fourth-quarter earnings report.
While BlackBerry has indeed made progress since escaping the grasp of failed leadership, the company's still facing the daunting task of trying to regain its position atop the mobile food chain -- an environment now dominated by
Apple
(AAPL) - Get Apple Inc. Report
,
Google
(GOOG) - Get Alphabet Inc. Class C Report
and
Samsung
-- not exactly small potatoes.
Plus, once you throw
Microsoft's
(MSFT) - Get Microsoft Corporation Report
Windows Phone into the mix, it's hard to see a "glass half-full" scenario for BlackBerry regardless of any small victories the company may earn along the way. It's just not going to happen.
To that end, while fourth-quarter results were impressive, it's just not going to be enough.
Also see: Dell Buyout Marks Fork in Restructuring Road >>
Revenue arrived at roughly $2.7 billion, down 36% year over year from $4.2 billion. It's a glaring decline. But when compared to the third quarter, revenue was down only 2%. BlackBerry investors jumped for joy. However, it's a bit premature to believe that this company is back to growth.
That said, I'm willing to give management credit for slowing the pace of the decline. When compared to the year-over-year drop of the third quarter, revenue plummeted almost 50%.The company did extremely well selling its new flagship BlackBerry 10 phones, which was unveiled earlier in the quarter -- albeit to some mixed reviews.
Consequently, it was tough to make sales projections of the Z10 phones, which began selling in the U.S. last week after having already been on the market globally for almost two months. But sales exceeded expectations -- reaching one million units, or almost 10% higher than Street estimates of 915,000.
Again, the company deserves credit for this. But until BlackBerry's first-quarter results are announced, investors won't know how the all-important U.S. market feels about the new phones. But so far the glimpse is positive. Unfortunately, the upbeat numbers couldn't keep three million subscribers from churning out of the company's once-dominant service, which was another mixed signal.
BlackBerry said it ended the quarter with 76 million subscribers, down from 79 million. This is the second consecutive quarter during which the company saw subscriber defections after peaking at 80 million last summer. The service business, which has been BlackBerry's highest-margin segment, has been what has made the difference from Apple and Samsung.
BlackBerry investors were unsure of what to make of the subscriber losses, especially considering that in the fourth quarter of 2012, hardware accounted for 68% of sales, which was down from 79% in the third quarter of that year. In this quarter, however, hardware accounted for 61%, which (obviously) means the company is losing market share.
Then again, this should surprise no one. The service revenue, although steady at 36% of sales, means service revenue generated $972 million. While this sounds like a great number, it's almost 12% lower year over year -- down from $1.1 billion in the 2012 fourth quarter. This is even though service revenue had only accounted for 27% of sales in that period.
The service weakness is even more glaring today since it means the new BlackBerry 10 phones, although much improved, is still not enough to compel subscribers to keep the service. Granted, it's still early. But investors have to realize this company can't survive solely as a hardware vendor. It is not going to out-innovate Apple or Samsung.
Also see: Tesla Announces 'More Affordable' Model S >>
What's more, even Microsoft, which has begun to invest more in its Windows Phone in an effort to build its ecosystem, is becoming more of a threat. So, despite the positive signs BlackBerry revealed in this quarter, there are still some underlying fundamental concerns with this company. The company has to effectively answer, what does it want to be? Is it going to focus on hardware or service? As it stands, the company's falling short on both.
What of the stock?
It's hard to make a bullish case here, especially since the stock has already tripled since bottoming out at $6 last summer. Here, too, investors have to be careful with expectations. While BlackBerry is no longer a "dead company," there are also no signs of long-term robust growth.
Nevertheless, I've received a barrage of tweets on
Twitter
, with investors suggesting BlackBerry does not need to compete with Apple, Samsung, and Microsoft to be considered successful.
Then what's the point? I will agree with this if (for instance)
as it should have done several months ago.
However, for now, absent "modest" market share growth, BlackBerry's stock will be capped for a while. In fact, if it doesn't drop 15% this should be considered a win. Where the stock goes from here will be determined by U.S. sales for the first quarter. Even if sales are positive, more subscriber losses won't bode well.
At the time of publication, the author held no position in any of the stocks mentioned
.
Follow @saintssense
This article was written by an independent contributor, separate from TheStreet's regular news coverage.
Richard Saintvilus is a private investor with an information technology and engineering background and the founder and producer of the investor Web site
. He has been investing and trading for over 15 years. He employs conservative strategies in assessing equities and appraising value while minimizing downside risk. His decisions are based in part on management, growth prospects, return on equity and price-to-earnings as well as macroeconomic factors. He is an investor who seeks opportunities whether on the long or short side and believes in changing positions as information changes.