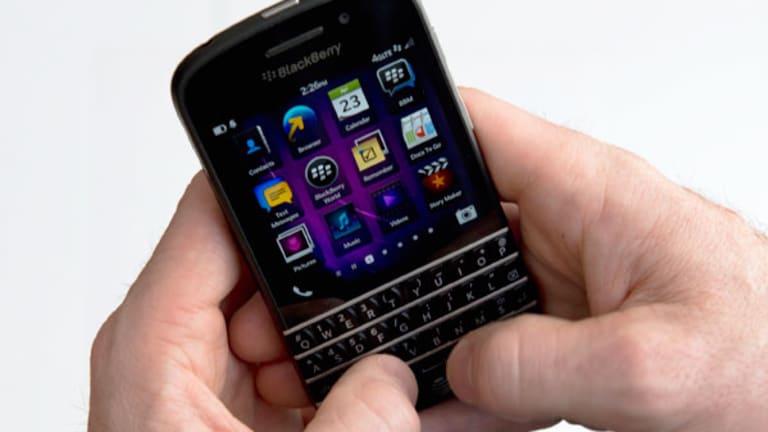 BlackBerry Smartphones on Same Path as Its PlayBook
After price cuts, BlackBerry's smartphones seem destined to fail, too.
NEW YORK (TheStreet) -- Last week when I wrote why I thought Thorsten Heins, the CEO of BlackBerry (BBRY) , should be fired, it was because he was missing a huge market opportunity with tablets.
Either that, or he was lying when he said they would be irrelevant five years from now.
Of course, we all know that is an extremely unlikely scenario. The tablet market is expected to triple over the next five years, at least according to a
. So what is Heins trying to pull by saying they'll be irrelevant in the future?
He's mainly referring to BlackBerry's plan to essentially ditch the PlayBook, which is its version of a tablet. Obviously, the company wouldn't decide to part ways with the tablet segment if it were actually succeeding. But with less than 1% of the current market share and less than 2.5 million units sold in the past 18 months, the PlayBook is what most would call a failure.
When I first began researching the market share percentage of tablets, it was pathetic for BlackBerry. In descending order by vendor, here's what it looked like:
Apple
(AAPL) - Get Report
,
Samsung
,
Amazon
(AMZN) - Get Report
,
ASUS
,
Barnes & Noble
(BKS) - Get Report
, Other.
Other...
?
I had expected BlackBerry's tablet sales to be lame, but certainly not worse than ASUS and Barnes & Noble! I used 2012's fourth-quarter sales for a simple reason: That's when tablet sales would be the strongest -- well, when they're
supposed
to be the strongest anyways.
Bottom line is this: BlackBerry wouldn't be quitting on the Playbook if it was successful. In fact, I tend to agree that if you can't beat Apple and
Google
(GOOG) - Get Report
, then don't waste your time. But c'mon, don't say it's because tablets won't be relevant.
Sure, many will argue that Heins was referring to the ability of BlackBerry phones to connect to different screens. So at home, work and on the go, consumers would only need a screen and a smartphone. But I don't really think that's realistic. Specifically, if BlackBerry is the only company that's going to focus on it, what are the odds that it will truly catch on?
For starters, BlackBerry will actually have to start selling phones for a change. Without that happening, it doesn't really matter what crazy plan Heins and the BlackBerry board has up its sleeve.
Sadly, that doesn't seem to be an option at the time.
are leaving the company, and the Z10's price has
. BlackBerry's first of two "game-changing" smartphones began selling in the U.S. in March but failed to really drive sales. It was reported that only 40% of the total 6.8 million phone sales in the first quarter were BlackBerry 10 devices, meaning the Z10 and Q10. While both of these numbers were below estimates, many did not expect things to be
that
bad.
The funny thing is, people are still arguing that the sales number was OK, saying that analysts were the ones who were wrong. Classic bull delusion. If BlackBerry were doing well, then analysts would still have been wrong. Only in the latter scenario, estimates would have been lower than the actual figures. However, this is simply not the case.
According to the article in
The Wall Street Journal
, the Z10 took a 75% haircut in its price at both
Best Buy
(BBY) - Get Report
and
AT&T
(T) - Get Report
. The phone used to sell for $199 with a two-year contract, but is now only $49. Likewise, Verizon lowered the price to $99.
The article said: "The Z10 discounting is reminiscent of another weak BlackBerry product launch: The company's PlayBook tablet. A few months after the PlayBook was launched in 2011, when the company reported weak sales of the tablet, retailers began slashing prices. Later that year, BlackBerry wrote down nearly $500 million in unsold PlayBook inventory."
No matter how the bulls try and spin this, it's not a pretty picture. Management isn't bailing on tablets because it believes the future is connectable screens. It's because the PlayBook sucks.
There's no other conceivable reason. But even if Heins and BlackBerry
are
right about the connectable screen, they still need to start selling smartphones if they want success to follow.
Connectable screens by Bluetooth, wireless, HDMI cord, whatever -- aren't laughable. The idea's not bad. But the notion that tablets will suddenly be irrelevant in light of this "new discovery" certainly is. If this were the case, Apple, Google, and Samsung wouldn't be printing money from their current slates. Instead, they would move to this very technology, where they already have the millions of mobile smartphone users to actually implement such a system.
Although I'm saying investors should sell short shares of BlackBerry after this violent selloff, I have to ask: Why invest in it? You could trade it on the long side, certainly, but please, convince me that the price slashing, falling sales and departing execs make a worthy investment.
At the time of publication the author was long AAPL.
This article was written by an independent contributor, separate from TheStreet's regular news coverage.
Bret Kenwell currently writes, blogs and also contributes to Robert Weinstein's Weekly Options Newsletter. Focuses on short-to-intermediate-term trading opportunities that can be exposed via options. He prefers to use debit trades on momentum setups and credit trades on support/resistance setups. He also focuses on building long-term wealth by searching for consistent, quality dividend paying companies and long-term growth companies. He considers himself the surfer, not the wave, in relation to the market and himself. He has no allegiance to either the bull side or the bear side.