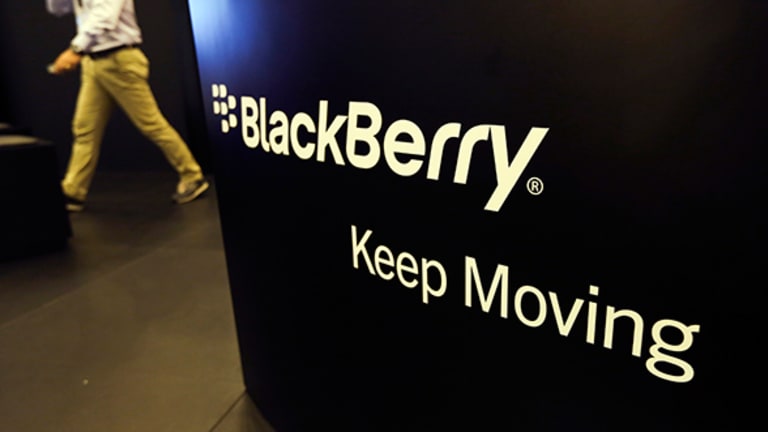 BlackBerry Shocks Wall Street; Roku Provides Food for Bears and Bulls - ICYMI
Here's what you need to know now for Thursday, Sept. 28.
Don't look now, but BlackBerry Inc. undefined is making a comeback.
No, you won't likely see people ditching their iPhone for Curves (the company gave up the smartphone biz last year) but you may already be using BlackBerry software, as the company has taken to licensing its hyper-secure software as its main source of income.
Shares of the Waterloo, Ontario-based firm surged over 13% Thursday afternoon on heavy trading volume, after the mobile communications solutions provider reported stronger-than-expected second-quarter financial results. Blackberry's software business includes, among other things, mobile device management products and the QNX industrial operating system.
The company had expected to be profitable by 2018, but it seems plans have gone better than that. Wall Street was looking for the company to break even.
Streaming company Roku Inc. (ROKU) - Get Free Report  , the newest company to the public markets, saw its stock rocket nearly 70% on Thursday. The move gives hope to the tech industry and the overall IPO market, which was seen as potentially weak after disappointments from Snap Inc. (SNAP) - Get Free Report  and Blue Apron (APRN) - Get Free Report  earlier in the year.
Newsflash, folks -- Roku actually makes money with a functioning business model. Go figure.
Despite the pop, Roku may not be out of the weeds yet. For one thing, it operates in the increasingly competitive world of streaming devices and hardware around over-the-top television. Then there is the simple fact that the company is predominantly in the hardware business, which is often subject to margin pressure, and it may not be long until its particular business gets hammered.
Still no official word on tax reform, but a scant outline of President Trump's proposed tax cuts contains an item that's been high on Silicon Valley's wish list: a tax break on repatriated cash.
This is an excerpt from "In Case You Missed It," a daily newsletter brought to you by TheStreet. Sign up here.

Photo of the day: An innovator stumbles on hard times
It's tough for me to give Hugh Hefner the tribute he deserves so I'll leave you to read the piece featured below from TheStreet's Leon Lazaroff to gauge just how impactful the Playboy founder truly was. Pictured above is the Toshiba Model 500 View Phone, being tested at the company's Tokyo headquarters in 1968. The 144-year-old Japanese tech giant has always been on the cutting edge of research and technology, being one of the first companies to mass produce microchip processors and being credited with inventing the world's first double-coil bulb. But Toshiba has fallen on hard times and has agreed to sell its chip unit to a group led by private equity firm Bain Capital for $18 billion as part of a company-wide corporate restructuring. The sale also includes a $2 billion investment from Apple Inc. (AAPL) - Get Free Report which will help the Cupertino, Calif. iPhone maker bring one of its main suppliers closer to home.
Read more from "In Case You Missed It." Sign up here.
More of What's Trending on TheStreet: