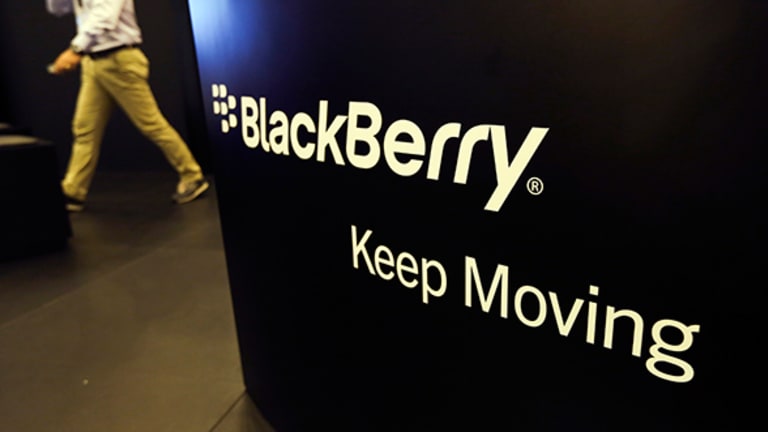 BlackBerry Rebound May Be More Than Just Temporary
Blackberry has focused more on mobile cybersecurity in recent years, but it just announced the release of its second Android phone.
BlackBerry (BBRY) , once a pioneer and champion of the nascent smartphone market, is now the sector's redheaded stepchild. Its technology suffered as Alphabet's Android platform and Apple's game-changing iPhone took over the field.
From its all-time highs in 2009, BlackBerry's stock has lost more than 95% of its value.
But shares rose more than 2% in Tuesday trading after the company announced that it would launch a new Android phone -- the company's second. The new phone will make apps more readily available. While it's unlikely to ever achieve previous highs, it could still pack some profit potential.
Alphabet and Apple are holdings in Jim Cramer's Action Alerts PLUS Charitable Trust Portfolio. See how Cramer rates the stock here. Want to be alerted before Cramer buys or sells GOOGL or AAPL? Learn more now.
BlackBerry's strength once lay in its handset portfolio, but competition led the company to refocus its strategy to mobile communication cybersecurity services for enterprise clients.
That said, the Canadian company has been making an effort lately to revitalize its smart phone segment, which saw an operating loss of $21 million during the most recent quarter.
In September 2014, BlackBerry began bringing out a new line of smartphones, many of which are powered by its proprietary BB10 operating system. Last November, the company released Priv, its first Android phone.
But there's still a way to go before the segment revitalizes: During the latest fiscal quarter, BlackBerry sold 500,000 smartphone units, compared to 2.1 million in August 2014. Currently, BlackBerry accounts for only 1% of the global smartphone market.
Part of the problem is the BB10 operating system itself. More than 80% of smartphones across the planet use the Android operating system. By using its own platform, BlackBerry was at a disadvantage: Many of the apps available for Android and iPhone devices are unavailable for BlackBerry phones.
To boost sales, BlackBerry needed to ditch its systems and use the Android platform. That's what the company will do with the new Android phone.
The new phone is the DTEK50, slated to carry a retail price of $299. The device will have a 5.2-inch screen and an all-touch keyboard. Drawing on its cybersecurity expertise, BlackBerry is preparing the phone with encryption technology. This protection against cyberattack could give the phone an additional edge on the competition.
"We built the phone to hit not only a price point that's good for fleet developments where companies are providing the devices, but at a price point and with the feature set that makes it of great interest to consumers," said BlackBerry's senior vice president for global device sales, Alex Thurber.
By continuing to focus on Android-based devices, the company has a chance at rebuilding this segment. Meanwhile, cybersecurity, the company's new main focus, is a strong, rewarding market.
BlackBerry remains a gamble for investors, but with a price/earnings (P/E) ratio of 1.3, it's a cheap one. Profit seekers with a stomach for risk should hop in now.
---
Investors who don't mind a little risk should explore profits with BlackBerry, especially as it rolls out new Android phones. But what if I told you about a way to make a steady income this year... guaranteed? A trader I know turned $50,000 into $5 million trading this way and for a limited time, he's guaranteeing you at least $67,548 per year in profitable trades if you follow this simple step-by-step process.Click here to see how easy it is to collect thousands of dollars in "Free Money" every month.
This article is commentary by an independent contributor. At the time of publication, the author held no positions in the stocks mentioned.