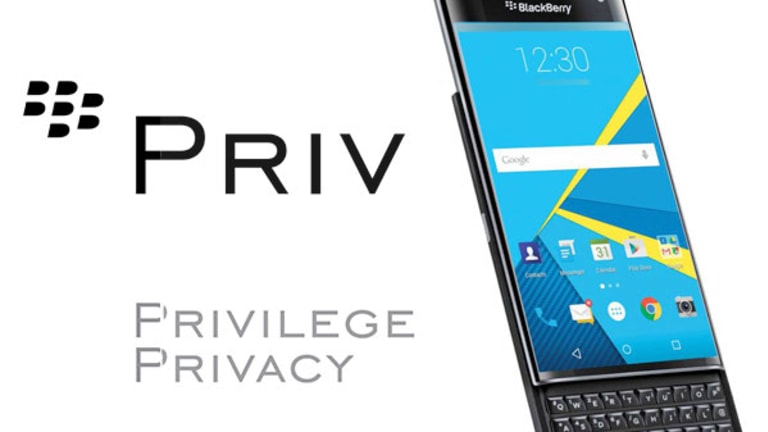 BlackBerry: Is This the Start of a Recovery or Another Head-Fake?
The smartphone maker did beat revenue estimates, but that still added up to a year-over-year decline and an EPS loss.
Editor's Pick: Originally Published Tuesday, Dec. 22.
Beleaguered tech giant BlackBerry  (BBRY) put up impressive numbers for its fiscal third quarter, which sent its shares soaring more than 10% on Dec. 18 to a six-month high. So far in December alone, the stock has climbed 15.4%, and it's up 30.3% in the past three months, besting the Dow Jones Industrial Average  (DJI) and the S&P 500  (SPX) index over both periods.
Investors want to know whether theose gains are sustainable or if BlackBerry is setting investors up with another head-fake? Once left for dead by both Apple  (AAPL) - Get Report and Samsung  (SSNLF) in the fast-growing smartphone market, the Canadian company has begun to show some signs of life.
Owing to its newly-launched smartphone Priv, which uses Alphabet's (GOOGL) - Get Report Android OS, BlackBerry posted revenue of $557 million, exceeding Wall Street's estimates by some $68 million. It's no small feat that the company has turned cash-flow positive and is finally making money again much sooner than industry-watchers had expected. But there are still tons of issues BlackBerry must address.
For instance, despite beating analysts quarterly revenue targets, the $557 million it generated still amounts to a 30% decline from the year-ago quarter. Not to mention, BlackBerry's revenue was boosted by recent acquisitions like security company Good Technology and crisis communications firm AtHoc. Combined, both companies -- after being absorbed -- helped BlackBerry to nearly double the amount of revenue its software and services segment contributes, from 15% to 29%.
Another thing to consider: While BlackBerry did beat its earnings estimates by a meaningful margin, it still posted a net loss of $15 million, or 3 cents a share.
Do these numbers make its stock a worthwhile investment for 2016?
It's not one I'm willing to bet my own money on, especially when its gross margin -- which determines how much profit it makes relative to revenue generated -- declined some eight percentage points from the year-ago quarter.
So, even though BlackBerry shares -- despite their recent climb -- are down 21% on the year, it's not yet time to call this tech firm a turnaround candidate. Why? For the fiscal year that ends in February, the company is projected to lose 36 cents a share. As for fiscal year 2017, the projected loss is 34 cents. A marginally narrower loss in the next 12 to 18 months is nothing to write home about, especially when there are better-performing companies out there with brighter prospects.
This article is commentary by an independent contributor. At the time of publication, the author held no positions in the stocks mentioned.