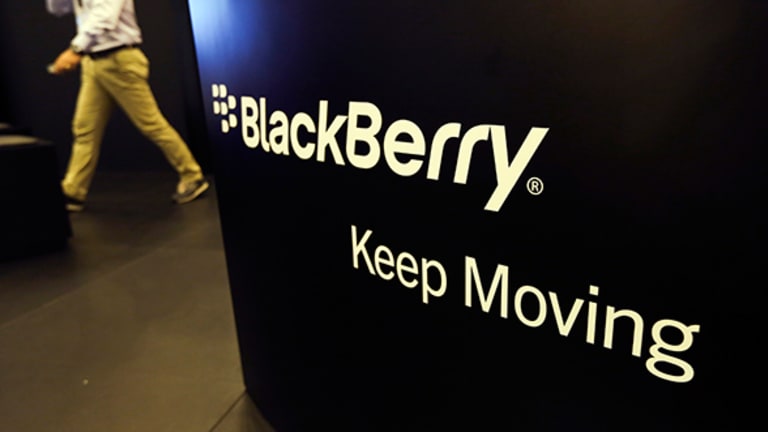 BlackBerry Is Pinning Its Future to Android -- Will It Work?
BlackBerry says it will launch Priv, an Android-based phone later this year. There's uncertainty the move can turn company around
BlackBerry says it will launch Priv, an Android-based phone later this year. There's uncertainty the move can turn company around
NEW YORK (TheStreet) -- BlackBerry announcement Friday that its new smartphone will run on Google (GOOG) - Get Report (GOOGL) - Get Report Android operating system could be the start of a last chance for the company to revive its flagging status in the mobile device industry.
"It's a move out of either necessity, or desperation," said Mike Walkley, who covers BlackBerry for Canaccord Genuity. "They're basically trying to offer Android to help the handset business because BlackBerry 10 isn't selling well." Despite the confirmation of the device, rumored for months, BlackBerry Chief Executive John Chen didn't give any specifics about the Priv, such as pricing or distribution.
BlackBerry 10, BlackBerry's mobile operating system, helps run phones such as the Passport, which has a square shape, the Classic and the BlackBerry Leap. Such devices are suffering from declining sales in a market dominated by Android devices and Apple (AAPL) - Get Report iPhones.
In addition to divulging plans for the Priv, BlackBerry also released its fiscal second-quarter results Friday. The company said it sold over 800,000 BlackBerry smartphones in the period ended August 29, down from 1.1 million phones sold in its first quarter.
For its second quarter, BlackBerry reported net income of $51 million, or 10 cents a share, on revenue of $490 million. Excluding one-time items, BlackBerry lost 13 cents a share. Analysts surveyed by Thomson Reuters had forecast BlackBerry to lose 9 cents a share on $611 million in sales.
BlackBerry is also banking on a turnaround based on its BES 12 device-management software, and concentrating on business customers, with emphasis on the company's strong security features of its software platforms.
In a statement, Chen said the Android-based Priv was "named after BlackBerry's heritage and core mission of protecting our customers' privacy." Chen added that because of the Priv, BlackBerry expects to report modest quarter-over-quarter growth in each the remaining two quarters of its 2016 fiscal year.
But going with Android, and promises more such devices to come, doesn't give BlackBerry a clear road ahead as it seeks to turn business around.
BlackBerry shares were down almost 7%, at $6.55, in afternoon trading Friday following the company's announcements.
Ken Dulaney, mobile industry analyst with Gartner, said something as simple as the Priv being slider phone may keep it from gaining popularity with potential customers.
"They [slider phones] have an inherent problem," Dulaney said. "They become lengthy and unbalanced. My criticism is they tried to take their hallmark keyboard and slapped it onto an Android device. They would have done better with a straight touchscreen handset device."
This article is commentary by an independent contributor. At the time of publication, the author held TK positions in the stocks mentioned.