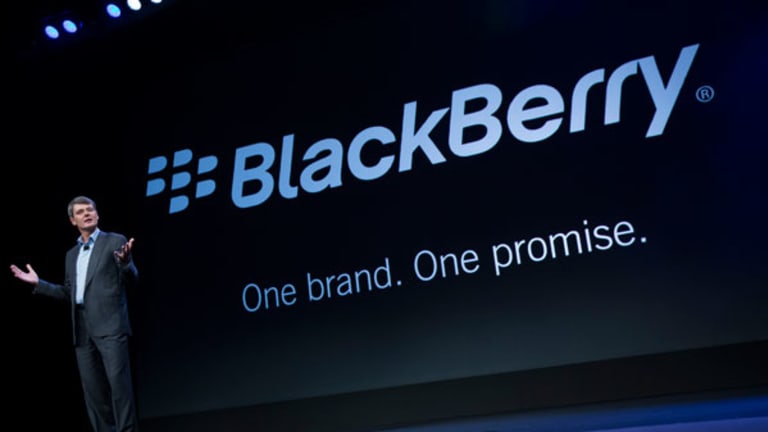 BlackBerry in Value Territory?
An Intriguing story, but challenges to rebound abound.
NEW YORK (TheStreet) -- I gave up my BlackBerry more than a year ago, and while there are some things I miss about it, as compared to my android device, I'm not sure it's enough to go back. Evidently, that's not uncommon sentiment judging by the downward trajectory of BlackBerry'sundefined revenue and bottom line.
Friday, the company reported a 56% decline in third quarter revenue, and both revenue and the net loss for the quarter were well below expectations. But in classic fashion, the stock rebounded after the release, and finished the day up more than 15%; a reaction to the announcement of a five-year deal smartphone production outsourcing deal with Foxconn. The hope is that getting out of the hardware manufacturing business will help cut costs and the messy inventory situations the company has gotten into.

BBRY data by YCharts

While this company has a long way to go to once again become relevant and profitable, it has also become an interesting situation from a value perspective. Despite the terrible operating performance in recent years, the company has maintained a fairly solid balance sheet, and is once again showing up on some of my deep-value oriented stock screens.
BlackBerry ended the third quarter with nearly $3.1 billion, or just under $6 per share in cash and short-term investments. Now, granted that the company did burn through about $400 million in cash last quarter, excluding the $1 billion private placement deal in convertible debentures the company did with Fairfax Financial (FRFHF: OTC BB) and others, so this cash hoard needs to be both monitored and taken with a grain of salt. But, that level of cash certainly does get my attention, especially with the stock trading in the mid-$7 range.
The stock is also trading below book value, and at about 1.4 times tangible book value. Interestingly, both of those measures are not nearly as compelling as they once were, following the huge write downs the company took last quarter. That's a great lesson for investors though; in some situations relatively high book values can be a mirage, especially when a company is in distress.
One of the other interesting aspects of this story involves BlackBerry's largest shareholder, the same that just poured $1 billion into the company, Fairfax Financial. Company CEO Prem Watsa is legendary in value investing circles. Fairfax currently holds about 10% of Blackberry stock, and had attempted to take the company private last month, for $4.7 billion, but evidently had difficulty getting financing for the deal.
One thing that BlackBerry has on its side, for now anyway, is time. It's relatively low level of debt, and $3.1 billion in cash and short-term investments probably buy it a couple of years, or perhaps more, to right the ship. Of course, that depends on how much cash the company burns. The more difficult part will be getting the customers to re-embrace the BlackBerry.
An intriguing situation...
At the time of publication the author held no positions in any of the stocks mentioned.
This article is commentary by an independent contributor, separate from TheStreet's regular news coverage.
Jonathan Heller, CFA,CFP® is president of KEJ Financial Advisors, his fee-only financial planning company. Jon spent 17 years at Bloomberg Financial Markets in various roles, from 1989 until 2005. He ran Bloomberg's Equity Fundamental Research Department from 1994 until 1998, when he assumed responsibility for Bloomberg's Equity Data Research Department. In 2001, he joined Bloomberg's Publishing group as senior markets editor and writer for Bloomberg Personal Finance Magazine, and an associate editor and contributor for Bloomberg Markets Magazine. In 2005, he joined SEI Investments as director of investment communications within SEI's Investment Management Unit.
  Jon is also the founder of the
, a site dedicated to deep-value investing. He has an undergraduate degree from Grove City College and an MBA from Rider University, where he has also served on the adjunct faculty; he is also a CFA charter holder.