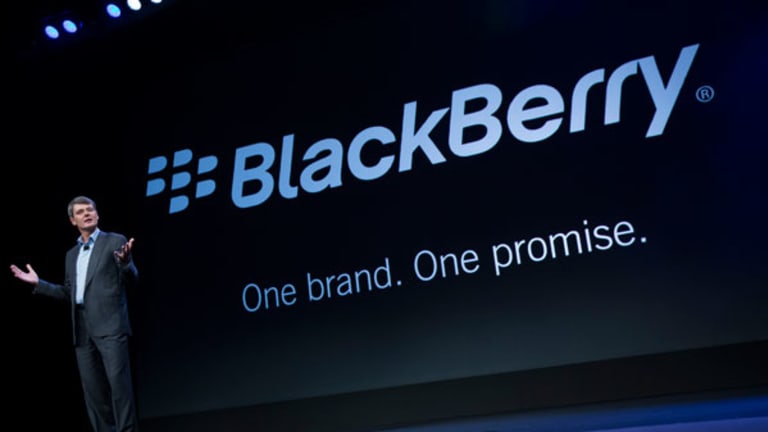 BlackBerry Fails at the 'Vision Thing'
Saintvilus argues that BlackBerry management is doomed to fail at shaping a business strategy that will ever be effective.
NEW YORK (TheStreet) -- "Don't hate the player, hate the game" has become one of the most popular quotes to have surfaced over the past couple of years. As best as I can put it, it means regardless of any outcome, don't blame the parties involved, condemn the system. To that end, I believe BlackBerryundefined investors, many of which have chronically blamed the market for the company's failures, have taken this reference to a whole new level. But it can't continue.
Recently, Bert Nordberg, who sits on BlackBerry's board of directors, offered a glimpse into what management is thinking about the company's future. In a recent conversation with The Wall Street Journal, Nordberg, who, in my opinion, has had a "decent" pulse on this company, described BlackBerry's potential as a niche player in the smartphones market.
Essentially, Nordberg is conceding the mobile device market to Apple (AAPL) and Samsung. In a stunning example of lowering expectations, Nordberg said:
"I think BlackBerry is able to survive as a niche company. But being a niche company means deciding to be a niche company. Historically, BlackBerry has had larger ambitions. But battling giants like Apple, Google (GOOG) and Samsung is tough."
First and foremost: I appreciate Nordberg's bluntness and admitting that the company is no longer relevant in device sales. While the Street has long realized this, BlackBerry's "non-compete" position has been something that many BlackBerry investors have refused embrace. Analysts will scour for more details when the company releases fiscal second-quarter earnings Sept. 27. But what's the point?
Given how BlackBerry has allowed billions in shareholder wealth to be withered away solely because the company couldn't separate itself from the physical keyboard and a trackball, I don't see how management can be trusted to harvest any value from a "new niche" mentality. But it's not really new.
BlackBerry, by virtue of its strong emphasis on security, was arguably already "niche" company since its inception. Making its name by tethering workers to their enterprise email systems, BlackBerry never could evolve out of that "security niche." I don't want to understate the value of that market. It was a pretty significant business. But times have changed. And let's not forget, BlackBerry's dominance was before Apple and Google bypassed the enterprise and expanded the market to consumers -- the same market that BlackBerry management (then) believed was a "niche" and couldn't last.
While Nordberg did add some additional color regarding cost-cutting measures, which he believes will allow BlackBerry to "focus more on its core strengths," he was also pretty non-descript, if not intentionally vague, about how the company would achieve its leaner look. Although it is possible that the company could get decent value by selling off some of its components, that still doesn't explain what a new-look BlackBerry would become. What are the company's strengths?
I've read where analysts are suggesting that BlackBerry can appeal to a subset of smartphone and enterprise users that still place an emphasis on security. That may be so, but where's the appeal? Consumers have not shown a willingness to sacrifice device functionality, apps and "style" for security. It was precisely this type of belief that has gotten BlackBerry into this mess. This model has not worked.
And it's not often that board members discuss publicly and share to the world what the company "might be thinking" if it hasn't already made up its mind. To that end, I believe Nordberg's intention (among other things) was to announce BlackBerry's exit out of the "Apple/Samsung/Google-fight", while also giving BlackBerry investors a dose of reality, effectively putting them out of the misery of waiting for Blackberry to ever regain relevance. Nordberg's saying that's not going to happen.
I appreciate Nordberg's honesty and his willingness to offer an insider's perspective of the sad realities of the company. I will also say that BlackBerry can prove me wrong and I might end up eating these words. Even so, absent more strategic details about the niche direction, I don't see how anyone can assume that any business plan put together by management of this company can ever work. You can disagree with me if you like, but when this blows up, as I expect it will, don't "hate the game."
At the time of publication, the author was long AAPL.
Follow @saintssense
This article was written by an independent contributor, separate from TheStreet's regular news coverage.
Richard Saintvilus is a co-founder of
where he serves as CEO and editor-in-chief. After 20 years in the IT industry, including 5 years as a high school computer teacher, Saintvilus decided his second act would be as a stock analyst - bringing logic from an investor's point of view. His goal is to remove the complicated aspect of investing and present it to readers in a way that makes sense.
His background in engineering has provided him with strong analytical skills. That, along with 15 years of trading and investing, has given him the tools needed to assess equities and appraise value. Richard is a Warren Buffett disciple who bases investment decisions on the quality of a company's management, growth aspects, return on equity, and price-to-earnings ratio.
His work has been featured on CNBC, Yahoo! Finance, MSN Money, Forbes, Motley Fool and numerous other outlets.
Follow @saintssense