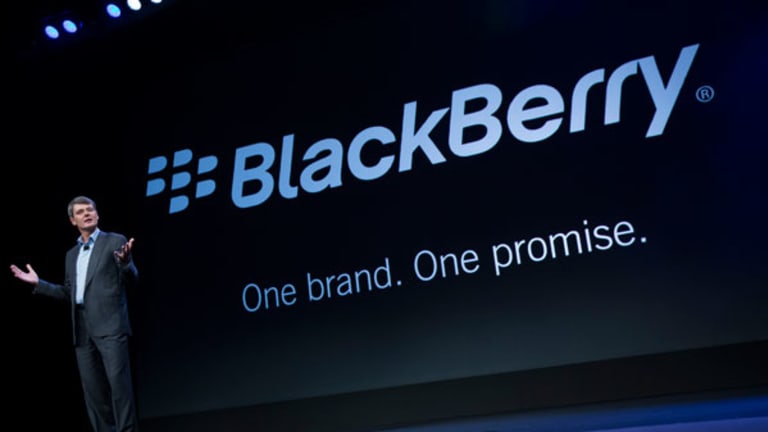 BlackBerry Carves Out Profitable Niche
It may be a smaller player in the smartphone market, but there is plenty of money to go around.
NEW YORK (TheStreet) -- There's been some wicked volatility of late on a stock that usually trades about 65 million share per day on average. After a couple of ugly down days for BlackBerryundefined (previously known as Research in Motion), its shares have moved to the upside as the company prepares to step into the earnings confessional tomorrow before the markets open.
As shares of BBRY moved higher on Tuesday, the
S&P 500
once again tested its record, coming within a point of its closing high of 1,565.15, set on Oct. 9, 2007. The benchmark index ended the day up 0.78%, at 1,563.77. Shares of BBRY moved up 23 cents on the day to close at $14.46.
>>>Read "BlackBerry: The End Game" on TheStreet
Although volume was unremarkable, traders are betting on what the company will reveal Thursday concerning its Z10 touch-screen smartphone sales in Canada and internationally. Details on the U.S. launch will have to wait until the next quarterly earnings report because the Z10 just hit the U.S. markets at the end of last week.
When it reports on its fourth-quarter financial results, BBRY will be facing analysts' expectations that it sold nearly 1 million Z10 phones globally. A
quoted
Morgan Stanley
analyst Ehud Gelblum, who predicted Z10 sales "probably won't be a blowout, but the way they have been talking, I'd be shocked if it wasn't anecdotally bullish."
This reflects the expectations of both analysts and bullish traders who feel BlackBerry will not disappoint and will likely present an upbeat earnings report. Not all analysts are wildly optimistic and seem to be attempting to moderate the anticipation surrounding the upcoming quarterly numbers.
According to the same report, Colin Gillis, an analyst with
BGC Financial
, expects a higher-than-consensus estimate of 1.3 million Z10 units shipped.
>>>Read "Ignore BlackBerry Earnings; They Mean Nothing" on TheStreet
Gillis suggested that store reports have revealed a lack of marketing support and poor positioning by
AT&T
. "It's sad," Gillis said. "
BBRY is way off in the corner, with the iPhone 4." So although last quarter will meet or exceed expectations, we'll have to wait to hear how the guidance from the company is given going forward.
It's been a wild ride for shareholders in the past year as the below chart illustrates. The trailing 12-month revenue-per-share better show a great deal of improvement to support the current share price.
BBRY
data by
Analysts polled by FactSet forecast a fourth-quarter loss of 31 cents a share on revenue of $2.85 billion. That represents the bar that BBRY has to at least reach, and ideally exceed, to support the mostly upside trend on the stock's share price.
Also see: How Retirees Can Maximize Their Social Security Payouts
The new BlackBerry Z10 has been receiving positive reviews since its release in February in Canada and other international markets. Yet the launch in the critical U.S. market was delayed until late last week, and rumors have been circulating that the first week of sales hasn't been exuberant.
>>>Also See "Cramer: There Is a BlackBerry Fanbase" on TheStreet
A new kind of BlackBerry keyboard smartphone called the Q10 is not scheduled to be released in the U.S. for two to three more months. BBRY's many users have stayed loyal partly because they prefer a physical keyboard over the touch-screen on the iPhone and most Android devices.
Morgan Stanley analyst Gelblum contends that BBRY can survive as a "niche player." He reportedly believes the company and its products don't have to approach the success that Apple has with the iPhone.
"There is going to be a billion smartphones sold this year. A five percent market share would be 50 million sold, that's 12 million a quarter. If they
BBRY are selling 12 million a quarter, they are doing back flips," Gelblum said. Maybe the S&P 500 and investors will do back flips and jump higher, too!
At the time of publication, the author was long AAPL.
This article is commentary by an independent contributor, separate from TheStreet's regular news coverage.