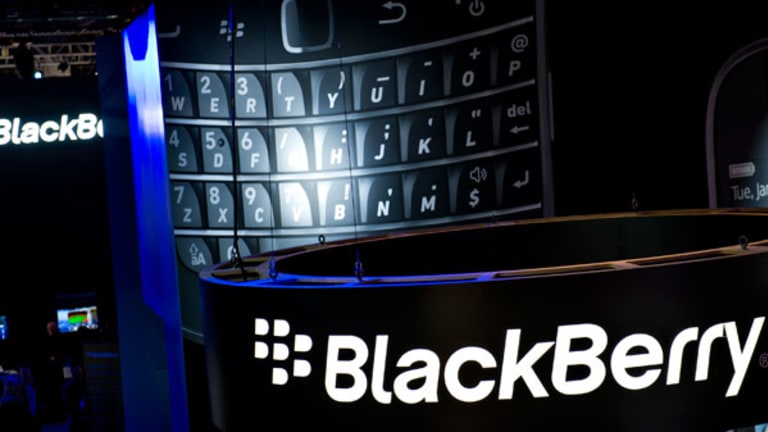 BlackBerry and Apple Are Down, But Only One Is Out
Both stocks have severely underperformed the broader indices this year, but only one is worthy of your investment.
NEW YORK (TheStreet) -- After I had taken a decidedly bearish stance on BlackBerryundefined following the horrendous first-quarter earnings report, the bulls came out in defense.
Honestly, how do you defend a company that had over one-third of its market cap shaved off after its results were released? Clearly, the market has spoken.
I guess you could support the notion that a stock can only get so cheap, (which many bulls do). I will admit that I don't expect BlackBerry to go bankrupt, but why own that over other companies that are
far
better?
Bulls point to the 'large' cash balance of some $3-odd billion and no debt. But if sales growth is, well, not growing, then who cares? Phone sales were down 15% from last quarter and the company's flagship Z10 phone's sale price is now being slashed by many retailers after only being available for a couple of months.
Instead, why not buy
Apple
(AAPL) - Get Apple Inc. (AAPL) Report
? I would say
Google
(GOOG) - Get Alphabet Inc. Class C Report
, but for comparison purposes I thought Apple fit the bill better because of its performance.
I know some will find that this a preposterous idea right off the bat, but consider this: BlackBerry's year-to-date performance is -24%. Nearly just as bad is Apple, off over 17% and down 22% before the company's earnings report was released on Wednesday.
So which makes more sense to buy?
While the bears have been relentless on Apple and why it's still doomed to fail, the company continues to rake in massive profits amid popular demand. iPhone sales in the last quarter came in higher than analysts had expected, fighting the notion that the smartphone market is softening. Some are even calling for the dethroning of CEO Tim Cook.
While the guy might not be the most innovative fellow, he sure knows his stuff from an operational standpoint. Also, if he's off the hook for the irresponsible buying frenzy of Apple shares in 2012, why is being held responsible for the collapse over the past nine months?
Apple can't release an Earth-shattering, groundbreaking new product every year. Despite what investors want, it simply can't happen. But beginning in October and over the following 15 months, we're going to see a slew of new products and I will wait to pass judgement on Cook until then.
Thorsten Heins is
.
Getting back to the battle of the stocks, Apple makes such a better investment, in my mind. People love Apple products. When you walk around to, say, a
Starbucks
(SBUX) - Get Starbucks Corporation Report
or bookstore, do you see PlayBooks and BlackBerrys everywhere or iPads, Macs and iPhones? I think the answer is rather obvious.
The Apple ecosystem is only continuing to increase, with the number of current iOS devices
to increase from 346.5 million devices in 2012 to over 570 million by 2017. The 65% surge is far more than the horrendous 30%
decline
that's expected for BlackBerry over the same period.
With new, innovative and, most important, successful products, why choose the loser? Apple has a plethora of cash, to the tune of $146 billion. Although using it to buy back $60 billion worth of stock and shell out $3.05 per share in quarterly dividends is arguably not the best way to use it, the tech giant has more than enough to spend on acquisitions and research while maintaining its plan to return cash to shareholders.
Here's my gripe: BlackBerry bulls continue to argue that the stock can only go so low until it trades at the same level as its cash. Well, my friends, that's at about $5.86 per share, or another 35% downside before that level would be hit. Apple bulls made that argument, too. The difference is, Apple's products remain in demand.
I recognize that Apple has certainly had its flaws over the past year, but it's where I would (and have) put my money between the two companies. With both stocks down close to 20% on a year where the
S&P 500
is up over 18%, I'm going to bet that the successful one is going to continue being successful.
The smartphone market is crowded and the big players in it are likely going to continue being leaders. Names like Google,
Samsung
and Apple are the juggernauts. Companies like BlackBerry and
Microsoft
(MSFT) - Get Microsoft Corporation (MSFT) Report
are among those that are not.
Recent events, such as pitiful earnings results, price reductions and product flops (mainly the PlayBook tablet) make BlackBerry hard to own. Apple has had its missteps, too. But given its much brighter future, high product demand and new products coming to the market over the next 18 months, I think I'll put my money on the latter, rather than the former.
At the time of publication the author had a position in AAPL.
This article was written by an independent contributor, separate from TheStreet's regular news coverage.
Bret Kenwell currently writes, blogs and also contributes to Robert Weinstein's Weekly Options Newsletter. Focuses on short-to-intermediate-term trading opportunities that can be exposed via options. He prefers to use debit trades on momentum setups and credit trades on support/resistance setups. He also focuses on building long-term wealth by searching for consistent, quality dividend paying companies and long-term growth companies. He considers himself the surfer, not the wave, in relation to the market and himself. He has no allegiance to either the bull side or the bear side.