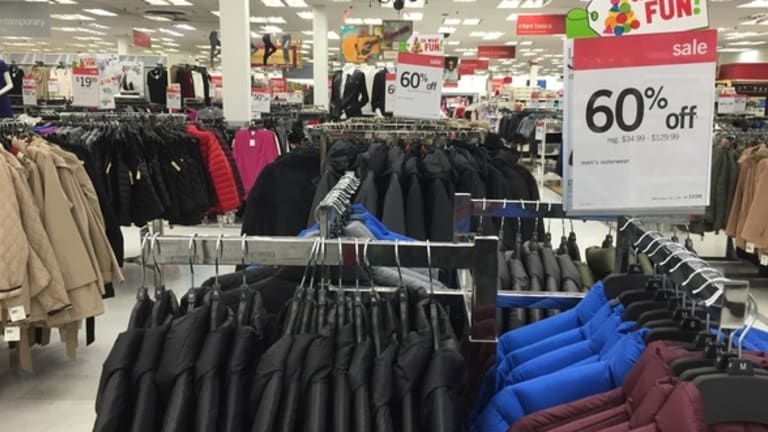 Black Friday Wasn't Kind to Kmart and Sears
Some new data confirm the poor turnout observed in TheStreet's own visits to ailing Kmart stores over the big shopping weekend.
While the likes of J.C. Penney (JCP) - Get J. C. Penney Company, Inc. Report, Best Buy (BBY) - Get Best Buy Co., Inc. Report and Macy's (M) - Get Macy's Inc Report experienced healthy crowds on Black Friday, the big shopping day was much less kind to Sears (SHDC) and its ailing Kmart division. 
According to new data from location-sharing company Foursquare, Kmart saw just two times the normal amount of store traffic on Black Friday, ranking it number 17 on a list of 20 representative retailers compiled by Foursquare. By comparison, Best Buy led the list with a 4.2x surge in traffic on Black Friday, followed closely by a 4.1x boost for J.C. Penney.
Foursquare did not include Sears itself on the list, but told us separately that Sears recorded a traffic lift of 3.0x on Black Friday, a relatively healthy number but behind its primary competitors in the mall -- J.C. Penney (4.1x)  and Macy's (3.8x).
Foursquare's general methodology for measuring store traffic is by tracking the locations where its users check in, as well as using the background location awareness of the millions of phones with the Foursquare or Swarm app downloaded. It then analyzes the location data in aggregate to understand large cultural and societal trends, such as the number of people crowding stores on Black Friday.
Foursquare's data coincides with several observations made by TheStreet at Kmart and Sears locations over the broader four-day Thanksgiving weekend.
In visits to four Kmart locations in Long Island, NY on Thanksgiving, TheStreet found decent crowds awaiting their 6 a.m. openings. But as the morning went on, traffic thinned out and by 10 a.m., Kmart stores were dead as a doornail. Moreover, store openings saw far less robust crowds than at Best Buy, J.C. Penney and Macy's.

The theme of generally empty stores continued on Black Friday and the weekend during several more Kmart visits, despite the return of the chain's once popular "Blue Light Special" deals.
As for Sears, traffic was much slower than that seen at J.C. Penney and Macy's at a combined 10 visits to Sears stores during the four-day holiday weekend.