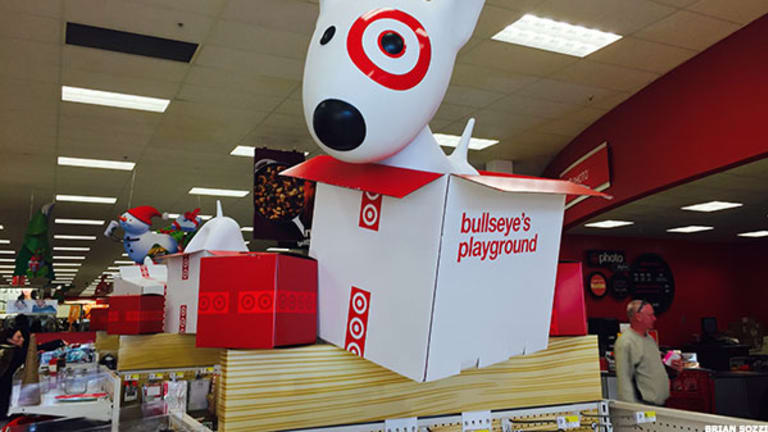 Black Friday Scorecard: Target Starts Holiday Season Strong, Gets a B
Target starts the holiday shopping season on a strong note. Here is what you need to know.
While Target (TGT) - Get Free Report stores weren't as jam-packed on their Thanksgiving Day openings as Best Buy (BBY) - Get Free Report and J.C. Penney (JCP) - Get Free Report , the season has started well for the discount retailer.
In a statement on Friday, Target said sales were "strong" on Thursday, with the most popular items being Apple's (AAPL) - Get Free Report Apple Watch, iPads, and Beats Solo 2 headphones. The Fitbit (FIT) - Get Free Report Charge HR and the Philips Sonicare 2 electric toothbrush were also top-sellers, said Target. According to one Target employee TheStreettalked with on Twitter, a sleeper hit were giant, stuffed bears.
"Overall, the response from our guests has been very positive, with some of the best days we've seen on Target.com," said Brian Cornell, chairman and CEO of Target, who greeted holiday shoppers on Thanksgiving at the at the Target store in Jersey City, N.J.
In 10 visits to Target stores on Long Island, N.Y., by TheStreet on Thanksgiving, findings were generally consistent with Target's commentary. People flocked to stores early to purchase doorbuster deals for large screen, high-definition TVs and home goods such as blenders and crock pots. Action figures such as Nickelodeon's Ninja Turtles were nicely out of stock, as was select Star Wars products. Strong interest was seen in an array of headphones, not just Beats.
But the crowd sizes at Target's openings weren't as hearty as those seen at competitors J.C. Penney and Best Buy. J.C. Penney lured in shoppers with 60% off most of its winter apparel and coupons redeemable for free shopping trips. At Best Buy, folks tripped over themselves to purchase a better selection of large screen TVs, headphones and tablets relative to Target.
If Target said it began the holiday season strong, the likes of J.C. Penney and Best Buy may have logged some serious sales gains on Thanksgiving.
TheStreet's Black Friday Scorecard

Toys were nicely out of stock at Target by midnight.  Source: Brian Sozzi
Bags per shopper: B
Consumers didn't arrive solely to Target to shop the products being sold at doorbuster prices, rather they came to get most of their holiday shopping done. Toys such as Ninja Turtle action figures, Star Wars plush dolls, Hot Wheels by Mattel (MAT) - Get Free Report were nicely sold out by midnight. Large-screen TVs were a hot commodity. Discounts on apparel weren't as compelling as seen at department stores Macy's (M) - Get Free Report and J.C. Penney, but merchandise was being purchased nonetheless.

Crowds at Target thinned out considerably as night wore on. Source: Brian Sozzi
Crowd size: B-
The number of people waiting in line at J.C. Penney (which opened at 3 p.m.) and Best Buy (which opened at 5 p.m.) was stronger than Target, which swung its doors open at 6 p.m. Moreover, people continued to pile into J.C. Penney and Best Buy stores well past midnight, whereas traffic died down considerably at Target after 10 p.m.  

Pricey big-screen TVs were hot-sellers. Source: Brian Sozzi
Basket Size: B+
People didn't only purchase cheaper-priced goods such as toys and groceries for the weekend on Thursday, they splurged on pricier things like 50-inch TVs priced over $800 that didn't fit in Target's red-colored baskets. Scenes of consumers buying big-screen TVs and large-ticket kitchen gadgets such as blenders and crock pots were frequent.