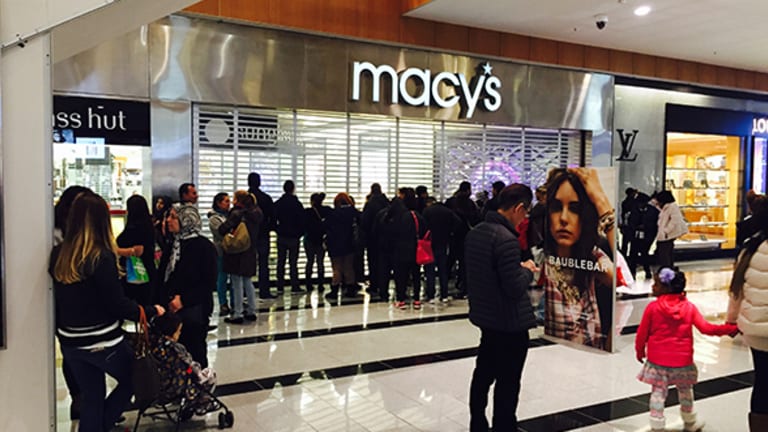 Black Friday Scorecard: Macy's Gets a B for Solid, But Not Spectacular, Crowds
The chairman and CEO of the struggling department store chain was encouraged by what he saw of the start of the holiday season.
For Macy's (M) - Get Macy's Inc Report , the start of the holiday season may have finally brought some much-needed good cheer to the bottom line, even as crowds were not as robust as they could have been.
"I feel better about the holiday season for sure, last night was an important shift for us," said Macy's Chairman and CEO Terry Lundgren in an interview with TheStreet. Lundgren, who spent Thanksgiving night visiting malls on Long Island, NY and Queens, NY added "it was very encouraging to me to see last night not only our online business strong, but our store business responded as well."
According to Lundgren, consumers continued to spend aggressively on active apparel, anything from a Nike (NKE) - Get NIKE, Inc. Class B Report hoodie to a casual jogger pant. The handbag business, which had slowed this year, "came back last night" said Lundgren, with key designers selling well. Consumers also responded to small kitchen appliances such as toasters and crock pots, where Macy's came out offering mouth-watering doorbuster deals.
No doubt Macy's needed an upbeat start to the holiday season. Comparable store sales, which are sales from stores open longer than a year, fell by 3.6% for the third quarter. The sales result was worse than the second quarter, when same-store sales declined by 1.5%.
The lackluster third quarter results, fueled in part by weak store traffic, caused Macy's to offer a dour outlook for the holiday season and sent shares plunging earlier this month. Macy's expects same-store sales to decline 1.8% to 2.2% for the year, compared with previous guidance of approximately flat. In the fourth quarter, same-store sales are seen dropping 2% or 3%.

Crowds at Macy's on Thanksgiving were good, but not great.
Despite what appears to be a solid start to holiday shopping for Macy's, its store opening crowds lacked some of the gusto seen at J.C. Penney (JCP) - Get J. C. Penney Company, Inc. Report which opened at 3 p.m. on Thanksgiving across the country. 
Moreover, J.C. Penney's traffic continued to be a little more impressive than Macy's on through the night based on TheStreet's tours of several malls on Long Island, NY, due to J.C. Penney's aggressive deals on apparel and home goods. Nevertheless, Lundgren is not planning to shift Macy's strategy as it pertains to Thanksgiving store opening times.
"I don't we think were impacted by J.C Penney's 3 p.m. opening," said Lundgren, adding, "Our customers, and certainly our employees, like this 6:00 p.m. opening and would not like us to open earlier than that."
Macy's shares were down 1.2% in trading on Friday.
TheStreet's Black Friday Scorecard
Bags per shopper: B
Macy's bags didn't dominate the mall as much as those of rival J.C. Penney's, but enough were present to suggest Macy's doorbuster deals in winter apparel, women's shoes and men's shirts resonated with consumers. It was important for Macy's to use Black Friday excitement to clear out slow-moving winter-related inventory, and it appears as if they made a dent.
Crowd size: B-
Macy's openings lacked the pandemonium seen at J.C. Penney, which opened its doors at 3 p.m. Crowds into the night on Thanksgiving and on Black Friday, while decent, seemed to trail those of its mall-based competitor and were a little lighter compared to 2014. At the same time, though, the crowds at Macy's were noticeably stronger than those at beleaguered Sears (SHLD) and struggling Kohl's (KSS) - Get Kohl's Corporation Report.
Bag Sizes: B
In light of the improving economy and savings at the pump, consumers showed up to spend beyond just on Macy's doorbuster deals. Long lines were seen at Michael Kors (KORS) handbag shops, and women's boots sections were nicely picked over by Black Friday morning. Meanwhile, men bit at doorbuster discounts on sweaters reaching 60%, depending on the brand. Macy's would have scored a B+ here if not for the continued sluggish sales of winter coats and a more muted pace of sales in the home department compared to J.C. Penney.