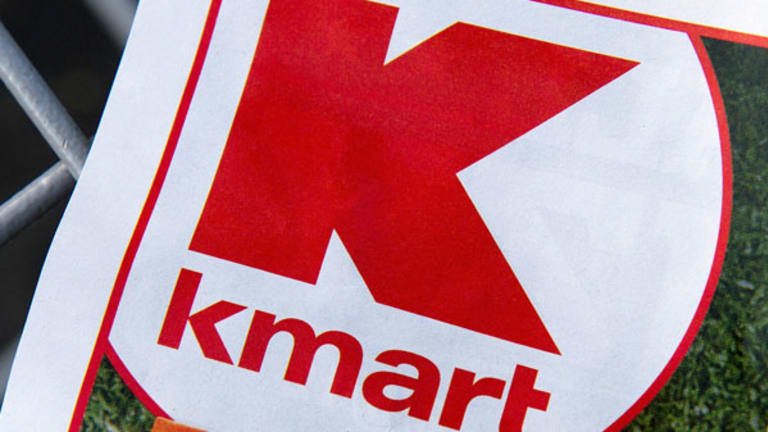 Black Friday Scorecard: Kmart Wants to Have Fun, But Gets a B-
Kmart swung open its doors at 6 a.m. on Thanksgiving Day and brought back its popular Blue Light Specials. Did it matter?
Struggling Kmart is hoping that Thanksgiving shoppers are having more fun wandering its no-frills stores this year than they have in the past.
"We really want to bring the fun back into shopping at Kmart," said Kmart president and Chief Member Officer Alasdair James in an interview with TheStreet.
James, who joined the subsidiary of Sears Holding Corporation (SHLD) from U.K. based grocery chain Tesco 14 months ago, added that Kmart "can compete extremely well" with the likes of Walmart (WMT) - Get Walmart Inc. Report , Best Buy (BBY) - Get Best Buy Co., Inc. Report and Target (TGT) - Get Target Corporation Report despite continued store closures and reduced inventory in key categories such as consumer electronics.
Kmart certainly gave injecting some fun a shot at its over 700 stores with 6 a.m. openings across the country on Thanksgiving.
In visits to four Kmart locations in Long Island, NY, TheStreet found stores to be well-stocked with Christmas trees and holiday decorations, while doorbuster sales included 60% off winter jackets, a toaster for $2 and Christmas trees discounted from $49.99 to just $15. Toy sections featured expected top holiday sellers such as Star Wars action figures, Barbie dolls and remote-control powered drones.
In addition, signs for Kmart's once-popular "Blue Light Special" promotion greeted consumers as they entered the store. The Blue Light Special, brought back for this holiday season, was first created by a store manager in 1965 to unload slow-moving merchandise. When a blue siren rang, it meant a great deal was available for a limited-time somewhere in the store. It became popular in the 1980s as it created a sense of excitement in the stores, and helped to fuel Kmart's growth.
"We identified the blue light special as something that was synonymous with Kmart, it was an iconic piece of our DNA that customers actually missed," says James, adding that the decision to bring the program back took 10 months of consumer research.

50% off signs dominated Kmart's apparel department.
But despite its best efforts to achieve some relevance during this year's holiday season, Kmart's stores fell a little short on several fronts on Thanksgiving. For one, not one Blue Light Special siren went off in any of the stores visited from 6:00 a.m. to 10:30 a.m. -- a missed opportunity for Kmart to drive early sales when traffic was strong.
Signs promoting the Blue Light Special also offered no indication what it actually was -- it would have been nice to explain it in detail so millennial shoppers who were still in strollers when Kmart was using the promotion would know what to expect.
Moreover, store traffic generally died down by 8 a.m., giving an empty feel to the stores.
If Kmart doesn't nail the holiday season, it may mean continued troubles for its parent company Sears. Kmart's same-store sales declined a worrisome 7.3% for the second quarter ended Aug. 1, with weakness reported in consumer electronics, grocery and household goods, apparel and the pharmacy. At Sears, same-store sales plunged 14% amid declines in almost every category it offers. 
Weak sales have led to more worrying losses for Sears and dwindling cash flow from operations. Shares of Sears are down a startling 32% this year compared to a 0.1% drop for the Dow Jones Industrial Average.
To try and preserve cash, Sears continues to shutter stores. There were about 963 Kmart stores in the U.S. as of Aug. 1, down from 1,077 a year earlier. When asked if Kmart store closures would hinder the chain's performance this holiday season, as the chain is basically ceding market share to rivals, James said, "It shouldn't affect us at all -- I'm focused very much on the stores that we feel have an ongoing profitable future with us."
In the end, James remained confident this won't be Kmart's last holiday season even as the parent company continues to hemorrhage losses, and cash. "This is the start of the journey as opposed to the end," James said.
TheStreet's Black Friday Scorecard

People came out to shop at Kmart, but not too aggressively.
Bags per shopper: B-
Consumers did not load up their baskets per se, but did come to the store early to buy items. They instead were much more selective, scouring the aisles for doorbusters in toys, electronics, and holiday decorations. Many also purchased last-minute Thanksgiving food items.
Consumers largely sidestepped winter apparel and footwear offered at discounts of 50% to 60%. Home goods were not noticed in most baskets.

Crowds died down very quickly at Kmart as the day went on.
Crowd size: C+
The stores received a nice initial flow of traffic from 6:00 a.m. to 7:30 a.m., similar to what TheStreet observed for Thanksgiving openings a year ago. But once the day wore on, crowds died down and stores started to resemble a ghost town.
Whether traffic picks back up when Kmart's rivals open up later on Thanksgiving will be telling for Kmart. 

Kmart came prepared to discount slow-moving products on Thanksgiving. 
Desperate promotions: B-
As a result of the warmer-than-normal fall temperatures, Kmart sought to clear slow-selling jackets, sweaters and accessories through aggressive markdowns on Thanksgiving. Most apparel on the sales floor at Kmart was a fairly aggressive 50% to 60% off. Select boots were on clearance for $10, and slippers were being offered at $3.99. Some aisles featuring non top-of-mind toys for the holiday season were also on clearance.