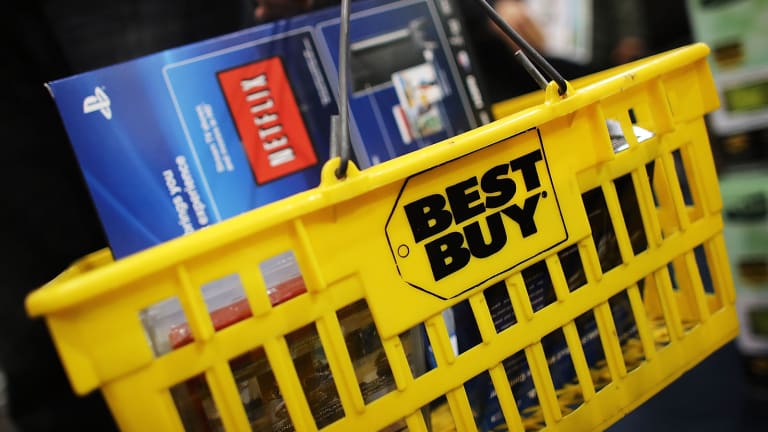 Black Friday Scorecard: Best Buy Gets a B+ for Big Crowds, Aggressive Shoppers
Best Buy looks to have started the holiday shopping season on a positive note, although there was room for improvement.
Best Buy (BBY) - Get Best Buy Co., Inc. Report was one of the early standouts of the Black Friday shopping madness, although there was some room for improvement.
Opening its doors at 5 p.m. on Thanksgiving across the country, jam-packed lines moved at a snail's pace as the company only let 15-20 people in about every five minutes at many stores. 
"We are here for a TV, they are pretty cheap this year," said a mom with her two sons waiting on line at a store on Long Island, NY. After 40 minutes on line, that mom and her sons, as well as TheStreet, finally gained access to the store.
Best Buy employees, known as "blue shirts," greeted customers by trying to sell them Beats headphones -- old-school selling tactics at their finest. The biggest crowds were seen in the high-definition TV section toward the back of the store, the open box TV section and at the Microsoft (MSFT) - Get Microsoft Corporation Report shop. Interestingly, Best Buy's Apple shops that sell tablets, Macs and the Apple Watch at two particular locations were not the top draws.
Lines began to rebuild on the morning of Black Friday ahead of Best Buy's 8 a.m. opening time. Although not as strong as those on Thanksgiving, it was encouraging to see another wave of traffic readying to rush the store for some holiday shopping.
Best Buy is banking on sustaining what looks to be early success to help it beat sales guidance that recently upset Wall Street. Shares of Best Buy plunged as much as 9% on Nov. 19 as investors reacted to several negatives.
First, Best Buy's U.S. same-store sales rose just 0.8% in the third quarter, falling well short of Bloomberg estimates for a 1.4% increase, despite the company investing heavily this year in employee training and more competitive prices. The result, at least initially, raised fears of how the company would fare during the ultra competitive holiday season. Second, Best Buy estimated a low-single digit percentage revenue decline for the fourth quarter, and a decline in operating profit margins of 25 to 45 basis points.
Best Buy shares fell 1.5% in trading on Friday.
TheStreet's Black Friday Scorecard

Lines at Best Buy's Thanksgiving openings were strong.

Crowd size: A-
Best Buy saw strong crowds across the country for its 5 p.m. opening on Thanksgiving. Crowd control efforts were impressive, with people being let into stores at intervals. TheStreet even observed one store even using policemen mounted on horses to help control the crowds. Where Best Buy did lose a few points was on the checkout process, which could have been made better if the company invested in mobile checkout like at the Apple Store. Instead, people were queued into lines that snaked around the stores.

Why buy one big-screen TV on the cheap when you can get two?
Bags per shopper: B
Not everyone left Best Buy's stores on Thanksgiving with an item, and the same went for Black Friday. The scene had all of the makings of people visiting stores to check prices and then possibly buying online. It was also likely a function of the hearty crowds scooping up all of the doorbuster deals more quickly than Best Buy planned for in terms of inventory.

Consumers did buy a ton of stuff. 
Bag Sizes: A-
When people did decide to open their wallets, they appeared to do so rather aggressively. Frequent images from stores visited, as well as on social media, showed people leaving with multiple big-screen TVs. Headphones were also being purchased consistently, as were tablets and related accessories.
Best Buy declined to comment for this story.