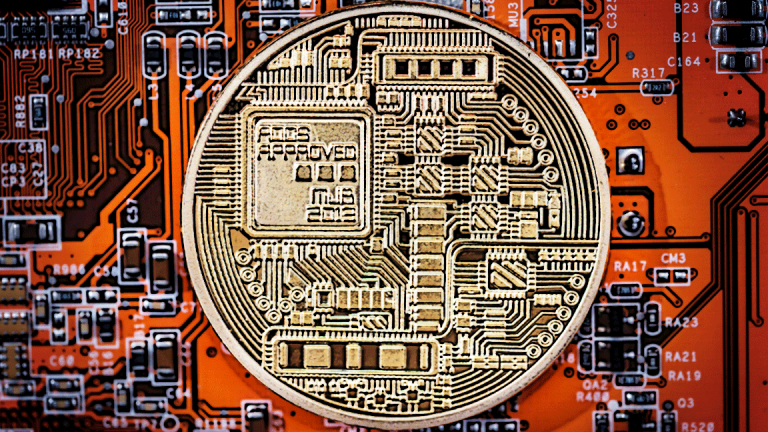 Bitcoin Sets New Records; J.Jill Dip Puts Retail Investors Back on Watch -ICYMI
Here's what you need to know now for Thursday, Oct. 12.
Tough day for the markets Thursday as the major indexes finished slightly in the red, amid weak earnings from some of the banks and a crude oil prices slump.
First, the good news.
Bitcoin hit a new high as it blew past the $5,000 mark. The cryptocurrency's record run has been fueled in recent days by speculation that authorities in China could be prepared to relax restrictions in trading after three major exchanges were shut down last month, as well as reports that Goldman Sachs & Co. (GS) is looking at ways in which it could play a market-making role in the virtual currency world.
Good for investors in the commodity but the 700% increase over the past 12 months is also good news for companies such as Advanced Micro Devices Inc. (AMD) and Nvidia Corp. (NVDA) which produce some of the high-powered chips used to mine the currency. How much room do they have left to run?
And now, the bad news.
Just when we thought the retail slide was over, we get another earnings season to chew threw and more bad news opportunities. Shares of J.Jill Inc. (JILL) were hammered Thursday, plunging 50%, to new 52-week and all-time lows after the company missed on bottom and top line estimates for its most recent quarter.
Investors had positive things to say about J.Jill leading up to the company's IPO earlier this year in March. Not anymore. All of those positives seem to have gone out the window, said TheStreet's co-founder Jim Cramer. J.Jill stock now trades below $5, after garnering an IPO price of $13.
A day after the debacle with Kroger Co. (KR) , TheStreet had our technical analyst weigh in. Hint: things aren't looking rosy. And then, of course, what if Bitcoin is a bubble?
This is an excerpt from "In Case You Missed It," a daily newsletter brought to you by TheStreet. Sign up here.
The Boss Is Back
It's less than 75 miles from the scrappy New Jersey town of Freehold to the big lights of Broadway, but for 68-year-old Bruce Springsteen the journey represents five decades as one of America's hardest-working and top-paid performers. Beginning on Thursday, Oct. 12, and continuing five nights a week through February, the Boss will appear in an intimate solo show titled "Springsteen on Broadway" at the 960-seat Walter Kerr Theatre. Ticket prices have exploded with Ticketmaster and StubHub now offering seats exceeding $1,000. But what else would you expect for the longtime frontman of the "legendary" E-Street Band? The band's 2016 world tour was ranked by Billboard as last year's second-highest-grossing tour, bringing in over $40 million for the graduate of Freehold High School. Springsteen is pictured above performing in 1980. -- Steve Zuckerman
This is an excerpt from "In Case You Missed It," a daily newsletter brought to you by TheStreet. Sign up here.