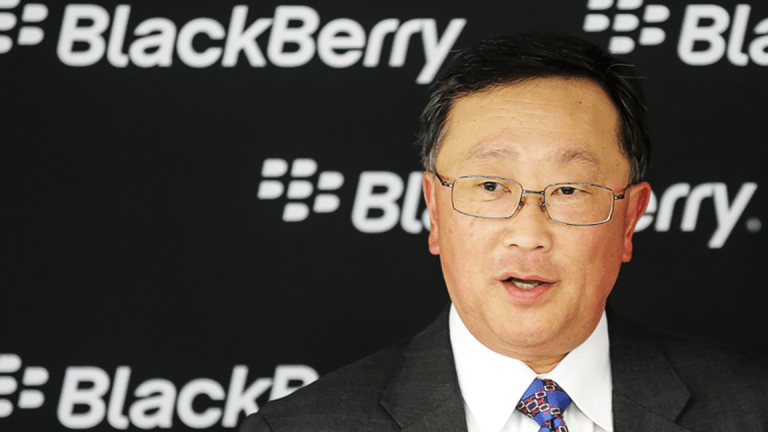 Bitcoin Plays Continue Rising; BlackBerry's Comeback Takes Shape -- ICYMI
Here's what you need to know now for Thursday, Dec. 21.
Ok, almost to the finish line on tax reform, the repeal of net neutrality is plodding along and the Fed has decided to raise rates in 2018. Let's go home, folks.
Well, not quite, but some expect market action could be light as investors seek new catalysts for the markets. Still, U.S. indexes rose and hovered near new records.
You know what doesn't seem to need a catalyst -- bitcoin and the blockchain ledger technology that helps power it and other crypto currencies.
The nascent technology has helped a number of companies, but the small caps, or "junk bitcoin blockchain names" as Real Money's James "Rev Shark" Deporre calls them, are really cranking. Today it is Net Element (NETE) - Get Net Element, Inc. Report and Nxt-ID (NXTD) - Get Nxt-ID, Inc. Report  that are the big winners, but Rev also has his eye on several others, such as Gridsum (GSUM) - Get Gridsum Holding Inc. Report  and Digital Power undefined  , which need some technical work.
"There is a lot of 'fun' trading in the bitcoin and blockchain group, which causes a very negative reaction among more traditional market pundits," Rev writes. "They are convinced it is a bubble that will end badly," he added, pointing out that when you have a stock like Long Island Iced Tea undefined  changing its name to Long Blockchain and trading up 183%, "is it hard to argue with that thinking." (Hint: Long Blockchain is still a tea company.)
While much of the world has been focused on bitcoin for the last quarter, you may have missed the turnaround going on at Blackberry (BB) - Get BlackBerry Limited Report  , under CEO John Chen.
Three months after handily beating August quarter estimates, BlackBerry reported November quarter (fiscal third quarter) GAAP revenue of $226 million (down 22%) and adjusted EPS of $0.03, topping consensus analyst estimates of $216.2 million and $0.00. The company also slightly tweaked its fiscal 2018 (February) revenue forecast, stating it now expects sales to come in the "mid to higher end" of a guidance range of $920 million to $950 million.
In the late 2000s, Chen turned around tech player Sybase, eventually selling the company in 2010 to SAP (SAP) - Get SAP SE ADS Report  for a hefty premium. Is history repeating or will Blackberry's pivot from handheld devices to auto-tech fall flat?
This is an excerpt from "In Case You Missed It," a daily newsletter brought to you by TheStreet. Sign up here.
Photo of the day: Turning the page at Rolling Stone
Variety publisher Penske Media Corp. has acquired a controlling 51% stake in the parent company of Rolling Stone magazine. The transaction values Wenner Media LLC, the parent company, at $100 million. Jann Wenner, who co-founded the magazine 50 years ago with a $7,500 loan, will remain as editorial director and his son Gus will keep his position as president and COO, according to reports. Rolling Stone will join PMC's stable of more than 20 digital and/or print brands, which include Variety, TVLine, Robb Report, IndieWire and M. It will also continue printing editions of the magazine.
Read more from "In Case You Missed It." Sign up here.
More of What's Trending on TheStreet: