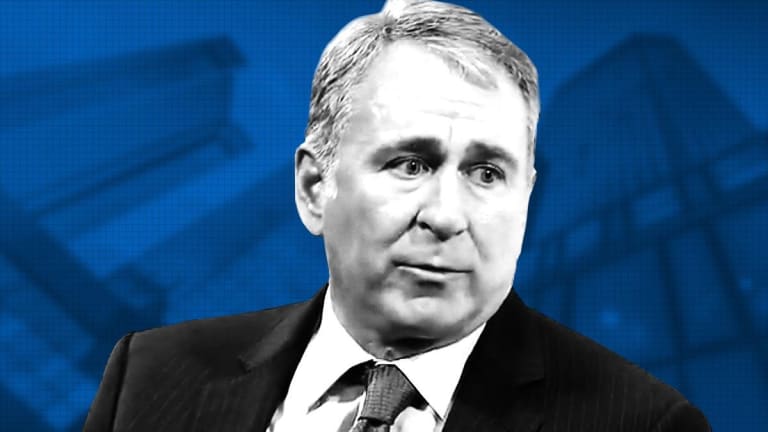 Bitcoin Prices Are Back Up, but Traditional Investors Remain Skeptical
TheStreet's Jordan French takes a deeper dive into the bearish assault on cryptocurrencies from Federal Reserve Chairman Jerome Powell and Citadel's Ken Griffin.
Jerome Powell, chairman of the Federal Reserve, says cryptocurrencies are risky for investors. Speaking Wednesday before the House Financial Services Committee, he described to members of Congress how "relatively unsophisticated investors see the asset go up in price, and they think: 'This is great; I'll buy this.' In fact, there is no promise of that." He added his concern that "there are investor- and consumer-protection issues as well."
Nevertheless, Bitcoin had its best day in months on Thursday, when the value popped 10% in just an hour. For the first time since early June, it broke past the $7,000 mark, and is at $7,455 as of this writing.
Critics Say Cryptocurrencies Aren't Viable
The head of the Fed has bemoaned cryptocurrencies before, saying they "don't really matter." Of course, he's not their only high-profile critic.
Ken Griffin, whose investment firm Citadel controls $30 billion in assets, says not a single one of his portfolio managers have told him to buy crypto. "There's no need for cryptocurrencies. They're a solution in search of a problem," he said, stressing their irrelevance when it comes time to pay taxes.
He went on to express a belief that instead of investing in Bitcoin, young people should be doing something more productive, an interesting point of view for a hedge fund billionaire.
What Will it Take for Crypto to Become Viable?
Others believe that at some point, even the old guard will have to start legitimizing crypto as a viable currency. But where is that threshold?
Eric Lamison-White, co-founder of the investment intelligence platform Pareto Network, says cryptocurrencies will be viable when they find a broad public embrace. The major obstacle to that, he says, is volatility.
Lamison-White wrote to me in an email:
"Cryptocurrencies is a misnomer regarding digital assets that all inherit the unbridled fungibility and transferability that is equal to - and often times greater than - currencies," Lamison-White wrote. "Debating the economic semantics largely neglects the utility available to the people that use these assets and is counterproductive."

"The pricing risks to owners is easily mitigated by a variety of hedging techniques that are available in all other asset classes. Hedging with options, futures and swaps allow for stable value or any risk profile that an owner or even a speculator would desire," he added.
Foreseeing the need to overcome their volatility, Lamison-White filed for a patent in 2014 on a system that stabilizes cryptocurrencies. It uses a hedge-account reference currency - for example, U.S. dollars - to automatically add and subtract to your crypto account in rapid, micro increments to keep the crypto account at a set level.
If a system like Lamison-White's can ease public apprehension around crypto's fluctuations, we could see wider uses of crypto transactions implemented in markets. Stable cryptos circulating in the markets means the Fed will have to pay attention. Even the establishment loyalists like Powell and Griffin.
Crypto's Long Road to Legitimacy
Bloomberg has published a long list of crypto advocates and (more numerous) critics, the latter which includes international leaders in both the private sector, such as Ant Financial's Jack Ma, and the public one, such as François Villeroy de Galhau, Governor of the Bank of France.
Their complaints have some consistency. It's a "bubble" (according to Ma, Jeremy Grantham, and others), "a purely speculative asset" (stated de Galhau, echoed by Janet Yellen), and, of course, there are some concerns about its potential criminal uses (warns Bill Gates and Theresa May).
Some gripes even approach the vitriolic, with Berkshire Hathaway's Charles Munger describing Bitcoin as "just disgusting."
But, as Lamison-White puts it, "crypto, in this context, doesn't need anyone's approval. They just need to work." Put another way, when employed at a sizeable-enough scale, individual opinions will be of little relevance. Think about it this way: Who cares what Bill Gates thinks about the U.S. dollar, or the price of oil?
In the end, it will be the public, and not traditional investors, who legitimize crypto as viable in everyday markets. In the meantime, Bitcoin and its innumerable fledgling ilk may have some fluttering to do as they continue learning to fly. But that's part of the fun, and part of the long road to legitimacy.
The author holds stock in investment holding company, Leucadia, and remains a partner in an emerging technology fund. He holds no positions in cryptocurrencies or in any companies that invest in them.