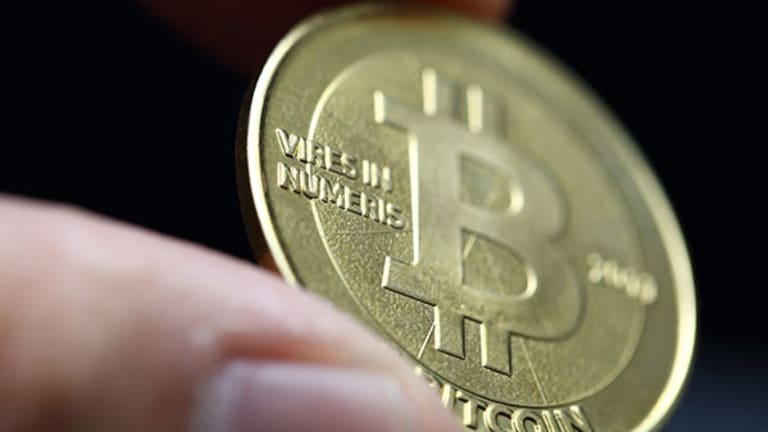 Bitcoin Is Drawing Interest From Nasdaq and NYSE, but Are Investors Ready?
The two biggest stock exchanges in the United States have taken an interest in Bitcoin, and it may be time investors start paying attention.
NEW YORK (The Street) -- The two biggest stock exchanges in the United States have taken an interest in Bitcoin, and it may be time investors start paying attention.
On Monday, Nasdaq I:IXICannounced plans to leverage Bitcoin's blockchain technology in a trial with its pre-IPO private market platform. This comes just months after Intercontinental Exchange (ICE) - Get Intercontinental Exchange, Inc. (ICE) Reportrevealed that its subsidiary, the New York Stock Exchange, had invested in Bitcoin wallet and platform Coinbase. NYSE is expected to make a related announcement soon regarding advancements in the arena.
Bitcoin is a digital currency that was created in 2009. Unlike government-issued currencies, it is operated by a decentralized authority, and no physical bitcoins exist. Balances of the currency are kept using public and private keys (long strings of numbers and letters), and all transactions are stored on public ledgers called blockchains.
Since its creation, Bitcoin has developed a rather poor reputation in the media and among investors. It has often been associated with illegal activity and theft and has proven extremely volatile. The currency was priced at about $1,000 per bitcoin at the start of 2014, and by the end of the year, it had fallen to $300.
"So much of the conversation surrounding digital currency to date has centered on its use in criminal activity, but the narrative seems to be shifting now, with people realizing there is real potential for the technology to improve company operations and customer experience," said Emily Spaven, managing editor of CoinDesk, a news platform focused on digital currency.
Nasdaq has honed in on the blockchain technology behind Bitcoin in its endeavors. The blockchain is a public ledger of all transactions that have ever been made. It is entirely unalterable and, according to Duke University economist Campbell Harvey, the "most secure" blockchain there is. "It's different than a database, where you can edit. There's no editing of the entries into the ledger," he said. "Blockchain technology has the potential to replace stock exchanges as we know them."
Nasdaq will pilot the project in Nasdaq Private Market, a marketplace launched in 2014 to handle pre-IPO trading among private companies. The Wall Street Journal reports the platform has more than 75 companies signed up. "This is an experiment, but they see the viability of the technology," Harvey said.
The technology will create an equity management capability that allows private companies to facilitate the issuance and transfer of securities. It will provide pre-IPO companies a complete visualization of who has shares and at what valuation, potentially replacing traditional systems of record keeping that are typically performed manually using certificates and often outsourced to third parties.
Nasdaq's trials are in the very early stages; however, they are part of an enterprise-wide initiative that could have bigger implications later down the line. The firm's technologies power one in 10 of the world's securities transactions, meaning success in blockchain could have an impact not only on its own exchanges but on trades all over the world.
And Nasdaq isn't the only entity to explore the advantages of Bitcoin-inspired technology in securities trading. In April, Overstock (OSTK) - Get Overstock.com, Inc. Reportfiled a prospectus with the Securities and Exchange Commission indicating it may issue up to $500 million in stock or other securities as digital securities utilizing a blockchain-like distribution ledger system.
Judd Bagley, Director of Communications at Overstock, said the systems being proposed by his company and Nasdaq appear to be quite similar and offer comparable advantages to investors. "When trades settle on a decentralized ledger, such as a blockchain, the settlement happens within moments as opposed to the three-day status quo," he said, referring to the T+3 standard currently in place by which investors generally settle security transactions in three business days.
Bagley added that another advantage is proof of ownership in such systems. "Somebody who buys a share of regular stock in the status quo really is not actually buying a share of stock. What they're buying is like a contractual right to a share, they don't own the share itself, it's really complicated," he said. "In this system, each person has unambiguous ownership of a share."
The New York Stock Exchange's approach to Bitcoin will not be focused on underlying technologies but instead on the product itself.
NYSE participated in Coinbase's $75 million investment round, closed in January, with the hope of bringing transparency, security and confidence to what NYSE President Tom Farley called an "important growth market" in a statement. "We look forward to supporting Coinbase's growth utilizing our global distribution capabilities and market expertise," he said.
Just days after the investment announcement, Coinbase launched Coinbase Exchange, the first regulated bitcoin exchange in the United States. According to its website, 30 U.S. states and territories, including Puerto Rico, are supported. In April, it launched the exchange in the United Kingdom.
The New York Stock Exchange has not yet made clear its plans for Coinbase and Bitcoin, and representatives of the firm declined to comment. But given its experience - and that of its parent company - in running exchanges, indexing, collecting data and tracking assets, its involvement could bring legitimacy to digital currency.
"The reputation of the New York Stock Exchange definitely adds to the reputation of Bitcoin and helps to take away the stigma," said James Angel, a professor of finance at Georgetown University. "Indeed it brings an enormous amount of technology and regulatory expertise that can be quite invaluable."
While the entry of Nasdaq and NYSE into Bitcoin and its underlying technologies is something investors should keep an eye on, change won't happen overnight. Angel pointed out that while there is a lot of room for improvement in current systems, individuals largely hold stocks in digital form already, and U.S. clearance costs are already among the lowest in the world.
Bitcoin is a new and exciting technology, and while some applications will succeed, others will not. "It's an area where investors should be very careful in their investments," Angel said.
This article is commentary by an independent contributor. At the time of publication, the author held no positions in the stocks mentioned.