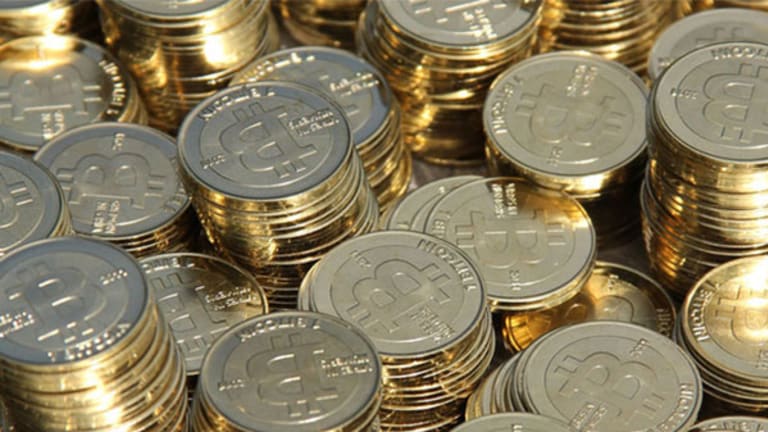 Bitcoin Hype More Virtual Than Real
Not all Bitcoin buyers enjoy the rapid price appreciation, but anonymity puts new spins on old perils as many owners have found that their virtual coins are actually gone.
NEW YORK (TheStreet) -- In 2011, when Bitcoins freely traded for a dollar each, a $1000 investment held until today would make you a millionaire right now. Crazy I know, and if you were early and timed it right, you could have even bought Bitcoins valued around $1000 right now, for under a dollar each. Bitcoins give an entirely new definition to the term "fast buck." It's no small wonder why it's making news almost daily.
As a result, Bitcoin fever is quickly spreading to all corners of the globe, all but one anyway. Earlier today, China's central bank announced Bitcoin limitations within the Asian economic powerhouse sending the up and coming electronic virtual currency crashing over 25% to under $900 per coin before recovering above $1000 at the time of writing.
Chinese speculators who wish to buy and sell the electronic currency may continue to do so, but local banks won't exchange Bitcoins for Yuan. Without banks on board, gaining traction as currency accepted by stores and merchants will be a challenge. Smaller shops with an owner and a desire to accumulate Bitcoins may sell products for coins, but acceptance probably will not make sense for larger corporate vendors.
In other words, it appears the second largest economy is all but off-limits to Bitcoin. No one should be surprised by China's action. The People's Central Bank wants to become the next reserve currency, and anything that stands in the way isn't about to win favor.
It's not the first time the virtual gold nuggets have encountered speed bumps as speculators have created a ride appearing more like a space shuttle take-off and landing than a roller coaster. Even so, for many of the original believers who bought early and held the rewards are nothing short of pennies raining from heaven. Almost daily we can read about another newly minted Bitcoin Millionaire.
In the past month alone, Bitcoins have rocketed 400% in an almost unshakable straight line from $250 to over the current valuation. Not every Bitcoin buyer has enjoyed the rapid price appreciation. Anonymity creates new spins on old perils as many owners have looked online to find their virtual coins actually gone, never to be found again.
While each transaction is publically viewable, the Bitcoin universe has what amounts to electronic money launderers called tumblers. Tumblers combine and split specific transaction amounts into other amounts, making it incredibly difficult to trace. In one of the world's largest thefts that you probably never heard about, $100 million worth of Bitcoins was stolen, and victims are chasing the criminals) in virtual dark back alleys in an attempt to recover their property. You can actually watch the cat and mouse game in real time.
This brings up an significant caveat of investing in Bitcoins. You can invest in Bitcoins, get the timing correct, and still wind up losing your entire investment from theft. Unlike gold bars that you can store in your home, the virtual currency is stored in cyberspace in Bitcoin wallets, merchants, and or exchanges. Your money is only as secure as the inability for a hacker to get at it.
I too am fascinated by many aspects and potential that Bitcoin offers, I even setup an account a few months ago, but after the current explosion higher in price, I think I will wait for a retracement before dipping my big toe in.
At the time of publication, Weinstein had no positions in securities mentioned.
This article is commentary by an independent contributor, separate from TheStreet's regular news coverage.