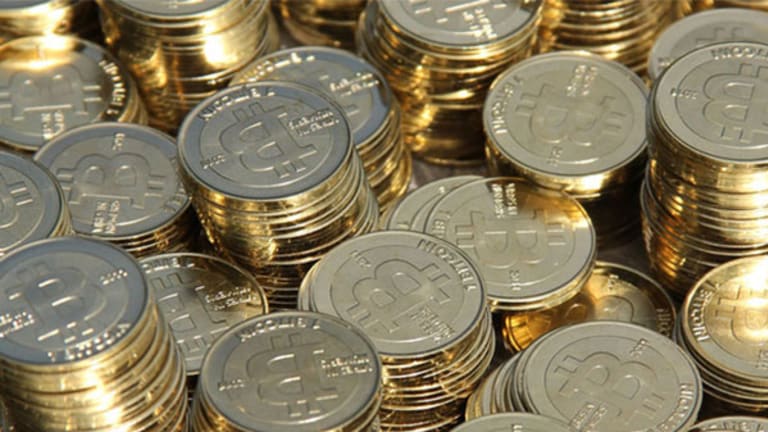 Bitcoin Exchange Mt. Gox Files for Bankruptcy
Senator Joe Manchin calls for the digital currency to be banned in the U.S.
By Hal M. Bundrick
NEW YORK (MainStreet) aAA What had been the largest bitcoin exchange in the world has filed for bankruptcy. Mt. Gox, the embattled Tokyo-based company, began bankruptcy proceedings today, reporting revenue of some $1.33 million for the year ended March, with debt exceeding its assets by $26 million. An attorney representing Mt. Gox told the Tokyo District Court that the company owed more than $63 million to 127,000 creditors.
"I'm truly sorry to have caused inconvenience," Mark Karpeles, the company's chief executive told reporters as he bowed in apology.
The firm, which at its height processed a reported 80% of all bitcoin transactions, says that it lost 750,000 bitcoins belonging to users -- and 100,000 of its own -- in a hacking attack. The combined total would represent nearly 7% of the entire 12.4 million bitcoins currently in circulation.
The company has visibly struggled with numerous issues for nearly a year, culminating in a halt to customer withdrawals on February 7.
"No one recognizes [bitcoin] as a real currency," Japan's Finance Minister Taro Aso told reporters after the bankruptcy announcement. "I expected such a thing to collapse."
Meanwhile U.S. federal prosecutors have issued subpoenas to Mt. Gox, as well as other bitcoin exchanges, seeking the preservation and surrender of data and documents. Senator Joe Manchin (D-W.Va.) called for a ban on bitcoin Wednesday, saying in a letter to the Treasury, the Federal Reserve and other regulatory agencies that bitcoin is "disruptive to our economy" and ripe for abuse by criminals.
"This virtual currency is currently unregulated and has allowed users to participate in illicit activity, while also being highly unstable and disruptive to our economy," Senator Manchin's statement said. "Before the U.S. gets too far behind the curve on this important topic, I urge the regulators to work together, act quickly, and prohibit this dangerous currency from harming hard-working Americans."
--Written by Hal M. Bundrick for MainStreet