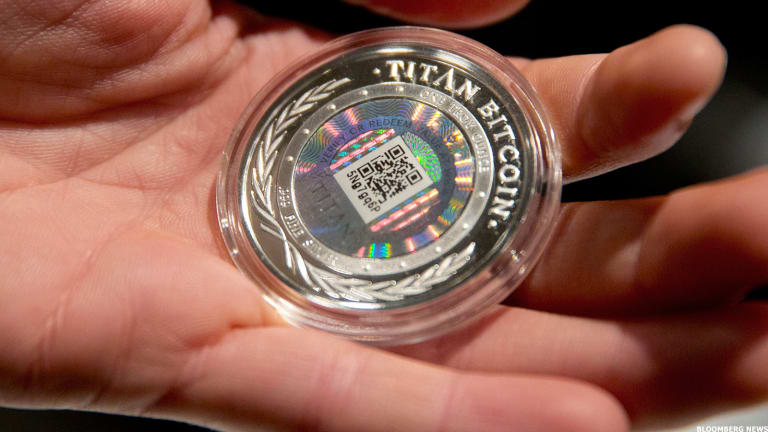 Bitcoin Is About to Have the Biggest Moment in Its History: Market Recon
Soon enough, we'll know where the demand lies.
"The secret of success is to be ready when your opportunity comes." -- Benjamin Disraeli
Weapons of the Trade
You did see how stocks went out last night. You do see where equity index futures are trading this morning. Remember yesterday's Market Recon? We discussed the trading opportunity presented broadly by pension fund mandates at the tail end of a month or a quarter where there has been significant outperformance by one asset class over another. This is a useful weapon for the average kid trying to make a living. Keep it in your arsenal. All of your favorite major market indices suffered a "late in the session", fairly artificial burst of supply that impacted price discovery. Take a look. I'll wait. The S&P 500? The Dow Jones Industrials? Even the Nasdaq Composite. In yesterday's Recon, we even gave you the heads-up that money would flow out of technology, materials and health care on the day. Then technology and materials easily led the way lower, with health care also finishing in the red.
The Dow Transports Have Mysteriously Plunged - What We Know
Equity index futures markets are broadly higher this morning, suggesting that money is once again free of any mandate to naturally seek out where it belongs in search of the highest return. Clearly, as stated, that was a tradeable event. If you missed it, or you were skeptical, no worries. There will be more of those. I promise. Understanding the information available is the weapon. Understanding the impact of sentiment and how others react to emotion are your environment. This is your trade. Know your weapon as you know yourself. Know your environment, and adapt to the available opportunity.
Bitcoin Cash
There's a new Sheriff in town, or maybe just call it a new digital currency. No, wait... call it a new version of an older, sort of new digital currency. Regardless; at 8:20 am eastern time today, a second version of Bitcoin called Bitcoin Cash will commence live trading. There is a difference of opinion among the Bitcoin exchanges. Coinbase has already said in a statement that it would not be supporting Bitcoin Cash. Kraken, on the other hand, announced that it would support trading in the new version of the currency. Existing Bitcoin holders will automatically receive Bitcoin Cash, but only if their Bitcoin is stored somewhere that supports the newer version. Got it? No? Confused? So is everyone.
Bitcoin Will See One of Its Most Exciting Developments Ever Happen on Tuesday
The perceived need for a new version of Bitcoin arose from the need for speed. (Cue Top Gun soundtrack). Traditional Bitcoin transactions are limited to one megabyte in terms of size. Not that this old dog understands much of that, but apparently, that is too slow for some folks, because it slows trading down. The network is only able to process a rough seven trades per second. Jeepers. Bitcoin Cash transactions will process at a much higher capacity for speed, maybe eight times as fast.
Some miners like digital currency the way it is, and would use the lack of speed as a tool to keep the cottage industry smallish, as well as keep trade sizes down. Others would look to compete on a higher level. Soon enough, we'll know where the demand lies. Yesterday, the value of one Bitcoin was still running in the neighborhood of $2,800, while in thin trading Bitcoin Cash was valued below $275. That will mean little once live trading begins today. What do I think? I really don't know yet, but I am willing to learn.
No More Reindeer Games
Last Week, FTSE Russell announced that going forward, companies that wish to have their public equity included in the Russell indices would have to expose at least 5% of their voting rights to non-restricted shareholders. Obviously, much has been made of the share structure of Snapchat (SNAP) - Get Snap, Inc. Class A Report as just one more negative factor impacting shareholder value. That firm's chart since the early March IPO has less resembled what the broader marketplace has been up to since the spring, and more resembled something a nine-year-old might come up with in order to play with his or her Hot Wheels toy cars.
I strongly agree with Russell. Actually, I think the threshold should be placed considerably higher than 5%. S&P Dow Jones now has something new to add to that, which I think also makes sense. After completing their committee review, Standard & Poor's has decided to exclude new firms with multiple class share structures from inclusion in what is known as the S&P Composite 1500 to the financial community. What the Composite 1500 is comprised of would be the S&P 500, the S&P mid-cap 400, and the S&P small-cap 600. It is so important to market cap for individual firms to be added to a highly followed equity index that forces investment from funds tracking said indices. This is not a topic to be taken lightly.
Unlike with the Russell indices, where already existing constituents were granted a five-year period to change their share structure in order to conform, high profile firms with multiple share classes already included in those S&P indices will be exempt from the new rule. That means such corporations as Action Alerts PLUS charity portfolio name Alphabet (GOOGL) - Get Alphabet Inc. Class A Report , (GOOG) - Get Alphabet Inc. Class C Report and Berkshire Hathaway (BRK.A) - Get Berkshire Hathaway Inc. Class A Report , (BRK.B) - Get Berkshire Hathaway Inc. Class B Report will not be impacted. That was the question that came to mind, wasn't it?
More of What's Trending on TheStreet:
Macro
All Day - Total Vehicle Sales (July):Expecting 16.7 million, June 16.5 million annualized. An annualized print of 16.7 million units may not seem like much, but will be welcome coming off a tough June. This should make headline retail sales for the month look a bit better when we see that print. As for today, this data hits the tape in piecemeal fashion as each auto-makers numbers come out separately. Therefore, you will not see a broad market reaction at any point to this data.
08:30 - Personal Income (June):Expecting 0.4%, May 0.4% m/m.
08:30 - Consumer Spending (June):Expecting 0.1%, May 0.1% m/m. For May, Incomes grew faster than did spending. That was not the case for the two months prior. The average American is still a long way from feeling OK about spending. It will come down to being comfortable. When will the average consumer again be comfortable? When do the painful scars experienced across multiple generations over the last 10 years start to heal? Well, they probably have started to heal. That said, we all know or knew folks that never recovered emotionally from the Depression of the 1930s. There is no intelligent way to lay out a timetable for this.
08:30 - PCE Price Index (June):Expecting 1.3%, May 1.4% y/y.
08:30 - Core PCE Price Index (June): Expecting 1.4%, May 1.4% y/y. We already know from the CPI data, and retail sales numbers that June was an awful month for consumer level inflation. The odds that we see an upside surprise as far as the PCE goes are not strong. That said, we know that energy prices had a strong July, so headline data on inflation could start to look better as soon as next Friday. Potentially, the results of this series could be the macro event of the day for the markets.
08:55 - Redbook (Weekly): Last Week 2.1% y/y. This series has defended 2% year over year growth for two weeks now. The trend however, is not the chains store's friend at this point. I look for another close shave in this space.
09:45 - Markit Manufacturing PMI (July-rev.):Flashed 53.2. This item has been printing consistently in the low to mid-50s at the headline. Do not expect to see the revision here stray too far from the flash print. Traders? The don't focus on anything released by Markit anyway, especially when the closely watched competing release from the ISM is a mere 15 minutes out.
10:00 - ISM Manufacturing Index (July): Expecting 56.5, June 57.8. The nation's most heavily focused-upon manufacturing survey has been signaling strength all year. At the headline level, this series also returned to expansion at its most torrid pace last month on over-sized results for new orders and production, which is exactly what you want. This item is important, and has the ability to impact the trading session.
10:00 - Construction Spending (June):Expecting 0.4%, May 0.0% m/m. If you look back over the last few months, this data-point is regularly revised significantly away from wherever the initial print lands, and for five months in a row, that revision showed much more strength than did the original. For that reason, I do not trust the flat print that we saw for May will stand, and anything the Census Bureau puts to the tape in this space for June should be regarded a little more than a wild guess.
Sarge's Trading Levels
These are my levels to watch today for where I think that the S&P 500, and the Russell 2000 might either pause or turn.
SPX: 2492, 2483, 2476, 2467, 2459, 2449
RUT: 1439, 1433, 1427, 1419, 1413, 1406
Today's Earnings Highlights (Consensus EPS Expectations)
Before the Open: (APD) - Get Air Products and Chemicals, Inc. Report ($1.59), (ADM) - Get Archer-Daniels-Midland Company Report ($0.52), (BP) - Get BP Plc Report ($0.05), (CME) - Get CME Group Inc. Class A Report ($1.21), (CMI) - Get Cummins Inc. Report ($2.56), (ECL) - Get Ecolab Inc. Report ($1.12), (HRS) ($1.49), (LL) - Get LL Flooring Holdings, Inc. Report (-$0.08), (MLM) - Get Martin Marietta Materials, Inc. Report ($2.35), (PFE) - Get Pfizer Inc. Report ($0.66), (PSX) - Get Phillips 66 Report ($1.01), (PBI) - Get Pitney Bowes Inc. Report ($0.36), (RCL) - Get Royal Caribbean Group Report ($1.67), (SMG) - Get Scotts Miracle-Gro Company Class A Report ($2.52), (UAA) - Get Under Armour, Inc. Class A Report (-$0.06), (XRX) - Get Xerox Holdings Corporation Report ($0.80)
After the Close: (ALL) - Get Allstate Corporation Report ($0.92), (AAPL) - Get Apple Inc. Report ($1.57), (CBT) - Get Cabot Corporation Report ($0.87), (DVA) - Get DaVita Inc. Report ($0.93), (FEYE) - Get FireEye, Inc. Report (-$0.12), (HBI) - Get Hanesbrands Inc. Report ($0.53), (HLF) - Get Herbalife Nutrition Ltd. Report ($1.11), (PZZA) - Get Papa John's International, Inc. Report ($0.64), (UIS) - Get Unisys Corporation Report ($0.32)
Get Morning Recon delivered directly to your inbox each market day. Click here to sign up for e-mail delivery of Stephen "Sarge" Guilfoyle's Morning Recon, Jim Cramer's Daily Booyah! or other great free newsletters from TheStreet.
Apple and Alphabet are holdings in Jim Cramer's Action Alerts PLUS Charitable Trust Portfolio. Want to be alerted before Cramer buys or sells AAPL or GOOGL? Learn more now.
Watch More with TheStreet:
This Is What Anthony Scaramucci Had to Say About Trump When He Was Gunning for a While House Job
Tesla Is On Fire! Here Are 20 Eco-Friendly, Gas Conscious Vehicles.
At the time of publication, Stephen Guilfoyle was long AAPL, PFE, although positions may change at any time.