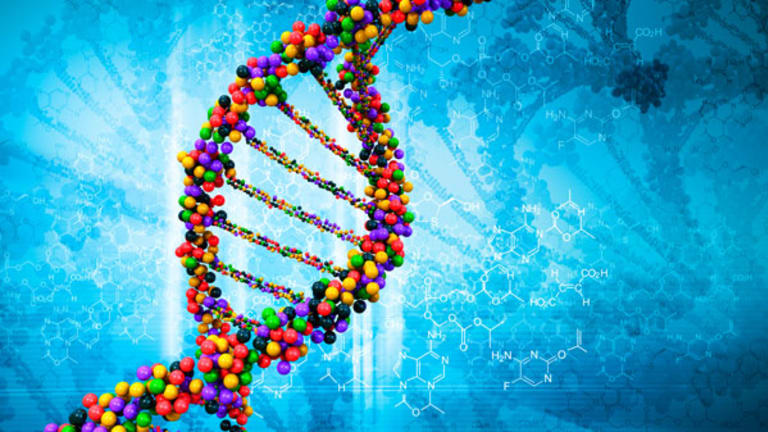 Publish date:
Biozone: A Little Biotech Setting Up for Big Gains
Biozone is very likely to look like a no-brainer by year-end.
Biozone is very likely to look like a no-brainer by year-end.
NEW JERSEY (TheStreet) -- When successful, buying into early-stage biotech stocks can be very rewarding and can produce triple-digit returns. But it can also be extremely risky. It is important to make an early effort to locate guideposts for one's investment thesis and identify catalysts for significant moves. All of the signs are in place for this type of move in Biozone Pharmaceutical (BZNE) , perhaps even by year-end.
Understanding Dr. Phillip Frost's recent deal-doing with Biozone and others helps make this clear.
Over the past few years, Frost's
Opko Health
(OPK) - Get OPKO Health, Inc. Report
has been on an acquisition frenzy. This has led the stock to double in the past year. Last week it finally hit $10.00. The company now sports a market cap of nearly $4 billion. Frost's initial purchases were when it was a bulletin board stock trading at below $1.00. But even investors who bought last year have more than doubled their money.
This performance has defied occasional skeptics over the past year, including me. But now, even the skeptics appear to have been converted.
Prior to Opko, Frost's most notable transaction was the sale of Ivax to
Teva
(TEVA) - Get Teva Pharmaceutical Industries Limited Sponsored ADR Report
for $7.6 billion. Frost's deal-doing looks very much set to continue.
Earlier this year, Opko acquired Prolor Biotech. Frost was already a substantial holder in Prolor before the acquisition. Prolor had been trading at below $5.00 when Opko announced that it would be acquiring the company for stock. Opko ended up owning Prolor and Frost simply ended up owning more Opko stock. By the time the deal closed, Prolor traded up to $8.23, making for quick gains of 60%.
Frost's
SafeStitch Medical
was trading for just 25 cents a share earlier this year. The stock recently hit $1.50 and has stabilized at around $1.30, with a market cap of $230 million. In September, the company completed a merger with TransEnterix. Even though the stock has already risen by 4 to 6 time in 2013, there could well be significant upside remaining. However, it makes sense to hold off until the results of the merger start to become apparent.
Frost's
Castle Brands
(ROX) - Get Castle Brands Inc. Report
has been closing in on a triple in recent weeks. However, it lies outside of Frost's biggest area of strength in shaping health care companies. That combined with the recent run up make the stock somewhat less than compelling, even if it remains interesting.
Frost's investment in
MusclePharm
has seen the stock run from $4 to nearly $13 a share in August. For the small number of Frost followers who tagged along on this deal, the reward was a return of 2 to 3 times within just a few months. MusclePharm now trades for around $9.
Some of these Frost plays will still likely hold substantial upside. But the biggest gains always end up going to the investors who get in very early.
The best choice for such a play is clearly Biozone Pharmaceuticals. It is a penny stock (literally), trading for 45 cents on the OTC bulletin board.
are known to give investors wild rides, as any news can sway them. While the gains can be impressive, there are also inherent risks. I own shares in Biozone, because I see the stock's potential.
Frost owns shares of Biozone personally. He also owns it via Opko's investment in Biozone. Most recently, MusclePharm also invested $2 million into Biozone in the form of a convertible preferred. Frost now controls around 25% of Biozone.
Biozone does not appear to be a passive investment for Opko and Frost. Frost serves as a senior advisor to Biozone. Meanwhile Frost's former lieutenant from Ivax and Teva, Roberto Prego-Novo, is Biozone's chairman.
Biozone's revenue is dominated by its contract manufacturing (CMO) business, manufacturing drugs and cosmetics for third parties. This will be a stable performer that will support revenue in coming quarters.
But the next leg up for Biozone will come from its QuSomes technology. QuSomes are basically a refined type of liposomes. Liposomes refer to the use of lipids to enhance delivery of nutrients and pharmaceuticals.
In 2012, Opko acquired an Opko-exclusive license to the QuoSomes and EquaSomesdrug delivery technology for use in ophthalmological indications as well as a non-exclusive license for other indications.
For MusclePharm, the potential for this technology lies in drug delivery for nutritional and skin products, which is distinct from Opko's ophthalmologic applications.
The deal-doing between Biozone, Opko and MusclePharm has led some to suspect that Opko may be looking to acquire the company. This could easily see Biozone taken out at double the current price. However, it would likely end up being far better for Frost than for shareholders. If Biozone is allowed to develop for a bit longer, there should be significantly more upside for shareholders in the open market. But this would certainly take more time.
BZNE
data by
Revenue at MusclePharm are visibly accelerating which could bode well for Biozone. For 2012, MusclePharm revenue came in at $67 million. But in 2013, revenue for the first six months was already $48 million. This is up from just $17 million in 2011.
Revenue for Biozone increased from $12 million to $17 million in 2012, well before the MusclePharm deal. Given the difference in size, a small amount of business from Opko and MusclePharm will have a disproportionate impact on Biozone.
Biozone's stock has recently suffered a minor overhang as the result of a lawsuit that was dismissed in September after a $1 million settlement. Following its resolution, former VP Daniel Fisher exited his stake in the company, selling his 6.6 million shares to various third-party investors. Over the past week, we have seen a surge in selling as it appears that these shares are finally hitting the market. But each time there is a break in the selling, the stock immediately surges. Last week the stock briefly surged by over 30% within two hours before settling back down.
The stock also saw some weakness due to a misread of two recent sec filings. Frost and Opko recently registered some of the previously acquired stock on form 144. This is a totally standard process, but some investors have clearly misread the filings and believe that Frost has actually sold shares of Biozone. This is not the case. There has been no sale whatsoever; filing on form 144 does not even indicate the intention to sell.
For those looking to buy and hold, the recent selling has created an incredible buying opportunity which may be gone within the next day or two. As soon as the last of those 6 million shares are sold, the overhang will be gone and the stock is likely to surge again. The volume indicates that much of this selling may already be complete. Those who simply flip the stock for gains of 10 cents to 15 cents a share will likely find themselves feeling very foolish by year-end.
When the overhang is cleared, we will likely see a move up of at least 20%. But the catalyst for the much bigger moves will come from the first QuSomes announcement. As soon as that happens, the stock can be expected to make a permanent move to a much higher level.
Looking back at the other Frost plays above, some of these were practically no-brainers earlier this year. This is much more than just banking on a savvy investment by Frost and mimicking it. When Frost plays dealmaker with companies such as Opko and MusclePharm, he is effectively steering revenue toward Biozone. This is a tremendous advantage that other small companies just do not possess.
As with the recent string of Frost doubles and triples, Biozone is very likely to look like a no-brainer by year-end.
At the time of publication the author was long Biozone.
This article was written by an independent contributor, separate from TheStreet's regular news coverage.
This commentary comes from an independent investor or market observer as part of TheStreet guest contributor program. The views expressed are those of the author and do not necessarily represent the views of TheStreet or its management.
Rick Pearson is a private investor focusing on U.S.-listed China small-cap stocks. Until 2005, Pearson was a director at Deutsche Bank, spending nine years in equity capital markets in New York, Hong Kong and London. Previously, he spent time working in venture capital in Beijing. Mr. Pearson graduated magna cum laude with a degree in finance from the University of Southern California and studied Mandarin for six years. He has frequently lived, worked and traveled in China since 1992.