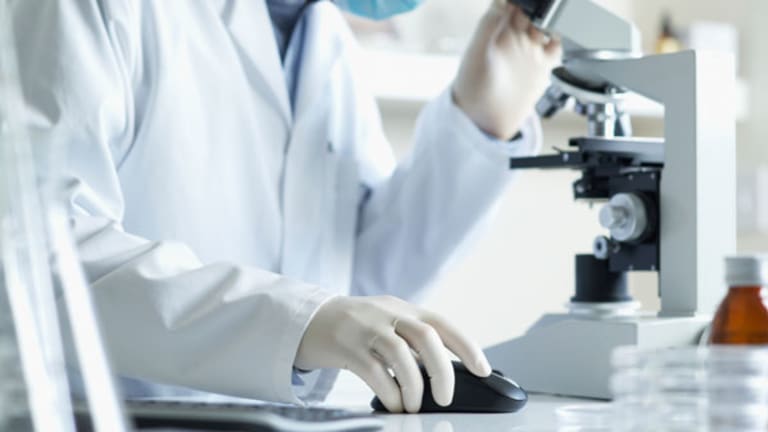 Biotech Stocks: A Year in Review
Biotechs boomed in 2013, but don't expect the market to treat these companies as bargains in the new year.
NEW YORK (TheStreet) -- Known for its above-average risk and steel-nerved investors, the biotech sector has piled up year-to-date gains of close to 52% -- one of 2013's best-performing areas of the market. That's even with a slight pullback since the summer.
Let's review the year in biotech.

My first takeaway from 2013 is this industry didn't see many merger and acquisition announcements, at least not relative to the past two years. Amgen (AMGN) - Get Amgen Inc. Report completed a $10.4 billion deal for Onyx Pharmaceuticals, a disappointing move that was pretty much it for biotech M&A this year. This was despite the fact that many experts noted how primed Teva Pharmaceuticals (TEVA) - Get Teva Pharmaceutical Industries Ltd. Report was for a takeover.
It's possible most mergers are being postponed for 2014, including the much-rumored deal between AstraZeneca (AZN) - Get Astrazeneca PLC Sponsored ADR Report and Forest Laboratories (FRX) . It's also possible that management of these companies are beginning to alter their prescriptions for growth. We shall see.
This year, 2013, will go down as the year when the biotech sector -- with around 220 new publicly traded companies -- emerged from relative obscurity to raising almost $50 billion in investment capital.
[Read: Greenberg: And the Worst CEO of 2013 Is...?]
The market hasn't been flooded with this much interest in biotech IPOs since 2004.
Now I'm not going to venture into the so-called "doom-and-gloom" territory. But the Renaissance IPO (IPO) - Get Renaissance IPO ETF Report exchange-traded fund, which tracks several biotech stocks, has posted a roughly 50% gain. I have to ask: What reasonable level of outperformance will there be in 2014? All the stocks can't be winners.
I'm not suggesting these companies are doomed to fail. But I would caution investors about riding the wave of all of this IPO enthusiasm. Many lockup expirations have yet to arrive, so insiders might still flood the market with shares when they are finally allowed to sell. You don't want to be the one caught holding the bag.
Another way to play the demand would be to diversify some capital into, say, Novo Nordisk (NVO) - Get Novo Nordisk A/S Report, the largest biotech name on the market according to market cap. With gains of (only) 8% on the year, I believe Novo can be a relative outperformer in 2014. While Novo may not be cheap relative to Amgen, you would be hard pressed to find a safer bet from a margin and profitability perspective.

Among the biotechs, the life sciences subgroup is seeing the strongest demand, especially those with expertise in oncology.
This year brought an interesting chess game between Medivation (MDVN) , which has a strong oral medication that rivals Zytiga, Johnson & Johnson's (JNJ) - Get Johnson & Johnson Report top-selling prostate cancer drug. In response to the threat, Johnson & Johnson picked off privately held Aragon Pharmaceuticals for $650 million in upfront cash in a deal that could reach a total value of $1 billion, provided that certain criteria are met.
Essentially, the deal, which is still pending approval, would give Johnson & Johnson rights to Aragon's phase-2 development drug ARN-509. This makes sense for J&J. ARN-509 would be the perfect complement for Zytiga, giving Johnson & Johnson new approaches to treat prostate cancer patients. But in my opinion, J&J overpaid for Aragon.
What's more, this move weakens Medivation, which was already in a court fight with Aragon to keep ARN-509 off the shelves. Medivation contends that it holds the rights to the drug.
Given Aragon's hefty price tag, I don't believe Johnson & Johnson plans to lose this court battle with Medivation, especially since it is up to Medivation to prove ownership.
[Read: So Your Credit Card Was Hacked, Now What?]
Suffice it to say, this will be one of the best story lines to follow in 2014. The outcome will certainly have a meaningful impact on not only the growth expectations of both companies but also of their rival drugs.
In the meantime, we will probably see plenty of the risk for which the biotech industry is known.
I've expressed some caution here. But investors in this sector are made from tough stuff, with an appetite for significant risk. I expect that some of my calls for vigilance will be ignored. Nevertheless, 2014 is a new year with new market developments.
Biotech boomed in 2013, but don't expect the market to treat the same stocks as bargains in 2014.
At the time of publication, the author held no position in any of the stocks mentioned.
Follow @saintssense
This article was written by an independent contributor, separate from TheStreet's regular news coverage.
Richard Saintvilus is a co-founder of
, where he serves as CEO and editor-in-chief. After 20 years in the IT industry, including 5 years as a high school computer teacher, Saintvilus decided his second act would be as a stock analyst -- bringing logic from an investor's point of view. His goal is to remove the complicated aspect of investing and present it to readers in a way that makes sense. His background in engineering has provided him with strong analytical skills. That, along with 15 years of trading and investing, has given him the tools needed to assess equities and appraise value. Richard is a Warren Buffett disciple who bases investment decisions on the quality of a company's management, growth aspects, return on equity and price-to-earnings ratio. His work has been featured on CNBC, Yahoo! Finance, MSN Money, Forbes, Motley Fool and numerous other outlets.