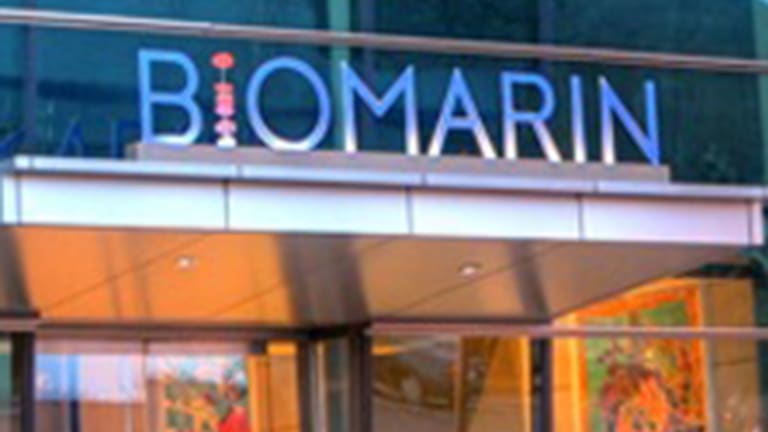 BioMarin's Duchenne Drug Is Done, Sarepta Survives but Faces Challenge
I give BioMarin a 5% chance of winning approval for drisapersen from the FDA following a negative advisory panel. I might be too generous.
Some thoughts on BioMarin Pharmaceuticals (BMRN) - Get BioMarin Pharmaceutical Inc. Report and Sarepta Therapeutics (SRPT) - Get Sarepta Therapeutics, Inc. Report following Tuesday's Food and Drug Administration advisory panel meeting:
I give BioMarin a 5% chance of winning approval for drisapersen from the FDA. I might be too generous.
This was far from an insightful advisory committee meeting. The panel's discussions about drisapersen were often convoluted and off-target, as if they really didn't understand the drug or Duchenne muscular dystrophy.
But all four of the votes intended to tease out the panel's opinions about the strength of the drisapersen clinical evidence were negative or neutral at best. None of the votes could be interpreted by anyone as strengthening (or even supporting) BioMarin's case for drisapersen approval.
If you want to dismiss the panel's opinions because the quality of the debate was low, fine, but then you're left with FDA's unequivocal skepticism. The FDA designed this panel to produce a negative result because the agency doesn't want to approve drisapersen. (There was no "yes or no" panel vote on whether drisapersen should be approved.) Throughout the day, FDA reviewers made it crystal clear that none of the three clinical trials discussed delivered a convincing case for the drug's approval.
There were a few moments Tuesday when the panel discussion seemed to veer in BioMarin's direction. That's when Ron Farkas, the FDA's lead reviewer on drisapersen, squashed all hope. In response to a question about the reversibility of drisapersen's troubling side effects, Farkas said he believed the drug would kill Duchenne patients if used widely.
Let me repeat: A senior FDA staffer in charge of the drisapersen review said he believed the drug's side effect profile was so bad that it would likely kill a Duchenne patient.
Duchenne is a fatal disease on its own, so patients and their families are comfortable taking on a high degree of risk. Duchenne patients and their families spoke to the advisory panel Tuesday, most of them urging FDA to approve drisapersen even if it wasn't the perfect drug.

At one point, the audience erupted in applause after a 16-year-old boy with Duchenne, still walking because of drisapersen, he said, pleaded with the panel and FDA not to take the drug away from him.
But again, FDA's Farkas spoke up. He was gracious to the Duchenne community in attendance but stated firmly that positive anecdotes are not substantial proof of drisapersen's efficacy. Duchenne is a progressive, muscle-wasting disease but patients, untreated, lose muscle function but then stabilize or even improve for some time before progressing again. Despite BioMarin's claims to the contrary, the drisapersen data were indistinguishable from the natural history of Duchenne progression, said Farkas.
The message FDA sent loudly Tuesday was that drisapersen was ineffective and dangerous. FDA doesn't approve drugs that don't work and are not safe. That's why my 5% approval odds are probably overly optimistic. 
I'm gobsmacked by the sell-side analyst notes reacting to Tuesday's panel. Piper Jaffray's Josh Schimmer says drisapersen approval odds are greater than 65%. I like Schimmer personally but he's insane.
RBC Capital's Michael Yee lowered his drisapersen approval odds to 50%-60% after the panel from 60% before the panel. Yee must have been watching an entirely different FDA advisory panel.
Evercore ISI's Mark Schoenebaum and Barclay's Geoff Meacham also say drisapersen approval odds are essentially a coin flip. Gentlemen, those rose-colored glasses are not a good look.
Baird's Brian Skorney is the best analyst covering Duchenne drug stocks working today. He believes Biomarin has no chance with drisapersen. Going into Tuesday's panel, I predicted drisapersen would be approved for Duchenne. I was wrong. Skorney was right. I believe him now. 
BioMarin shares were halted Tuesday at $97.80 for the drisapersen panel. The stock is down 5% since last Friday when the FDA released the drisapersen panel briefing documents. I expect the stock will fall again when trading resumes Wednesday. How far? I asked a buy-side investor who was bullish (long) on BioMarin but negative on drisapersen going into Tuesday's panel.
He believes BioMarin is worth $80-$85 per share just on the existing base business. If you assume drisapersen is a zero, BioMarin's pipeline is still pretty deep with PEG-PAL, the achondroplasia drug BMN-111, the Batten disease drug BMN-190 and BMN-701 for Pompe disease. Even if drisapersen is a zero, BioMarin's patent estate covering exon-skipping drugs for Duchenne could still deliver a royalty on sales of Sarepta Therapeutics' eteplirsen, if that drug is approved.
"I still get good upside for BioMarin even with drisapersen gone," this investor tells me.

Let's discuss Sarepta. Conceptually, BioMarin's pain is Sarepta's gain but eteplirsen's approval is certainly not risk free. Tuesday's panel showed the FDA is more than willing to come down hard on Duchenne drugs when the data are lacking. Sarepta's phase II study encompasses data on 12 Duchenne patients. Those six-minute walk test data look positive but data on 12 patients is hardly convincing.
FDA made hash of BioMarin's claim that drisapersen improved muscle function compared to natural history studies of Duchenne patients. Sarepta is trying to make a similar argument comparing eteplirsen to natural history data.
FDA found BioMarin's drisapersen dystrophin production data to be weak and unconvincing. In particular, FDA said the quantity of dystrophin produced by drisapersen was unacceptably low. [Dystrophin is the muscle-boosting protein missing in Duchenne patients.]
Sarepta says eteplirsen causes more Duchenne patients to produce dystrophin-positive muscle fibers, but the company (so far) has not quantified the amount of dystrophin made by eteplirsen. Baird's Skorney believes Sarepta's eteplirsen is probably producing higher quantities of dystrophin than BioMarin's drisapersen, but he's not sure it will be higher enough to make the FDA happy.
There are two areas where Sarepta emerges from Tuesday's panel clearly a winner and with a big advantage over BioMarin. The first is eteplirsen's superior safety. Barring any surprises, eteplirsen is much safer and better tolerated than drisapersen. FDA's Farkas won't be telling advisory panel members that eteplirsen has the capacity to kill Duchenne patients.
Second, Sarepta now knows how the FDA and the advisory panel members feel, generally, about Duchenne drugs. Sarepta will learn a lot from BioMarin's experience Tuesday and adjusts its own eteplirsen presentation to navigate around the trouble spots. This is where being second is a huge win. [We're still assuming FDA convenes another advisory panel for eteplirsen in January.]
Adam Feuerstein writes regularly for TheStreet. In keeping with company editorial policy, he doesn't own or short individual stocks, although he owns stock in TheStreet. He also doesn't invest in hedge funds or other private investment partnerships. Feuerstein appreciates your feedback; click here to send him an email.