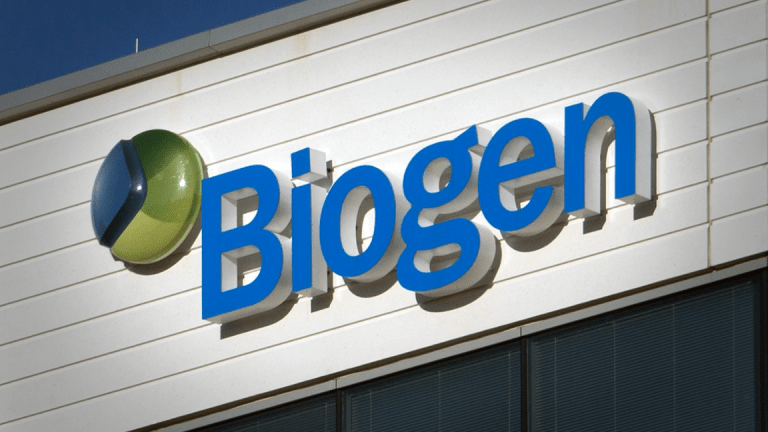 Biogen, Celgene Jump on Earnings; Ford's Acquisitions Fail to Move Stock--ICYMI
Here's what you need to know now for Thursday, Jan. 25
Another tumultuous day of on Wall Street as the Dow ebbed and flowed throughout the day, spiking as much as 200 points, then falling only to closing at a fresh record. The S&P 500 followed suit and scored a fresh record of its own on Thursday, Jan. 25, while the tech-heavy Nasdaq declined slightly.
Biogen Inc. (BIIB) - Get Report  and Celgene Corp. (CELG) - Get Report  both closed up on Thursday despite mixed results. The companies are both eyeing inorganic and organic growth. For Celgene, which has inked two $7 billion-plus deals in the last month, more deals are indeed on the way.
While deals wouldn't be a drastic change for Celgene the company will look to refill its pipeline through deals.
Drastic changes could be underway at Ford (F) - Get Report  in the coming months as the automaker posted disappointing earnings and its stock tanked. The 115-year old company also announced Thursday that it acquired transportation software companies Autonomic Technologies Inc and TransLoc Inc. as part of a strategy to expand ride services and transport businesses.
The deals seem to be a step in the right direction for Ford, but investors appear weary as the company's stock closed down about 4% on Thursday.
Something more drastic may be needed for Ford instead of two small-ish seeming tech deals.
Tim Collins over on Real Money, our premium site for traders, suggests that Ford should take a look Blackberry (BB) - Get Report  , which is turning itself into a car-focused tech company, or open itself to be acquired by a big tech company.
"Admittedly, none of this is going to happen. You can't domesticate a dinosaur and convince it to live in your backyard like a dog," Collins writes. With the stock trading in a pretty tight range over the last year or so, you can't blame Collins for trying to think outside the box, at least someone is.
This is an excerpt from "In Case You Missed It," a daily newsletter brought to you by TheStreet. Sign up here.
Photo of the day:High times up north
The marijuana business has taken off over the last few years, and with 29 states and the District of Columbia now with some form of legal marijuana, the investments in the space are expected to continue. But one thing that should be noted about the recent uptick in deal activity is that much of the dealmaking is occurring in Canada where marijuana is expected to be legalized for recreational use. Our neighbors to the north are markedly more progressive on the marijuana front than much of the 50 states have been, but that hasn't always been the same. Above members of the Royal Canadian Mounted Police dismantle African drums used in an attempt to smuggle $250,000 worth of drugs into the country circa 1968. That's about $1.8 million based on inflation. Read More
Read more from "In Case You Missed It." Sign up here.
More of What's Trending on TheStreet: