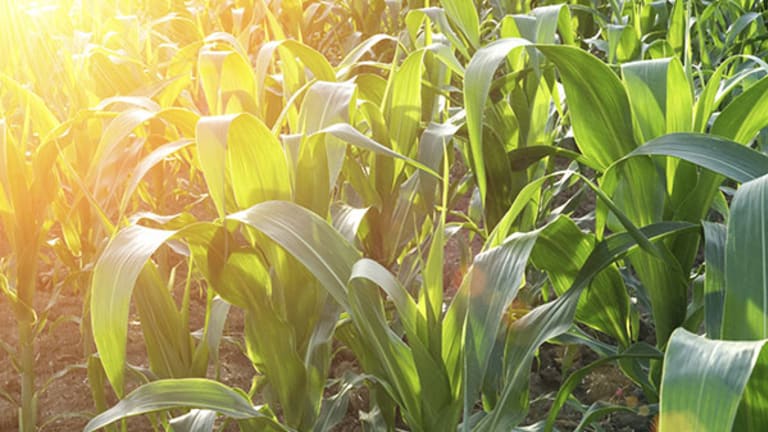 Biofuels Survive a Really Bad Day
Reports that current biofuel technology contributes to climate change aren't dissuading the industry's boosters.
NEW YORK (TheStreet) -- Biofuels are being hit today by two studies questioning the industry's viability as a way to fight climate change. So why are so many people in the sector smiling?
First, a University of Nebraska-Lincoln team has concluded that corn stover -- what's left over in fields after corn is harvested -- may be a worse fuel than gasoline in terms of carbon emissions.
A team under Adam Liska, using computer models, estimated that removing the material from fields and turning it into ethanol would add 100 grams of carbon dioxide to the atmosphere for each megajoule of energy produced. This is more carbon dioxide than gasoline production produces.
The carbon impact was constant no matter how much stover was removed from fields, according to the study.
A new report from the Intergovernmental Panel on Climate Change (IPCC), the United Nations' environmental agency, also concludes that raising crops for fuel "poses risks to ecosystems and biodiversity" as well as to water supplies.
[Read: Corn Waste Fuels Worse Than Gasoline in Short Term, Study Says]
The IPCC report does not completely repudiate biofuels, but it was hailed by environmentalists who have warned that biofuel production raises land prices and thus fuel prices.
The Obama administration seems to be coming around to the skeptics' conclusion.
Last year the Environmental Protection Agency proposed reducing the amount of advanced biofuels required in gasoline and, according to Brooke Coleman of the Advanced Ethanol Council, an affiliate of the Renewable Fuels Association, this has frozen new research in the area.
The latest biofuel start-up to come up short is KiOR (KIOR) , which I wrote about last year when Bill Gates invested in it. KiOR built a plant in Mississippi to test its process for creating fuel stocks from pine pellets, and the stock traded at more than $20 as recently as 2011. Its current price is about 62 cents.
[Read: Google Earnings Bode Ill for Company's Future]
But some biofuel stocks are trading higher Monday. Renewable Energy Group (REGI) - Get Report was trading about 1% higher midmorning Monday.
And some are doing well even after their companies have stopped operating.
BioFuel Energy (BIOF) , which produced ethanol from corn supplied by Cargill, experienced what Trade-Ideas called a "dead cat bounce" early this month, rising 6.3% in one day. It now trades at $7.72, up from a little more than $3 late last month. Recent trading volume has been four times the average. The recent surge came after hedge fund manager David Einhorn revealed plans to take a controlling stake in the company.
[Read: Companies to Workers: Financially You're on Your Own]
The ELEMENTS MLCX Biofuels Index ETN (FUE) - Get Report, an exchange-traded note, has also been on a tear recently, rising from $9.64 at the start of the year to $11.56 recently.
Why the contradiction between science and investment? One answer -- national security -- may be found at the Advanced Biofuels Leadership Conference, now underway in Washington.
Jim Lane, editor of the BiofuelsDigest, noted in his remarks to the group that this month marks the 100th anniversary of the Battle of Veracruz, the first military action aimed at protecting access to U.S. petroleum assets. 
If you can't get them to invest for the Earth, do it to fight Vladimir Putin.
Each time one biofuels process turns out to be a dead end, new companies like Abengoa Bioenergy and Genomatica emerge, confident that their catalysts can unlock the secret to sustained profits, either by increasing yield or producing other valuable chemical feedstocks such as butanediol.
Cool Planet, for instance, recently closed on $100 million in financing to develop fuels based on biochar, a form of charcoal produced by burning biomass without oxygen.
Even if all these efforts fail, new scientific approaches are constantly being found that promise to make the breakdown of biomass into fuel more efficient. The promise of biofuels will continue to attract scientists, entrepreneurs and investors, despite all the bad news the world can throw against them.
At the time of publication the author owned no shares in companies mentioned in this story.
This article represents the opinion of a contributor and not necessarily that of TheStreet or its editorial staff.