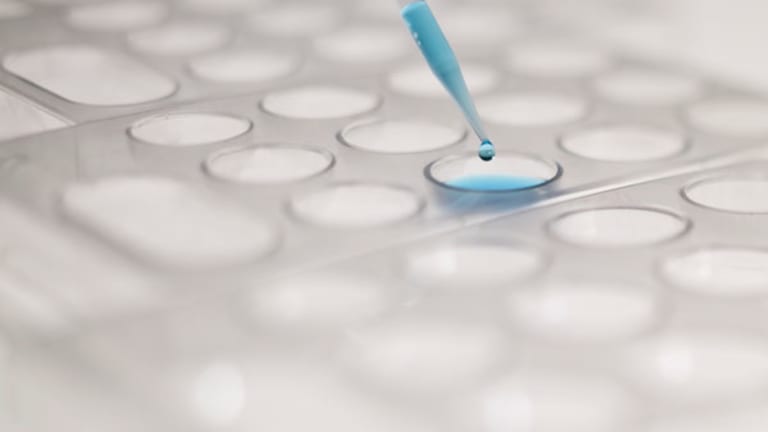 Biodel Offers Opportunity in the Growing Insulin, Glucagon Markets
As the diabetes insulin market continues to heat up, Biodel offers significant upside with its new offerings.
NEW YORK (TheStreet) -- Several recent news events in December have led me to investigate the prospects of Biodel (BIOD) , a small company with strong proprietary technology in the growing insulin delivery market. The company has had success in recent trials and has several catalysts coming in 2014 that should get investors excited about long-term prospects.
Shares of Biodel are not for the weak; they currently trade around $2 and have seen several double-digit swings throughout trading days. The company is also high-risk with minimal revenue and a cash burn that could see the company issue more shares in 2015. Investors should greatly consider the risks of dilution and possible market failures of the company's drugs before investing. With that being said, I believe the opportunities outweigh the risks and this could present a huge reward for long term shareholders through 2015 or 2016.
Year to date, shares of Biodel are down 3%. Back in August, shares were above $5 and seemed like they could breakout. Shares have now traded in a range of $1.93 to $6.08 over the last 52 weeks. Amazingly enough, shares of Biodel are down 97% since their 2007 IPO. With upcoming catalysts in 2014, shares should breakout of the $2 range.
[Read: High Times for High Yield]
As for those catalysts, here's the company's Web site: "Biodel's technology facilitates more natural and rapid absorption of recombinant human insulin analogs than current insulin products and appears to improve its therapeutic efficacy in patients with Type 1 and Type 2 diabetes." In fact, Biodel is taking on products from two large pharmaceutical companies in Novo Nordisk (NVO) - Get Novo Nordisk A/S Sponsored ADR Class B Report and Eli Lilly (LLY) - Get Eli Lilly and Company (LLY) Report.
The company's pipeline from the site:
Ultra-rapid-acting prandial insulin RHI based
Ultra-rapid-acting prandial insulin analog based
Ultra-rapid-acting concentrated insulin
Glucagon
The four major areas of Biodel have a current market opportunity of $8 billion. By 2020, that number is set to almost double to $15 billion. Biodel is hoping to take away share from Novo and Eli Lilly, which both have key patent expirations in 2014 for the insulin market. BIodel, on the other hand, has patents lasting until 2026 in the United States and 2027 in Europe.
Humalog, from Eli Lilly, continues to see an increase in use. In the most recent third quarter, sales of Humalog hit $616 million, growth of 7%. Through the first nine months, the drug has sales of $1.9 billion, a six percent increase. Humalog is the third-biggest drug in third-quarter sales for Eli Lilly.

Novo Nordisk has had sales of $2.3 billion in the first nine months of the fiscal year for Novo Nordisk, representing 12% growth. Novo continues to be the leader in the diabetes market with a huge portfolio of insulin drugs. The company had a global insulin share of 48%, including 40% in the United States as recent as the third quarter. More importantly, in what is considered new generation treatments, Novo has a share of 46% globally and 39% in the United States.
Biodel is hoping its treatments will improve the time for diabetes patients when injecting insulin. Old-school insulin injections take 120 to 180 minutes for patients. New, rapid-acting methods take 50 to 70 minutes, which greatly boosts prior performances. However, Biodel has shown in several studies that it can improve on the success of Novo and Eli Lilly with shorter delivery times. Results have also shown that those taking the insulin need a lower amount throughout the day from Biodel versus other companies existing insulin injections.
[Read: Holiday Retail Sales Rise 3.5%, Driven by Deep Discounts]
The small setback from Biodel's clinical trials was a higher pain level at the point of impact than other existing drugs. This higher rate was minimal and was only listed as "mild" pain for those that reported it. Better yet, Biodel's BIOD-250 provided better injection site results than other Biodel drugs such as BIOD-090 and BIOD-100.
On Dec. 17, Biodel announced it had entered a manufacturing agreement with Becton Dickinson (BDX) - Get Becton, Dickinson and Company Report. Biodel shares were up by double digits on the announcement, which should power an already strong pipeline. The deal gives Biodel exclusive rights to Becton Dickinson's BD Uniject SCF Disposable Auto-Disable Injection System for delivery of liquid glucagon to treat severe hypoglycemia. Even though the glucagon market isn't as big as insulin, it presents a large opportunity for a company with a market capitalization under $50 million.
Every year, over 200,000 people are hospitalized for severe hypoglycemia. Fewer than 10% of high-risk patients carry an emergency kit. The current kits are bulky and costly, a problem that could be solved by Biodel. A current market worth $125 million in the United States is believed to expand significantly, according to Biodel.
Look at this list of upcoming catalysts:
First half of 2014: top-line data phase 1 concentrated ultra-rapid-acting insulin
First half of 2014: possible phase 3 trial for RHI ultra-rapid-acting insulin
Second half of 2014: submit IND glucagon
Second half of 2014: initiate pivotal clinical trial glucagon
2015: submit NDA glucagon
Many investors have taken a chance on Biodel because of the insulin market. However, while the insulin market is huge and could see revenue in 2015 or 2016 for Biodel, glucagon appears on the fast track and is a growing need that the company is addressing. Positive results in 2014 and 2015 could boost shares fast.
This is one stock under $5 I might be investing in for 2014.
At the time of publication the author had no position in any of the stocks mentioned.
This article represents the opinion of a contributor and not necessarily that of TheStreet or its editorial staff.