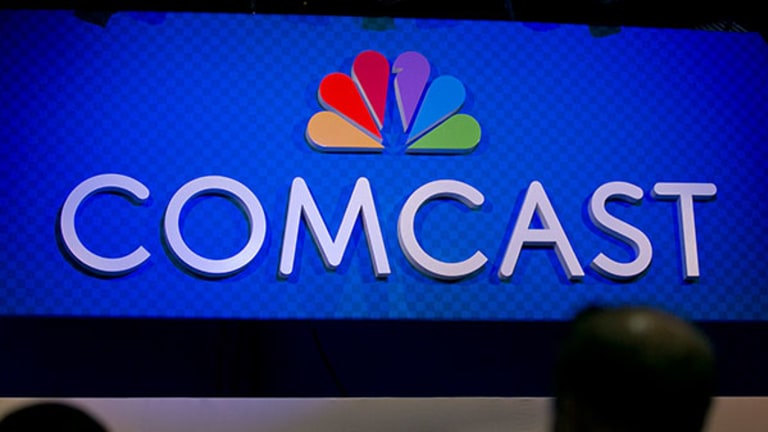 Binge-Watching Comcast Stock
Comcast is the most hated cable company in America, but investors love the stock.
Comcast (CMCSA) - Get Comcast Corporation Class A Common Stock Report might be the most hated cable company in America, but investors love the stock. In the last five years it is up 134%. And I think Comcast can go higher.
Shares of Comcast are on a roll, driven by strong execution and healthy quarterly results. Comcast reported fiscal 2015 fourth-quarter revenue of $19.25 billion, up 7.6%. Consolidated operating cash flow grew 4% to $6.3 billion. Adjusted earnings per share rose 5.2% to 81 cents.
For the full year, Comcast reported revenue of $74.5 billion, up 8.3%. Operating cash flow jumped 7.7% to $24.7 billion and earnings per share rose 10.9% to $3.25. Free cash flow increased 13.8% to $3.55 per share. The company returned $9.2 billion to shareholders through $6.75 billion in stock buybacks and $2.4 billion in dividends. At the end of the year, the dividend had increased 10%, to $1.10.
The transition to the X1 platform is driving the company's results. Comcast said it was shipping around 40,000 X1 boxes per day and it had added 688,000 customers.
Last month, the company announced a rollout of the Docsis 3.1 standard to five markets. The Docsis 3.1 powered modem will allow gigabit Internet service to residential customers in Atlanta and Nashville in early 2016, with Chicago, Detroit and Miami to follow in the second half of the year. Comcast is also rolling out its Gigabit Pro service in metro Atlanta, which allows customers to receive the company's 2-gigabit service. Gigabit Pro is available to 18 million customers across the company's footprint.
Comcast continues to expand its On Demand video offering by adding broadcast rights to its catalog. The company ended the year with rights to over 75,000 programming choices, including over 30,000 in high definition.
Analysts think Comcast will earn 79 cents in the first quarter on revenue of $18.6 billion. For the year, revenue is expected to reach $78.9 billion, up 6%. Earnings per share are forecasted to come in at $3.54. Earnings are supported by a $10 billion stock buyback, strong execution and a continued rollout of more expensive new services.
I think Comcast shares can go higher. Its margins for earnings before interest, taxes, depreciation and amortization continue to expand. EBITDA margins have gone from 33.1% in fiscal 2015 to and estimated 33.7% in 2016 and are forecasted to grow to 34% by next year. If that happens, earnings per share will go from $3.24 in 2015 to $4 in 2017. Given that forecast, Comcast shares should be able to reach the mid-$70s by this time next year.
This article is commentary by an independent contributor. At the time of publication, the author held no positions in the stocks mentioned.