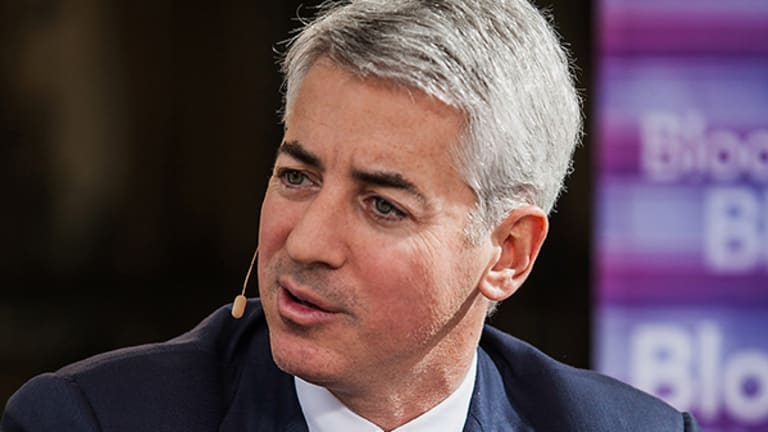 Publish date:
Bill Ackman Finds a Platform for His Next Big Bet
Bill Ackman likes his platforms. In May, he shared his views on platform value, and recently, he revealed his latest platform target: Nomad Foods.
Bill Ackman likes his platforms. In May, he shared his views on platform value, and recently, he revealed his latest platform target: Nomad Foods.
NEW YORK (The Street) -- Bill Ackman likes his platforms.
At the 2015 Sohn Investment Conference in May, the Pershing Square manager expounded his thoughts on platform value. And on June 1, a regulatory filing with the London Stock Exchange revealed Ackman's latest platform target: Nomad Foods.
So what exactly is platform value?
Ackman's Sohn presentation describes it as a quality possessed by "businesses managed by superior operators that execute value-enhancing acquisitions and shareholder-focused capital allocation." Essentially, platform value means a company plays its cards right -- at least for shareholders -- in where it puts its money. Especially when it comes to acquisitions.
One such example is Ackman's latest investment, Nomad Foods, a U.K.-based company that acquires food businesses. Pershing Square has disclosed a 21.7% stake in the firm.
Co-founded by Martin Franklin and Noam Gottesman in 2014, Nomad announced its "anchor investment," the acquisition of frozen foods business Iglo Foods Holdings, in April 2015. The deal is valued at 2.6 billion euros (about $2.9 billion) and was completed on June 4.
Nomad has already eyed its next target, frozen food producer Findus Group. The company confirmed last week that it is in discussions to acquire Findus' continental European business and brand.
In his May presentation, Ackman pointed out that Nomad shares had increased roughly 80% in just over a year. The rise, he said, was due largely to the announcement of the Iglo acquisition and was tied closely to Martin Franklin's platform strategy.
This isn't the first time Ackman has played ball with Franklin or reaped the benefits of his platform approach. The Pershing Square manager has also invested in Platform Specialty Products (PAH) - Get Element Solutions, Inc. Report, of which Franklin is a founder and chairman. Moreover, he worked with Franklin at Justice Holdings, which acquired a major stake in Burger King in 2012 and took the company public.
"Franklin's intense focus on value-creating capital allocation has driven significant share price appreciation across several companies," Ackman said in the presentation.
He noted the executive's high standards for quality and valuation of acquired businesses, focus on shareholder value creation and intelligent use of debt and equity to finance acquisitions. "A decentralized organizational structure allows Franklin's companies to move quickly to seize opportunities and to keep costs down," he said.
Franklin isn't the only platform value creator Bill Ackman is fond of -- nor are his companies the only ones in which he is investing. Ackman has also found what he perceives as another major platform value creator in Valeant (VRX) and its CEO, J. Michael Pearson.
In March, Pershing Square confirmed a nearly 5% stake in the pharmaceutical giant. The fund's most recent quarterly holdings filing revealed the position to be valued at $3.9 billion as of March 31.
Ackman perceives Valeant to be an "under-appreciated platform" whose earnings potential investors have consistently underestimated. He holds that traditional multiple-of-earnings valuations ignore the potential to generate additional earnings through future, value-enhancing investments.
In his Sohn presentation, Ackman predicted that Valeant could earn $28 to $39 per share in 2020, "if management is able to continue its historically successful capital allocation strategy." His conclusion: Valeant's stock today is worth more than $330 per share.
Valeant's most recent big-name acquisition deal was of Salix, the purchase of which it completed in April. Moving forward, the pharmaceutical company will likely tread lightly in future transactions. Pearson told Bloomberg that M&A activity in health care was "a bit of a bubble." 
This article is commentary by an independent contributor. At the time of publication, the author held TK positions in the stocks mentioned.