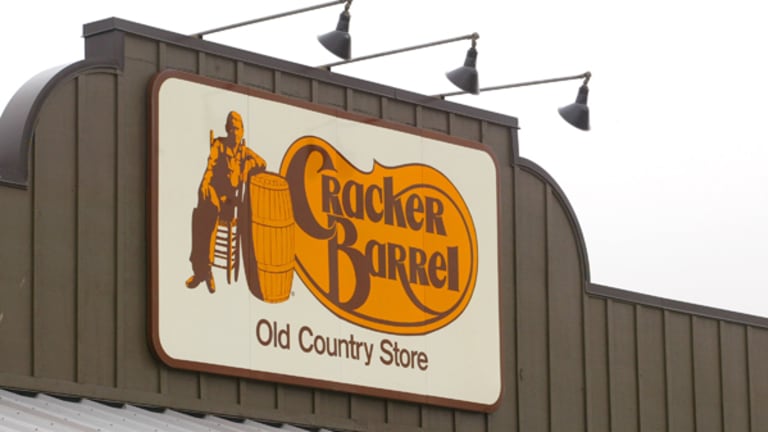 Biglari Will Have to Settle for Cracker Barrel Crumbs
Biglari Holdings' latest takeover letter to Cracker Barrel is just a smokescreen and will go nowhere.
NEW YORK (TheStreet) -- Shareholder activism lives on, as evidenced by the latest chapter in the saga of Biglari Holdings (BH) - Get Biglari Holdings Inc. Class B Report and Cracker Barrel (CBRL) - Get Cracker Barrel Old Country Store, Inc. Report.
While many were closing up shop on Christmas Eve this past Tuesday, CEO Sardar Biglari of Biglari Holdings was busy delivering yet another letter to Cracker Barrel's board of directors. After three failed attempts to gain seats on the casual dining chain's board, and after being rebuffed in his calls for Cracker Barrel to pay a somewhat large special cash dividend, Biglari's Dec. 24 letter is yet another indicator that he's not going away quietly.
In his latest letter, Biglari, whose company is Cracker Barrel's largest shareholder at just under 20%, is calling for the restaurant chain to "undertake a value maximization process" up to and including the sale of the company to the highest bidder. The letter goes on to state that Biglari Holdings is willing to submit a bid.
However, there is one problem with this plan, as the letter acknowledges. Cracker Barrel's home state of Tennessee prohibits Biglari Holdings from bidding for the company, due restrictions on hostile takeovers.
[Read: Mad Men Still Driving Liquor Sales?]
Biglari, however, has a solution for that minor bump in the road. The CEO has asked for the support of Cracker Barrel's board to seek an amendment to state law. When I read that portion of the letter, I knew that either Biglari is not serious about his proposal and is simply trying to make waves, or if he is serious, this is dead on arrival.
It's beyond me why the Cracker Barrel board would want to do anything that helps Biglari to resolve his Cracker Barrel dilemma. Biglari claims that Cracker Barrel management has done a poor job at allocating capital and made other missteps -- and he has made a good case. But right or wrong, he has been little more than an irritant. I'm sure, at this point, that the board and management just want him to go away.
It does not appear that he's done a good job of endearing himself to Cracker Barrel shareholders, either. In part, it's been a clash of cultures. Bull-in-a-china-shop Sardar Biglari is trying to convince Cracker Barrel shareholders that they need him in order to realize the company's potential value. Meanwhile, shares are up more than 125% in the past two years, which makes his case more difficult. Ironically, building his stake to the 20% level has played a part in the shares' rise.
Even if the board complied with Biglari's request, he'd have to stack the money pretty high in order to acquire Cracker Barrel. Furthermore, Cracker Barrel, with an enterprise value of $3 billion, dwarfs Biglari Holdings, and its $932 million enterprise value. The letter claims that Biglari Holdings has been working to obtain the necessary financing for the transaction with an investment bank. However, I don't believe they'll ever get to that point.
[Read: 5 Essential Financial Resolutions to Improve Your 2014]
I, for one, have come to the conclusion that most of the letter is a smokescreen. It's not serious. Near the end of it, Biglari gets to what I believe is the real point: "If you are confident in your ability, then, alternatively, you should take on leverage and do a share repurchase. We would consider selling our entire position because we would not want to leave our money in your care."
That's the crux.
Biglari Holdings, which has made a great deal of money owning Cracker Barrel, sees the writing on the wall. Cracker Barrel will not play ball, and Biglari wants out. A share repurchase, or direct offer for Biglari Holdings stake (which Cracker Barrel has previously attempted), would allow Biglari to exit the position without selling it into the market and crushing Cracker Barrel's price. There's virtually no chance, in my opinion, of a Biglari Holdings acquisition of Cracker Barrel.
Biglari Holdings annual meeting, scheduled for April 24, may be a real barn-burner this year. There should be a lot of questions on the Cracker Barrel issue and how it's been handled.

At the time of publication the author was long on BH.

This article represents the opinion of a contributor and not necessarily that of TheStreet or its editorial staff.
Jonathan Heller, CFA,CFP® is president of KEJ Financial Advisors, his fee-only financial planning company. Jon spent 17 years at Bloomberg Financial Markets in various roles, from 1989 until 2005. He ran Bloomberg's Equity Fundamental Research Department from 1994 until 1998, when he assumed responsibility for Bloomberg's Equity Data Research Department. In 2001, he joined Bloomberg's Publishing group as senior markets editor and writer for Bloomberg Personal Finance Magazine, and an associate editor and contributor for Bloomberg Markets Magazine. In 2005, he joined SEI Investments as director of investment communications within SEI's Investment Management Unit.
  Jon is also the founder of the
, a site dedicated to deep-value investing. He has an undergraduate degree from Grove City College and an MBA from Rider University, where he has also served on the adjunct faculty; he is also a CFA charter holder.