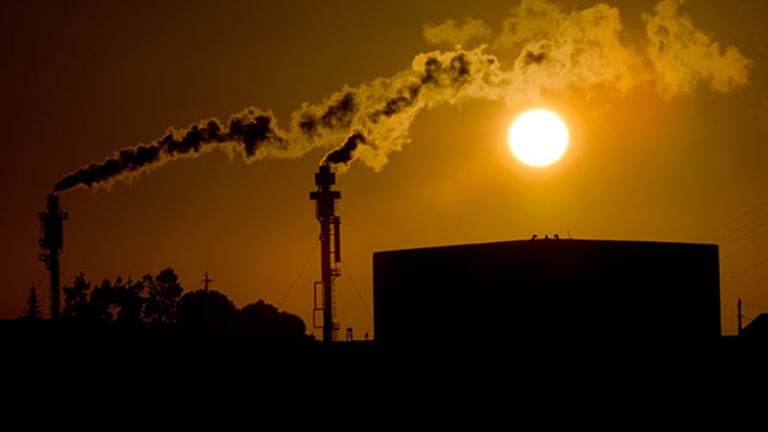 Biggest Winners and Losers in a World of Lower Oil Prices
The 30% plunge in oil prices is already having a profound impact on the world economy.
NEW YORK ( TheStreet) -- The 30% plunge in oil prices is already having a profound impact on the world economy. Whether or not the oil-producing nations that make up OPEC decide how to arrest the slide at its Vienna meeting later this week, if prices keep falling more changes could come.
It's a different oil market, with the U.S. close to self-sufficiency. Even if oil prices bounce back, most of the money stays in the U.S. rather than flowing to the Middle East. On the other hand, the development of alternative fuels in the U.S. has been spurred by higher oil prices. If oil continues to fall, these alternatives become a lot less economic and their development could slow.
With that in mind, here are some of the winners and losers in the recent oil price decline. 
Winner: Oil Refineries
Oil refineries benefit doubly from an oil price decline. First, lower prices increases increase demand, so they can run at a higher percentage of capacity. Second, as prices decline, refiners can make product prices decline more slowly than input prices, increasing margins. Hence the decline since July has doubly benefited refineries; when prices stabilize their volumes will remain higher but their margins will shrink.
Loser: Oil Shale/Tar Sands/Fracking
Unconventional oil sources have higher costs than most conventional sources. At $70-$75, oil prices are still above the variable cost of most such sources, but do not amortize fixed costs, so investment in the sources will decline and their rapidly increasing output will level off. For many unconventional sources, if oil prices declined below $70, it would be cheaper to turn the taps off, so output will decline.
Loser: Oil Service Companies
Lower oil prices will reduce the amount of new activity in high-cost areas, cutting oil service company revenue more than proportionately. That's why Halliburton (HAL) - Get Halliburton Company Report  is buyingBaker Hughes (BHI) -- it is a defensive acquisition that will take capacity out of the market.
Winner: U.S. Auto Companies
U.S. auto manufacturers' product lines are still weighted towards larger automobiles and SUVs, so they will gain market share when oil prices decline. 
Neutral (at this price range): U.S. Economy
With oil prices between $70 and $100, the loss in revenue from high-cost oil development from a price decline balances the benefit to consumers. Below $70, high-cost output itself declines and the U.S. becomes a loser. Above $100, consumers lose more than can be gained from higher output, and so the U.S. economy also loses.
Winners: EU/Japan/China
All these groups of countries produce less oil than they use and so benefit substantially from lower prices. Conversely, the big oil producers lose, although there are secondary effects: Saudi Arabia gains from increasing its market share as higher-cost producers are knocked out, while Nigeria loses less than you might think because oil revenue are mostly stolen and its non-oil economy is where the growth is.
Loser: Russia
Russia spends almost all its revenue at $100 a barrel; at $75 its budget is dangerously out of balance. If lower prices persist, we can expect to see economic trouble spread. Equally, given Vladimir Putin's policies, Ukraine and other vulnerable neighbors are winners from lower oil prices. 
Winner: Gold and Other Mines (if mineral prices price don't tank)
Mining companies are massive users of oil and so benefit if their own output prices stay firm. More rapid EU/Japan/China growth will increase mineral usage, so mineral prices may rise rather than fall.
Short-Term Winner but Long-Term Loser: Bonds
In the short term, lower oil prices reduce inflation, benefiting bond prices. Longer term, increased EU/Japan/China economic activity will increase wage pressures, so inflation may rebound, causing bond prices to fall.
At the time of publication, the author held no positions in any of the stocks mentioned.
This article is commentary by an independent contributor, separate from TheStreet's regular news coverage.